GIving Tuesday 2017
Every Gift Matters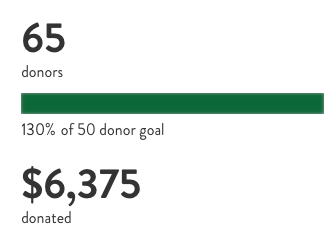 Every gift, no matter the size, makes a difference and impacts our students. Our medical students are truly grateful for the support they receive from scholarship donors.
By coming together on this global day of giving, our combined support of the Boonshoft School of Medicine will fund scholarships, student research, and international service opportunities.
Thanks to generous donors, like you, we have surpassed our goal of 50 donors.  Sixty-five people gave to the Boonshoft School of Medicine on #GivingTuesday, November 28, 2017. 
Special thanks to the donors that contributed to making our Every Gift Matters Campaign a success:
J. Keith Bidwell, M.D. & Pam Bidwell
Leann Poston 
Kate Ervin
Thaddene Triplett
Gregory Toussaint
Daniel Kelly
Ryan Maurer & Heather Maurer
Sierra Clark
Ryan McNulty
Samuel Perry
Carrie Dunn
Tyler Luonuansuu
Michelle Feichtner
Filip Polenakovik 
Trieu-Mi Dao
Max Quellhorst
Carol Bussey
Delores A. James & Dante
Nicki Crellin
Angela Clements & Anthony Clements
Heather Maurer
Eric Drewes
Miller & Miller
Teresa W Zryd
Matthew Lovell
Catherine  Phamduy
Alexandria  Sutton
Courtney  Smith
Anwar Shagarabi
Cameron  McGlone
Elijah  Walters
John  Barnes
Joshua Omade
Christian  Daahir
Jennae  Shelby
Kajanna  McKenzie
Tiffany  Sims
Robyn  D'Agostino
Ulysses Gardner
Adaku  Ume
Joshua  Madden
Dr Deanne  Otto
Dr Mary J. Trout
Dr. Gary M. Onady
Ife  Shafeek
Lakia  Gray


Last edited on 12/01/2017.