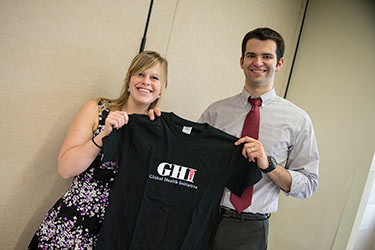 The Global Health Initiative (GHI) was founded in 2000 by Boonshoft School of Medicine first-year students. GHI's mission is to enhance the education of WSU medical students by facilitating their exposure to both the medical issues facing people in other countries and those of people in this country who have emigrated from other countries, and in so doing, inspire greater compassion, social justice and empathy within WSU's future physicians.
GHI is the student-run organization that is working to complement the already present International Education Program track for those interested in completing rotations in developing countries.  Both components serve to enhance medical student education and broaden the student's approach to medicine.
Objectives
To facilitate medical students and doctors sharing medical experiences in other countries through activities such as presentations and gatherings.
To facilitate medical students going to other countries for medical electives by providing information, including contacts with physicians, contacts with medical mission organizations and contacts with financial resources.
To provide educational opportunities for WSU medical students through an elective lecture series on global health-related topics.
International Medical Service Trips
Since 2007, GHI has helped to send students to more than 14 countries. Students can seek medical supplies to take with them on their respective trips to help the people of the country that is being visited. Each trip provides students with a unique view into medicine in various parts of the world today. Find examples of recent medical service trips on the GHI Travel Opportunities page.
Financing Trips
Most students fund their trips by self-funding with allocated loan money or by raising money from home, church or other contacts. However, there are other possibilities. GHI is currently in the process of gathering various other methods for students to fund these trips. GHI financial officers are currently working with the Dayton community and the School of Medicine to help students fund their trips.
Wright State University's University Center for International Education (UCIE) offers a Study Abroad Travel Assistance Scholarship that medical students are eligible for which can be applied for online by following the link.  More information can be found on the UCIE page on financial aid and scholarships.
Financial aid for international travel is available for students who are enrolled in the International Health Program (IHP) Track. IHP participants may request a budget increase for travel costs, up to a maximum of $3,000 during their medical school career. Visit the International Education Program web page or contact the Office of Student Affairs for information about the program.
Student Initiated Electives
Student Initiated Electives (SIE) are elective experiences that may be designed by a Biennium 1 student around a medical interest, subject to departmental sponsorship and routine approval process. SIEs may encompass a variety of experiences — for example, preceptorships, research projects, international travel and independent study. Please see the Biennium 1 Electives Catalog for more information. Use the resources below to set up and organize your own SIE.
---
Contacts
International Education Advisory Board Members
GHI Board Members
Direct GHI club questions to:
Direct GHI symposium questions to:
---
Unite for Site Global Health Modules
Last edited on 09/11/2017.