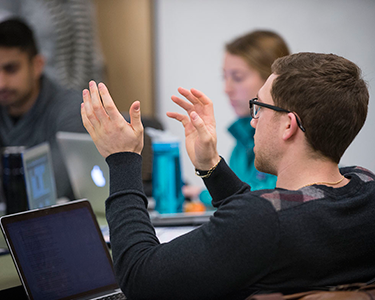 At the Boonshoft School of Medicine, students are self-directed learners in our dynamic, innovative curriculum, focusing on evidence-based, whole-patient care. Our nationally renowned faculty are dedicated to creating lifelong learners by engaging various educational techniques such as Team-Based Learning™ (TBL), peer instruction and the WrightQ — modified problem-based learning sessions that integrate biomedical and clinical science. Professionalism, ethics, population medicine and humanism are interwoven throughout the four years. Our elective Healer's Art course is taken by nearly 85 percent of our first-year students, and many students in the clinical years are involved in Finding Meaning in Medicine groups.
For the first two years, most learning activities occur at the Ramesh K. Gandhi Medical Education Center, also known as White Hall. This is a state-of-the-art space specifically designed for medical student education. Located here are classrooms, laboratories, small group rooms, study areas, a lounge, mailboxes and offices for faculty and administrators who are devoted to medical student education.
Our students begin learning from patients on the very first day of medical school in the Patient, Physician and Society course. Students have the opportunity to ask questions of patients and their families who share their real-life experiences, offering intimate insight into the patient-physician relationship. They reflect about their values as future physicians, and as they move forward into other classes, they will be reminded of their commitment to be humanistic physicians. In the Introduction to Clinical Medicine (ICM) course, students work with volunteer and standardized patients to develop interviewing and physical examination skills. In many of the courses, biomedical science is integrated by using simulators.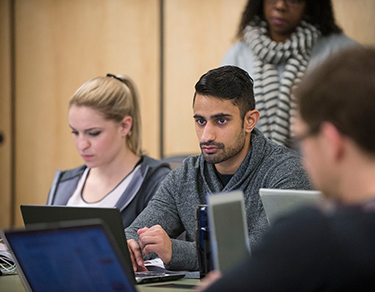 As we develop our new WrightCurriculum, the Staying Alive module will focus on the relationships between the cardiac, respiratory and renal systems under normal and abnormal conditions. Throughout the course, the learner will solve increasingly complex clinical case problems that exemplify core pathophysiologic concepts and make decisions about diagnosis and treatment that are evidence-based. Presentation and diagnosis of illness and disease across the life cycle are investigated within the principles of population medicine, molecular biology, pathophysiology and therapeutics.
Throughout the clinical years, students are provided superior clinical training experiences in a variety of community hospital and clinical settings with close supervision by our faculty who provide frequent feedback. Students have the opportunity to participate in the student-developed Global Health Initiative international missions, as well as service-learning electives and Area Health Education Center activities. Our International Education Program has become one of the most popular elective opportunities as more and more students appreciate their future responsibility to serve people beyond our borders and those from other lands who have immigrated here. The Research Learning Community has allowed our students to present their work locally, regionally and nationally. Our new Wright Rural Health Initiative provides students the opportunity to enhance their clinical skills with our partners in a neighboring rural community. By the culmination of the educational experiences, our graduates are prepared to enter residencies as knowledgeable, skillful and compassionate physicians.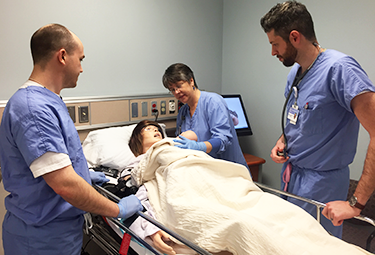 The Biennium II curriculum starts in the third year. This year is devoted to six clerkships that occur at all of our affiliated teaching hospitals, multiple community clinics and private practice offices. Each clerkship provides the student with supervised clinical-care experiences with patients and their families. In addition, students are expected to read a great deal about clinical disorders and treatment approaches and regularly present their cases. By the end of the third year, all students have had a broad set of experiences in the care of patients and their families, working with a "team," either in the hospital or office setting, and have begun to understand the complexities of providing comprehensive care in a rapidly changing health care system.
The fourth year has considerable flexibility to enhance student pursuit of interests as they define their next steps into residency. emergency medicine, neurology and electives integrate many of the third-year experiences and, by the end of the year, all students feel confident in their knowledge and skills to begin their first postgraduate year. The spectrum of electives, either existing or student-initiated, provide capstone experiences to broaden the perspective of medicine. Many students elect to spend a couple of months in a Third World country working in a clinic or hospital, complete a laboratory-based research project that started in the first year or do a fourth-year clerkship at another institution in another state.
Last edited on 10/26/2016.