Eight Great Reasons to Choose Wright State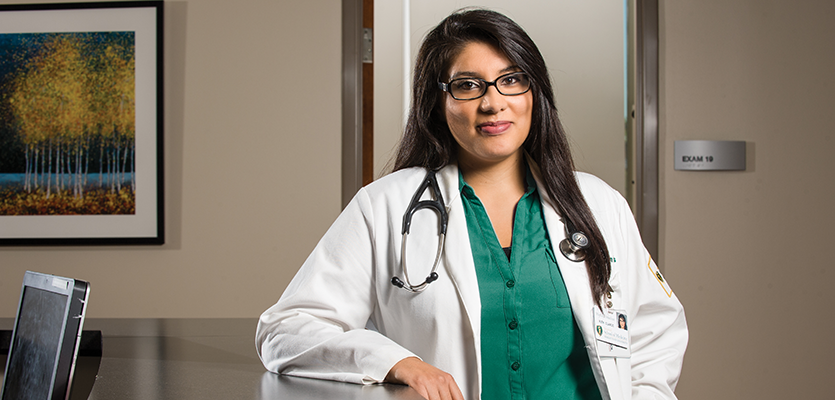 Whether you're ready to apply to medical school or just beginning to explore your options, we're excited that you've found the Boonshoft School of Medicine. We designed this website to give you a sense of what makes our school — from our exceptional students and faculty to our innovative programs and state-of-the-art facilities — special.
Scroll down or follow these links to learn more:
---
Enjoy Support and Encouragement Within a Collaborative, Close-knit Community
Even casual visitors don't need long to discover that Wright State is a different kind of medical school. Our innovative curriculum, outstanding facilities and strong reputation may help us stand out, but what really sets us apart is our community. As a student here, you will be part of a strong, supportive group of peers and mentors whose diversity of experience is matched only by their shared dedication to a common goal: helping every student to become an exceptional physician. We deliberately foster a welcoming, supportive atmosphere in a number of ways — from small class sizes that make it easy to get to know all of your fellow students, to faculty who are always accessible and eager to help you succeed.
Intense stress, feelings of isolation and unchecked competition may be a regrettable way of life at many medical schools, but here you'll find an atmosphere of genuine support and encouragement in which students, faculty and staff work together in a spirit of collaboration. When you're ready to achieve your dream, we're all eager to help.
Learn more about student life at Wright State
---
Gain Real-World Experience in Seven Diverse Teaching Hospitals
As a community-based medical school, Wright State is affiliated with seven major teaching hospitals and more than 30 other health care institutions throughout the Dayton region. Rather than receiving clinical training in a single location, you will encounter a diverse range of patients, practices and facilities, giving you invaluable "real world" experience to prepare you for a successful career in our dynamic health care system. As a graduate of Wright State, you will enter the field of medicine with a distinct advantage, and your skills, confidence and experience will serve you exceptionally well as a resident, fellow, and practicing physician.
Our community engagement also goes far beyond our clinical affiliations. At the Boonshoft School of Medicine, we embrace a profound dedication to service and strive to graduate physicians who aspire to make a real difference in the world. In fact, we were recognized for the strength of our social mission in a national study published in the Annals of Internal Medicine. Based on the percentage of graduates who practice primary care, work in health professional shortage areas and are underrepresented minorities, the study of 141 U.S. medical schools (PDF) ranked Wright State fourth in the nation for this commitment.
Learn more about our clinical training
---
Master Modern Medicine Through Innovative, Varied Learning Experiences
As a medical student, you will gain vast knowledge and develop specialized skills to prepare you for success as a confident, competent and compassionate physician. How that process occurs in just four intense years, however, varies greatly from school to school. At Wright State, you can anticipate a thorough education incorporating:
Integration of the basic and clinical sciences
Early opportunities to learn in a variety of clinical settings
Personal attention from faculty in an atmosphere of teamwork and camaraderie
Opportunities for a wide range of research activities
Frequent community outreach and service opportunities
Our newly designed WrightCurriculum focuses on students as self-directed learners and centers on evidence-based, whole patient care. From day one you will be engaged in our local region as community health advocates, working closely with our community partners to help patients and their families navigate the health care system. The WrightCurriculum features three phases -- Foundations of Clinical Practice, Doctoring and Advance Doctoring --all of which integrate biomedical, clinical and health care systems sciences. Professionalism, ethics, population medicine and humanism are interwoven throughout the four years.
Learn more about our curriculum
---
Learn in State-of-the-Art Facilities With Resources and Technology Designed Just for You
Our first-year students have told us we need to make a big fuss about the Gandhi Medical Education Center in White Hall, because it was, bar none, the best facility they saw when they were touring other schools. The Gandhi Medical Education Center will quickly become your home away from home. This beautiful new facility in the heart of campus includes everything you will need during the first two years of medical school. In addition, you'll benefit from outstanding learning technology, from computerized testing that mimics the USMLE board exams to a secure website with digital videos of every lecture, usually posted within hours of each class.
Highlights include:
Two lecture halls with large video screen, cameras for remote conferencing, and interactive student response devices
A state-of-the-art anatomy lab with an integrated audio-video system and a downdraft ventilation system for up to 16 tables
Three computer labs with more than 100 work stations
Computerized testing with immediate scoring and error review
Digital video and audio recordings of every lecture posted and archived daily to access online or download
Free wireless Internet access throughout the building and across most of campus
24/7 access to the center and its resources
Learn more about our other facilities
---
Conduct Cutting-Edge Research with Faculty Scientists at the Top of Their Fields
The Boonshoft School of Medicine is home to outstanding research facilities, faculty at the forefront of their fields and ample funding to support groundbreaking investigations in basic and clinical science. From multi-state clinical trials, to NIH-funded Program Project Grants, to translational research with enormous potential to impact patient's lives, work underway at Wright State is helping to shape the future of medicine.
Beginning with your first year at Wright State, you'll have the opportunity to get involved in the Research Learning Community (RLC), a collaboration among medical students, faculty and the Office of Research Affairs. The RLC promotes research opportunities and seeks to build a supportive learning environment for medical student research. The RLC includes research electives, student advising, the Medical Student Journal Club, the Translational Research Lecture Series and an annual Medical Student Research Symposium.
Learn more about our research
---
Make a Real Difference Right Away in the Local Community — or Across the Globe
You don't have to wait until you become a physician to begin making a difference in the lives of others and having an impact on your community. During your first two years at Wright State, you can choose among a wide variety of service learning opportunities, including volunteering at a free clinic for the uninsured and underserved, providing free school physicals or classroom presentations for local students or even completing a medical mission abroad as part of our international health education program.
Not only can you travel abroad as a student at the Boonshoft School of Medicine, you can also get class credit for your travel experience. Annually, close to 30 percent of our students complete the International Health Program Track, and more than 40 percent participate in international clinical experiences. Learn on the frontlines of health care in exotic locations such as Nepal; Mumbai, India; Jamaica; Ecuador; Cambodia; Ghana; Swaziland; and Tanzania.
Our emphasis on service learning and culture of community involvement are the result of both our students' natural passion and a strong institutional commitment. We believe this combination helps to explain why our graduates consistently go on to become some of the finest physicians practicing anywhere, in any field.
Learn more about our service opportunities
---
Get into an Outstanding Residency Program With Training for the Residency of Your Choice
Your medical education at Wright State will prepare you well to enter the medical specialty of your choice and compete for a position in the nation's top residency programs. In 2014, 102 Wright State students matched in outstanding programs in 19 different medical specialties, ranging from anesthesiology, family medicine and pediatrics, to ophthalmology, otolaryngology and radiology. Our students matched in outstanding programs across the country, including the Cleveland Clinic, University of California at San Francisco, Duke University, the Mayo Clinic, University of Pennsylvania and New York Presbyterian-Columbia. Over many years, residency program directors have consistently rated Wright State alumni as excellent physicians, and our graduates are currently practicing in all 50 states and around the world, many in leadership roles at the tops of their fields.
Learn more about your residency options
---
Enjoy an Ideal Home Away from Home in Dayton, the Perfect Place to Live and Learn
Located in Southwest Ohio midway between Columbus and Cincinnati, Dayton is a mid-sized Midwestern city with a diverse metropolitan area of almost a million residents. The Dayton region combines an excellent quality of life and low cost of living; encompasses a wide variety of unique urban, suburban and rural communities; and features many of the resources and amenities of a much larger city (arts and culture, sports and recreation, shopping and dining) while avoiding most of the drawbacks (traffic, high costs, congestion).
Last year, Dayton ranked #2 on Livability's list of the Best Affordable Places to Live. "The real bargain that comes from living in Dayton is the high quality of life residents enjoy," according to Livability.com. "Dayton offers a rich assortment of things to do, from outdoor recreation that includes canoeing and ice skating to cultural amenities, like the Dayton Philharmonic Orchestra and the Benjamin and Marian Schuster Performing Arts Center."
Wright State is a nationally accredited, public research university with an enrollment of almost 20,000 students. Its six colleges and three schools offer 118 undergraduate degree programs and 78 Ph.D., master's and professional degree programs. Wright State brought in more than $74 million in research awards in 2009. The university's state-of-the-art facilities are located in a beautiful 557-acre wooded setting on the northeastern edge of Dayton, Ohio.
Learn more about our region
---
Major clinical teaching sites in the Dayton area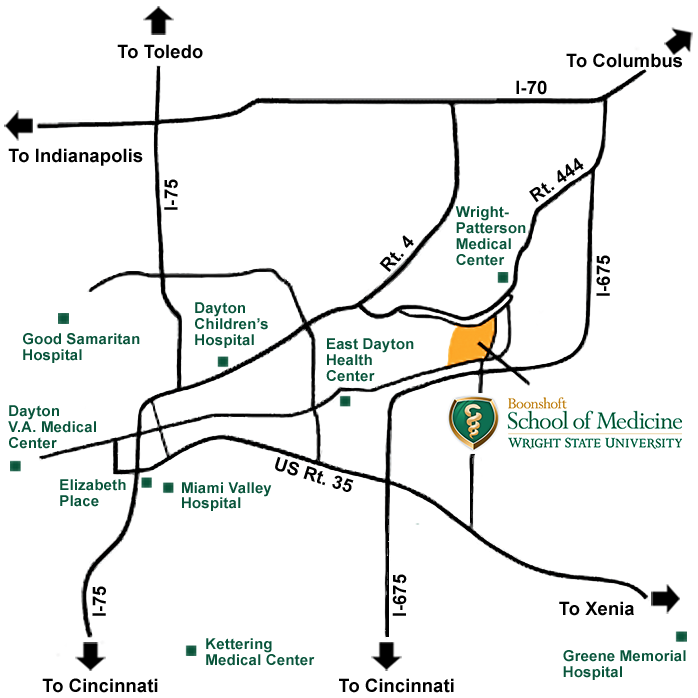 Last edited on 10/26/2016.