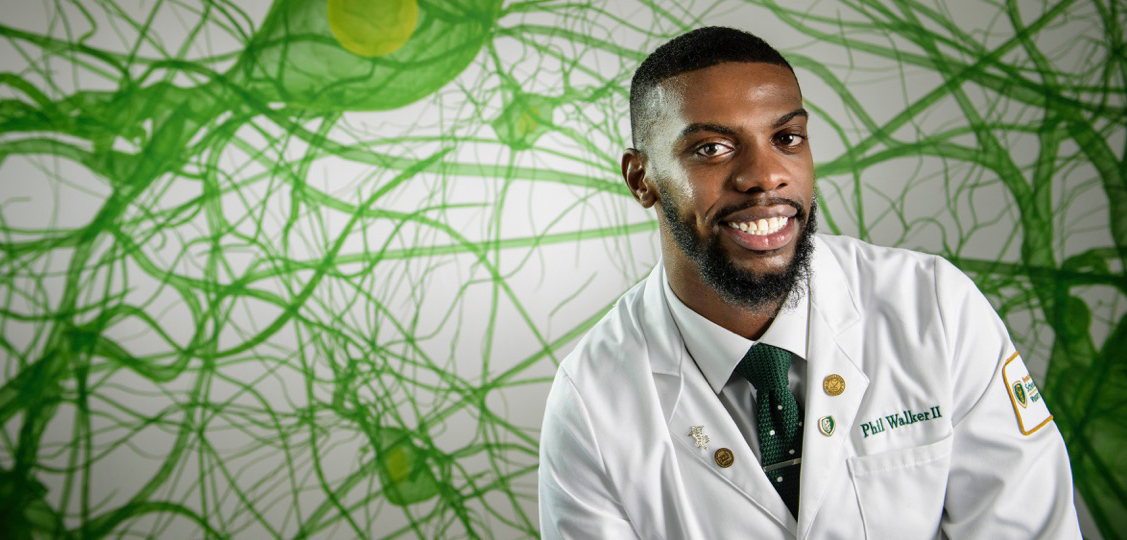 Whether you're ready to apply to medical school or just beginning to explore your options, we're excited that you've found the Boonshoft School of Medicine. We designed this website to give you a sense of what makes our school special — from our exceptional students and faculty to our innovative programs and state-of-the-art facilities.
Scroll down or follow these links to learn more:
---
Enjoy Support and Encouragement Within a Collaborative, Close-knit Community
Intense stress, feelings of isolation and unchecked competition may be a regrettable way of life at many medical schools, but here you'll find an atmosphere of genuine support and encouragement in which students, faculty and staff work together in a spirit of collaboration. When you're ready to achieve your dream, we're all eager to help. As a student here, you will be part of a strong, supportive group of peers and mentors whose diversity of experience is matched only by their shared dedication to a common goal: helping every student become an exceptional physician. We deliberately foster a welcoming, supportive atmosphere in a number of ways — from small class sizes that make it easy to get to know all of your fellow students, to faculty who are accessible and eager to help you succeed.
Learn more about student life at Wright State
---
Gain Real-World Experience in Nine Diverse Teaching Hospitals
As a community-based medical school, the Boonshoft School of Medicine is affiliated with nine major teaching hospitals and more than 25 other health care institutions. Rather than receiving clinical training in a single location, you will encounter a diverse range of patients, practices and facilities, giving you invaluable "real world" experience to prepare you for a successful career in the dynamic health care system. As a graduate of Wright State, you will enter the field of medicine with a distinct advantage, and your skills, confidence and experience will serve you exceptionally well as a resident, fellow and practicing physician. 
Learn more about our clinical training
---
Master Modern Medicine Through Innovative, Varied Learning Experiences
As a medical student, you will gain vast knowledge and develop specialized skills to prepare you for success as a confident, competent and compassionate physician. How that process occurs in four intense years, however, varies greatly from school to school. At Wright State, you can anticipate a thorough education incorporating:
The basic and clinical sciences
Early opportunities to learn in various clinical settings
Personal attention from faculty in an atmosphere of teamwork and camaraderie
Opportunities for research activities
Frequent community service and outreach opportunities
Our refined and evolving curriculum will teach you about disease processes and therapeutic approaches within the context of normal development and function. We incorporate medical knowledge and learning objectives into foundational modules, clerkships, clinical electives and assessments through each phase of the WrightCurriculum.
Phases include Foundations, Doctoring and Advanced Doctoring, all of which integrate biomedical, clinical and health care systems sciences while teaching through practice and prioritizing patient care and professional development. We encourage our students to be self-aware and to strive for personal growth through clerkships and a scholarly project, as well as the Healer's Art and Finding Meaning in Medicine electives.
Learn more about our curriculum
---
Learn in State-of-the-Art Facilities With Resources and Technology Designed Just for You
The beautiful Gandhi Medical Education Center in White Hall has everything you will need during the first two years of medical school. In addition, you'll benefit from outstanding learning technology, computerized tests that mimic USMLE board exams and a secure website with digital videos of lectures, usually posted within hours of class.
Gandhi Medical Education Center highlights:
Two lecture halls with large video screens, cameras for remote conferencing, and interactive student-response devices
A state-of-the-art anatomy lab with an integrated audio-video system and a downdraft ventilation system for up to 16 tables
Computerized testing with immediate scoring and error review
Digital video and audio recordings of every lecture posted and archived daily to access online or download
Free wireless Internet access throughout the building and across campus
24/7 access to the Gandhi Medical Education Center and its resources
You'll also have access to the Neuroscience Engineering Collaboration Building, which opened in the spring of 2015. This new facility brings together scientists and physicians affiliated with the Wright State University and Premier Health Neuroscience Institute, creating a unique bridge between our biomedical research and engineering capabilities. With more than 55,000 square feet of dedicated research space, the collaboration building maximizes your potential as a medical student researcher by connecting you with expert faculty studying the world's most complex diseases. 
Learn more about our other facilities
---
Conduct Cutting-Edge Research with Faculty Scientists at the Top of Their Fields
The Boonshoft School of Medicine is home to outstanding research facilities, leading faculty and ample funding to support groundbreaking investigations in basic and clinical science. The medical school is affiliated with a wide range of university, government and industry partners who vastly expand the scope and nature of our research. Our efforts include multi-state clinical trials, NIH-funded Program Project Grants and translational research with enormous potential to impact patient's lives. From day one, you will enjoy what our major research university offers, including support from organizations such as the Medical Student Research Club and the school's Office of Research Affairs. Get involved in the Research Learning Community (RLC), a collaboration among medical students, faculty and the Office of Research Affairs. The RLC includes electives, advising and the annual Medical Student Research Symposium.
Learn more about our research
---
Make a Real Difference Right Away in the Local Community — or Across the Globe
We embrace a profound dedication to service and strive to graduate physicians who aspire to make a real difference in the world. The Boonshoft School of Medicine was recognized for the strength of its social mission in a 2010 national study, published in the Annals of Internal Medicine, ranking us fourth in the nation. Choose among a wide variety of service learning opportunities, including volunteering at a free clinic for the uninsured and underserved, providing free school physicals or classroom presentations for local students. Not only can you complete a medical mission abroad as a student at the Boonshoft School of Medicine, you can also get class credit for your travel experience. Close to 30 percent of our students complete the International Health Program Track every year, and more than 40 percent participate in international clinical experiences. 
Learn more about our service opportunities
---
Get into an Outstanding Residency Program With Training for the Residency of Your Choice
Your medical education at Wright State will prepare you to enter the medical specialty of your choice and compete for a position in top residency programs. In 2017, 99 Boonshoft School of Medicine students matched in outstanding programs in 18 different medical specialties, ranging from anesthesiology, family medicine and pediatrics, to ophthalmology, otolaryngology and radiology. Wright State students matched in outstanding programs in Dayton, throughout Ohio and across the country, including Case Western/University Hospitals Case Medical Center, University of Michigan Hospitals – Ann Arbor, Wake Forest University and Yale University – New Haven Hospitals.
Learn more about your residency options
---
Enjoy an Ideal Home Away from Home in Dayton, the Perfect Place to Live and Learn
Dayton is a growing, vibrant Midwestern city midway between Columbus and Cincinnati. With a diverse metropolitan area of almost a million residents, the Dayton area combines an excellent quality of life and low cost of living while bringing together a variety of unique urban, suburban and rural communities. It features the amenities of a much larger city while avoiding drawbacks like traffic and high costs. In 2017, Dayton was named a Top 25 city for people under age 35 by Growella and one of the "Best Places to Live" by U.S. News and World Report.
Learn more about our region
---
Last edited on 08/16/2017.