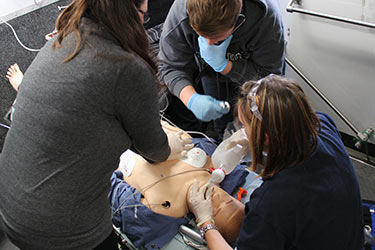 There are more than 400 residents engaged in graduate medical education in the greater Dayton area. Residents from several specialties will often work together throughout their training. A cooperative spirit prevails and cross-coverage permits residents to attend didactic instruction in their specific disciplines. During off-service rotations, emergency medicine residents become part of a team. They are co-equals with the residents from other disciplines. All share an equivalent call schedule and patient load. Emergency medicine preceptorships on off-service rotations are conducted by academic and clinical faculty facilitated by senior residents in at least their R3 year of specialty-specific training.
Off-service rotations are designed to provide concentrated learning opportunities in a variety of disciplines with unique bodies of knowledge, and with a variety of consultants with whom residents will interact throughout their training and subsequent careers. It is critical that emergency physicians understand what happens to the patient after leaving the emergency department. Emergency physicians must be able to communicate with and understand the consultants with whom they commonly interact. These rotations are important experiences in learning the languages of and process issues faced by those specialties.
One of the clinical areas that is stressed in the Integrated Residency in Emergency Medicine at Wright State University is the evaluation and management of critically ill patients. From a philosophical perspective, we believe that critical care medicine is an extension of emergency medicine. Emergency physicians are intensivists, who also do acute care; rather than primary care physicians, who also do critical care. There exists a great deal of overlap between the two disciplines, particularly related to cardiopulmonary diseases. A solid training in critical care medicine allows the emergency medicine resident better understanding of the natural history and treatment of critically ill patients seen in the emergency department, as well as process issues which might affect optimal care of patients [e.g., multidisciplinary integration of early goal-directed therapy for sepsis]. Over the three years of training, emergency medicine residents participate in five months of dedicated, interdisciplinary experiences in adult medical and surgical, pediatric medical and surgical, and adult trauma ICUs. These allow the resident opportunities to encounter a wide spectrum of pathological conditions in adult and pediatric intensive care patients. The critical care training is coordinated and supervised by a departmental academic faculty member trained and triple-boarded in emergency medicine, internal medicine, and critical care medicine. This enables residents to learn and experience critical care medicine from an emergency medicine perspective. By the completion of residency, our emergency physicians will have gained an increased level of self-confidence, maturity and clinical judgment in evaluating and treating critically ill patients, as well as increased proficiency in procedures necessary for initial and sustained care.
Goals for the First Day of Any Rotation
After completing the first day on the service, you should sit down, ask yourself the following questions, and seek answers if you do not know them.
Do you know who all your patients are and
Do you understand their problems?
Do you have your call schedule for the month?
Do you understand the turnover process after being on call?
Do you know the distribution of your on-call patients?
Do you know who your back-up is and how to contact them?
Do you know all of the conferences you need to attend?
Does the team leader or attending know the conferences you need to attend and other times you may be away from the service?
Have you completed the orientation process at the hospital, including keys, parking passes, and meal arrangements?
Do you know the locations of the following: emergency department, cafeteria, radiology department, laboratory, call room, library, and resident lounge?
Last edited on 01/28/2015.