Global Health Scholars Program
Welcome
From the Director
Welcome to the Boonshoft School of Medicine Physician Global Health Scholars Program (GHSP).  Our scholars are the global physician leaders of tomorrow.  Physician leaders of the future are required to have a broad perspective on health and health care delivery that is innovative, proactive and integrates knowledge from a variety of interdisciplinary fields.  We know that health disparities, inequities, economic sustainability and concerns about quality and patient safety challenge the effective delivery of health care in the United States as well as abroad.  Our Global Health Scholars will engage their skills of service and leadership in a spectrum of global-local-rural communities while here at Boonshoft and beyond.  Our global health education takes students and faculty beyond the short-term mission trip.  We are committed to the power of sustainable relationships with communities and appreciate the need for cultural humility in our approach and presence.  
Global Health education at the Boonshoft School of Medicine is an important part of the overall mission of medical education for all students.  The BSOM works closely with the University Center for International Education and others across the university who engage in global health activities to assure a high quality and safe global educational experience.  All medical students will get exposure to basic competencies in global health as it is integrated into our general curriculum.  Those students who want to expand and develop their global health skills further will have an opportunity to achieve the next tier of competencies while enrolled in the Global Health Scholars program.  Their commitment and competence will be recognized with a culminating certificate of recognition at graduation.  
The next tabs go into more detail regarding specific aspects of the Global Health Scholars Program: how to apply, current trip availability, and pre-travel logistics, as well as resources for students and faculty engaged in Global Health activities.  We also invite alumni of the program, current faculty, and other community members to engage with us in opportunities to support current students in their commitment to Global Health.  Please click here to learn more about ways you can keep connected and committed no matter where you are in the world!  
We welcome all levels of experience into our program and look forward to learning from each other.  I am a better physician today because of my Global Health education starting here at Boonshoft.  I look forward to sharing my passion for Global Health with you and seeing the successful physicians you will become! Sincerely,
Kate Conway, M.D., M.P.H.
Assistant Professor
Director Global Health Scholars Program
Director of Medical Education
Department of Family Medicine
About the GHSP
Practicing Global Health at the Boonshoft School of Medicine
Global Health Scholars Program
International education has been an important part of the Boonshoft School of Medicine curriculum for two decades. Forty percent of students in their first and second years of medical school participate in the Global Health Scholars Program. About 75 percent of those students go on to complete the remaining requirements of program by graduation. Many graduates continue to participate in global health medical missions in residency and beyond. Clinical faculty from a number of specialties supports the program as advisors, instructors, trip leaders, and mentors.
Six of our first year medical students were featured in the news reflecting on their time in Eswatini in summer 2019. The article can be found on The Luke Commissionwebsite.
Global Health Initiative (GHI)
The Global Health Scholars Program works closely with the Global Health Initiative, a student service club that has been enthusiastically promoting international education at the Boonshoft School of Medicine since 2000. The GHI works to provide medical students with opportunities to engage in global health experiences in low resource countries. The GHI works to raise money for fourth-year global health scholar medical students who will travel abroad for their global health elective. Each year the GHI hosts a popular global health travel speed dating event that allows past Global Health Scholars to come and share about their experiences overseas and introduce first year students to some of the available global health experiences. The GHI also organizes educational events where speakers are invited to share about their global health experiences to enlighten and expose our students to medicine beyond our borders.
Global Health Electives - Global Health & COVID-19
With international travel plans on hold due to COVID-19, in the summer of 2020 third and fourth year students in the GHSP worked in country-specific teams to assess needs of BSOM international partners in their COVID-19 response and determine how they might assist. Countries included Eswatini, Malawi, Haiti, Jamaica Ecuador and Peru. Some countries had significant outbreaks while others had only a few cases, but almost all were significantly under-resourced to deal with the pandemic. Students prepared educational materials for local distribution, links to COVID-19 resources, prepared best practices PowerPoints for front line medical workers and helped to link providers with local physicians for consults. A few students happened to be in Haiti just as the WHO declared a pandemic. They provided education on hand washing, fever assessment and quarantine in anticipation of the arrival of the virus.
Global Health Clinic
For the past decade, Dayton has been an "Immigrant Friendly City," welcoming immigrants and refugees from Russia, India, Turkey, Philippines, Mexico, Iraq, Burundi, Rwanda and Democratic Republic of Congo. Refugees with a diverse culture, traditions, and languages arrive in Dayton with little knowledge of its systems and regulations. Refugees often face barriers that include miscommunication due to poor interpretation across language divides, stigma related to mental health care due to having experienced trauma from conflict or war, and differing perspectives of health and well-being. These factors may lead to facing numerous challenges in accessing high quality health care in the United States.
To address the challenges of healthcare delivery and access for these populations, Kate Conway, M.D., MPH and Nicole Turkson, M.D., MPH, BSOM Department of Family Medicine, established the Global Health Clinic in partnership with Five Rivers Family Health Center. Five Rivers Family Health Center welcomed nearly 100 refugees in the first year of the Global Health Clinic. With a goal for refugee families to feel welcome in Dayton, Five Rivers reserves dedicated time slots every week for refugee patients. Physicians see whole families at the same time rather than separating them into individual appointments. The families are also given access to additional resources including a pharmacist, registered nurse, behavioral specialist, and social work professionals.
Launching the Global Health Clinic has allowed for medical students in the Global Health Scholars Program to learn and practice the principle that "global is local." Students are given an opportunity to meet and care for patients from all over the world right here in our local communities.
Without a doubt, our global health clinic focuses on the importance of welcoming patients in a way that makes them feel safe and cared for. The medical teams look forward to future partnerships with a vision of other health professional students and trainees gaining a wealth of global health knowledge and having an opportunity to benefit from this rich training experience.
"Glocal" Partnerships
Recognizing that global and local public health concerns may converge in communities that welcome refugees and immigrants, BSOM faculty and students participate in "glocal" health programs and initiatives that assist community immigrants and refugees. These include:
Catholic Social Services of the Miami Valley Refugee Resettlement Program
Cross Over Community Development
Local World Refugee Day celebrations

Curriculum
Global Health Scholars program curriculum
The Global Health Scholars Program (GHSP) curriculum includes the five components described below:
Global Health Foundations Module 1: Pre-trip preparation module consisting of 5 classroom didactic sessions and independent study during the first year of medical school.  Students must complete all assignments and receive a passing grade for this module to be approved for the summer Global Health Foundations Experience. 
Global Health Foundations Experience: During the summer between the first and second year of medical school, students complete an experience working with patient populations abroad in low-income countries or domestically with the Indian Health Service or other approved underserved minority communities.  Approved experiences are 2-4 weeks in length and meet the medical school service learning requirement.
Global Health Foundations Module 2: Post-trip integration module consisting of 5 classroom didactic sessions and independent study during the second year of medical school. 
Global Health Advanced Doctoring Experience: During the Advanced Doctoring phase (fourth year of medical school), students complete a clinical rotation working with patient populations abroad in low-income countries or domestically with the Indian Health Service or other underserved minority communities. Approved experiences are 2-4 weeks in length.
Scholarly Activity with Global Health Focus: Students may complete this program requirement as part of Scholarship in Medicine or through an alternative activity in which the student focuses on some aspect of global health research/study/quality improvement/curriculum development.
Global Health Experiences
Foundations (M1/M2):
Students in the Foundations phase are encouraged to complete their global health experience with a BSOM-sponsored program.  Because each of the recommended programs below has a direct connection with the BSOM, we are confident that they are well-designed, providing meaningful and appropriate experiences for students, with adequate supervision.  Moreover, each of these programs is known to be effectively coordinated with local health systems and services, avoiding some of the risks and disruptions that can result from short-term volunteering in global health.
Doctoring/Advanced Doctoring (MS3/MS4):
Advanced Doctoring students travel widely, finding clinical opportunities of personal interest around the world.  Some may be with BSOM-sponsored programs but most are independent student-initiated trips.  Each experience must provide opportunities for specific learning goals, with adequate supervision, and be approved in advance.  Ideally, these opportunities are designed as part of long-term relationships that can strengthen local health care capacities while providing valuable service.
https://medical-volunteers.org/
Additional Global Health Experience Resources
Below are some valuable links relevant to global health for students at all levels.
American Academy of Family Physicians Global Health
American Medical Student Association (AMSA) international health resources
Child family Health International (CFHI)
CFHI offers short-term educational experiences in global health that are imbedded in long-standing community engagement, capacity strengthening, and commitment to highlighting local healthcare workers, health systems, and complex determinants of health.
Consortium of Universities for Global Health (CUGH) online global health resources
Get Involved
Students involved in the Global Health Scholars Program participate in global travel twice during their medical school careers.
The first trip is made during the summer between the first and second year of medical school. The second trip occurs as a fourth-year abroad rotation.
Supporting the Program
By donating to the Global Health Initiative Fund, donors provide funds to sponsor students in completing their international travel requirements. By donating, you are helping these students pursue their passion as global leaders. Please visit our website to learn more about our amazing students, program, and how you can donate online!
https://ghifundraising.wixsite.com/mysite
Current works
Testimonials
Kyle Davis and Shaina Hecht, Class of 2014
Wright State's commitment to high quality care in the international realm motivated us to undertake two trips during our training. After completing our infectious disease course at the end of our first year, we traveled to Lima, Peru with about 10 other Boonshoft students.  We then traveled together to Tanzania in our fourth year where we had the opportunity to develop our clinical reasoning on busy pediatric and adult wards.  We continue to remain involved in global health experiences. We traveled to Laos for medical work during residency and we have continued to remain involved in global health education during fellowship.  Our experience at Wright State provided the motivation and support to engage in the global health care and we look forward to continuing to give back during our future careers. The reason we continue to engage in global opportunities is because of our time in the Global Health Scholars Program at WSU.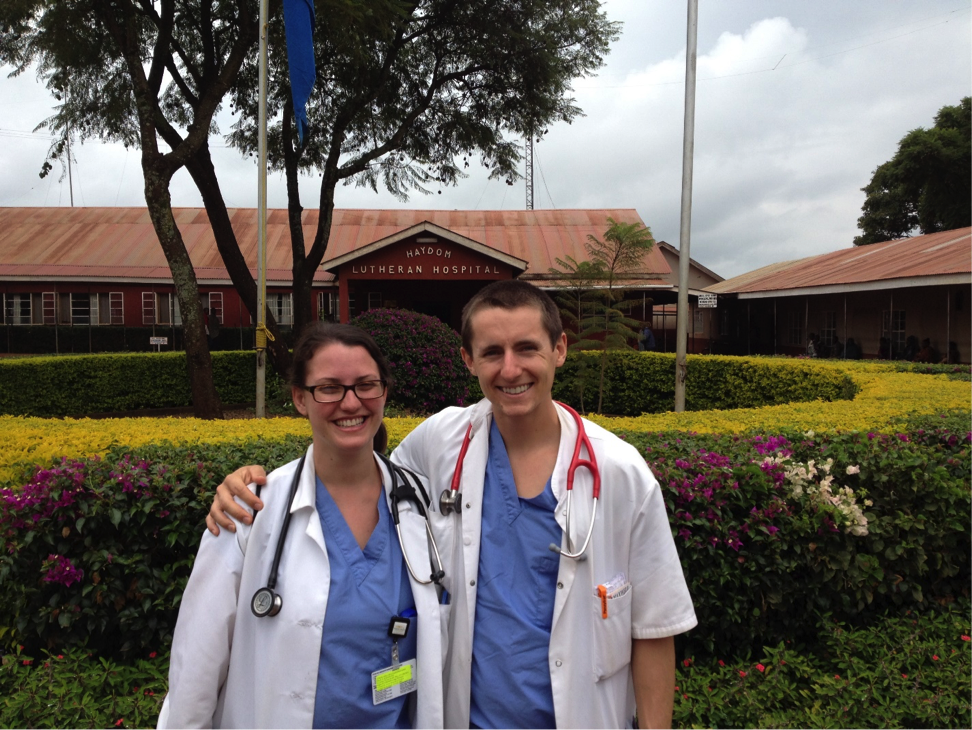 Michael Dressing, Class of 2015
The Global Health Program was one of the main reasons that I chose to attend medical school at Wright State University.  I had been involved with some domestic and international mission trips in high school and college, but wanted to help and see the world from a medical perspective as well.  That experience came quickly through meetings and lectures in my first year of medical school, but more importantly through a medical mission trip to Jamaica with 12 of my classmates and two attending physicians during the summer after the first year finished.  Not only was it a good way to practice physical exam skills and see diseases and conditions that weren't seen in the United States, but it was an exposure to a totally different culture.  Patients that we saw were thankful for Tylenol and band-aids, things that we take for granted.  Banana farmers with severe degenerative arthritis in their hands presented to our clinic barely able to grip a pen.  My views on medicine, as well as happiness, success, and wealth were totally transformed from these encounters.  The faculty did a fantastic job prior to the trip, as well as in Jamaica to prepare us as much as they could for what we would experience, but seeing it in real life was the true learning experience.
As I continued through medical school, I became more involved with the Global Health Initiative, taking on the role of President one year.  To work with the faculty and help with education and planning of different medical mission trips was a different level of experience.  I was fortunate enough to connect with the leader of Timmy Global Health, as well as attend a conference at University of California Berkeley for Doctors for Global Health in the next few years.  I felt like the experience I had gained from my prior trip, as well as leadership roles that I took at Wright State provided a solid foundation that I could expand on in the future.
During my fourth year of medical school, I went with three others to Cusco, Peru for one month.  While there, we volunteered in a general medical clinic, and worked with a shelter for teenage mothers and their children.  Wright State and the Global Health Program helped to facilitate our trip and made it possible, but the four of us planned the logistics on our own.  This was a totally unique experience compared to the prior one to Jamaica, but equally as rewarding.  Two years later I was selected to go on a trip during residency to Panama, and I felt like the experiences that I had during medical school prepared me well.  I plan on continuing to involve myself in global health, especially through mission trips in the future.  And more importantly, I enjoy sharing my experiences with others to hopefully inspire another class of leaders to feel the same way.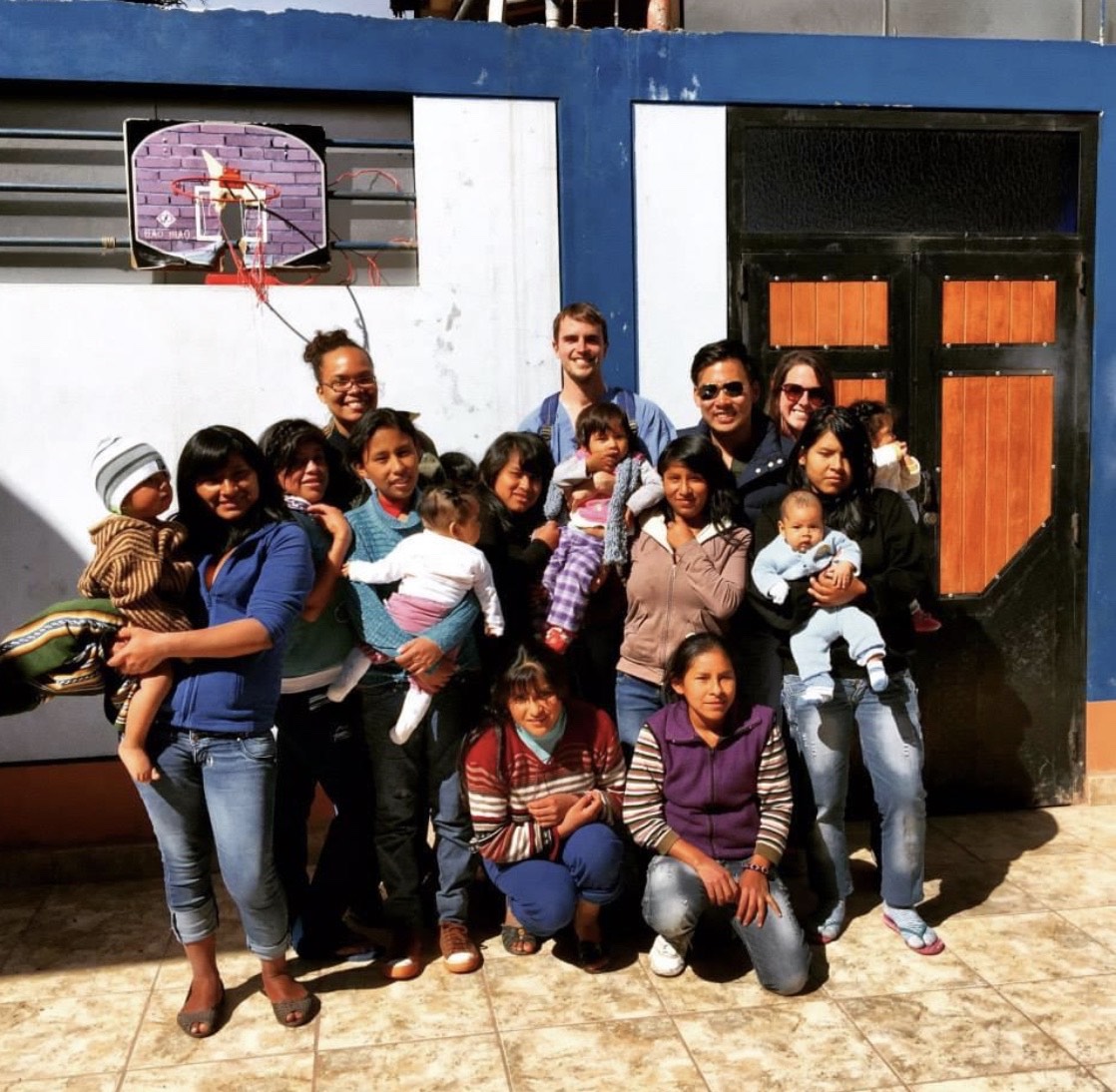 Chioma Eze, MD, MPH, Resident Class of 2021
Leading up to my second year as a Family Medicine Resident, I had this wild idea to take what I had learned so far to my home country and also see practice of medicine there from my new "outside" eyes. This prompted a quick conversation with Global Health Faculty Dr Turkson. With her blessing, I approached my program director who set the ball rolling. This was the beginning of my life affirming experience of going back to my Home country armed with what I knew from residency training thus far.
My rotation started with my presentation on Physician well care to the Community Medicine residents. An eye-opening orientation to Medicine without "frills" shocked me into reality in Healthcare. History taking and physical exam became even more emphasized as my best diagnostic tools. The curriculum included Pediatrics care, Immunization clinic, Community health, Surgery, Women's health, Geriatrics care(mostly home visits) and Adult Primary care. I participated in 3 mission projects. One was my exit project, which required my planning and executing the mission. Lesson learned include the fact that physicians in developing countries are miracle workers- they do so much good with so little resources. Triaging complaints of patients in itself is emphasized and very useful especially when resources are limited. Throughout my rotation, I stay closely in touch with the Global Health gurus, Drs. Turkson and Conway. I credit them as my anchor for the emotionally challenging days especially following a Pediatric malnutrition patient whose family couldn't stay to get him admitted.
I came back from the trip in gratitude for all that I experienced including patients who got on public transportation for 4 hours to be seen, who couldn't afford to return for follow up or the doctors who gave money to their patients to pay for medications. The rest of my residency was shaped by this experience. As an attending, my vision to do more for my patients and my community at large is a process that needs cultivating but the seed was already sown by my Global health rotation.
Advisory Board
Advisory Board
The Global Health Scholars Program Advisory Board collaborates quarterly with the Global Health Initiative student leadership. They discuss which direction the program is headed, share intellect, and voice concerns with a goal to frame the components of Global Health Education. In addition to student activity in global health education, faculty are engaged in numerous projects around the world.
Global Health Education Advisory Board
Kate Conway, M.D., M.P.H.

Family Medicine

Assistant Professor

Director of Medical Education

Director of Global Health Education

Email: katharine.conway@wright.edu

Carla Lachecki, M.A.

Office of Medical Education

Physician Leadership Development Program

Global Health Scholars Program

Interprofessional Engagement

Program Coordinator

Email: carla.lachecki@wright.edu

Thomas E. Herchline, M.D.

Internal Medicine

Professor

Email: thomas.herchline@wright.edu

Jennifer Lee, D.O.

Family Medicine

Assistant Professor

Email: jennifer.lee@wright.edu

Nicole Yamoah Turkson, M.D., Ph.D.

Family Medicine

Assistant Professor

Educational Programs

Assistant Program Director

Boonshoft School of Medicine

Email: nicole.turkson@wright.edu
Medical Student Advisory Committee

Global Health Scholars Program
Kate Conway, M.D., M.P.H., Director
Carla Lachecki, Program Coordinator
Location:  Wright State Physicians Bldg., 725 University Blvd, Dayton, OH 45435-0001
Email: carla.lachecki@wright.edu
GHSP on Facebook
Last edited on 05/19/2023.