PLDP Class of 2020
Joycelyn Akamune, M.D., M.P.H.
Shanice Akoto, M.D., M.P.H.
Brianna Burlock, M.D., M.P.H.
Parvaneh Nouri, M.D., M.P.H.
Evan Sommer, M.D., M.B.A.
Katrina Thede, M.D., M.B.A.
Residencies
Residencies
"I matched at my number one choice of residencies, and in part because I had such a broad research background and varied experiences because of the PLDP program as well as my MPH to discuss at interviews. The program really helped me stand out as an applicant."
—Bre Bolivar, M.D., M.P.H., PLDP Class of 2012
Graduates from the Physician Leadership Development Program have pursued careers in anesthesiology, dermatology, emergency medicine, family medicine, neurology, internal medicine, obstetrics/gynecology, otolaryngology, pathology, pediatrics, physical medicine and rehabilitation, psychiatry, radiology, and surgery. Participation in the PLDP has made a significant contribution toward their acceptance into the residencies of their choice at many prestigious programs around the United States, including:
Advocate Christ Medical Center, Brook, Ill. (Pediatrics)
Beth Israel Medical Center, New York, N.Y. (Internal Medicine, Psychiatry)
Boston University Medical Center, Boston, Mass. (Internal Medicine)
Carolinas Medical Center, Charlotte, N.C. (Family Medicine)
Christiana Care, Newark, Delaware (Obstetrics/Gynecology)
Clinton Memorial Hospital, Wilmington, Ohio (Family Medicine)
David Grant Medical Center, Travis Air Force Base, Calif. (Transitional Year)
East Tennessee State University, Johnson City, Tenn. (General Surgery)
Emory University, Atlanta, Ga. (Emergency Medicine)
Emory University School of Medicine, Atlanta, Ga. (Neurology)
Grant Medical Center, Columbus, Ohio (Family Medicine)
Indiana University, Indianapolis, Ind. (Pediatrics)
Kaiser Permanente, San Francisco, Calif. (Internal Medicine)
Kettering Medical Center, Dayton, Ohio/Mayo Clinic, Rochester, Minn. (Physical Medicine & Rehabilitation)
Mayo Clinic, Rochester, Minn. (General Surgery)
Medical College of Wisconsin, Milwaukee, Wis. (Internal Medicine/Geriatrics)
Mountain Area Health Education Center, Asheville, N.C. (Obstetrics/Gynecology)
New York Presbyterian-Columbia University Medical Center, New York, N.Y. (Emergency Medicine, Family Medicine)
Northwestern University, Chicago, Ill. (Pediatrics)
Ohio Health Doctors Hospital, Columbus, Ohio (Emergency Medicine)
Ohio State University Medical Center, Columbus, Ohio (Psychiatry)
Ohio State University Medical Center, Columbus, Ohio/University of South Florida, Tampa, Fla. (Dermatology)
Oregon Health & Science University, Klamath Falls, Ore. (Family Medicine)
Pennsylvania State University, Hershey, Penn. (Dermatology)
Riverside Methodist, Columbus, Ohio (Physical Medicine & Rehabilitation)
St. Elizabeth's Medical Center, Boston, Mass. (General Surgery)
Trident Medical Center, Charleston, S.C. (Family Medicine)
Tulane University, New Orleans, La. (Obstetrics/Gynecology)
University of Arizona College of Medicine, Tucson, Ariz. (Radiology-Diagnostic)
University Hospitals Case Medical Center, Cleveland, Ohio (General Surgery)
University of California-Davis Medical Center, Sacramento, Calif. (Family Medicine)
University of Chicago Medical Center, Chicago, Ill. (Pediatrics)
University of Cincinnati, Cincinnati, Ohio (Anesthesiology)
University of Colorado School of Medicine, Aurora, Colo. (Psychiatry)
University of Florida College of Medicine, Shands Hospital, Orlando, Fla. (Pediatrics)
University of Illinois College of Medicine, Chicago, Ill. (Internal Medicine)
University of Kentucky, Lexington, Ky. (Otolaryngology)
University of Louisville, Louisville, Ky. (Emergency Medicine)
University of Michigan, Ann Arbor, Mich. (Pathology)
University of Michigan Hospitals, Ann Arbor, Mich. (Physical Medicine & Rehabilitation)
University of Pittsburgh Medical Center, Pittsburgh, Pa. (Internal Medicine, Pediatrics)
University of South Florida Morsani, Tampa, Fla. (Family Medicine)
University of Southern California, Los Angeles, Calif. (Psychiatry)
University of Virginia, Charlottesville, Va. (Emergency Medicine)
University of Wisconsin Hospital and Clinics, Madison, Wis. (Neurology)
Vanderbilt University Medical Center, Nashville, Tenn. (Pathology)
Virginia Commonwealth University Health System, Richmond, Va. (Internal Medicine, Pediatrics)
Wright State University Boonshoft School of Medicine, Dayton, Ohio (Emergency Medicine, Family Medicine, Psychiatry)
Leadership
Leadership Experiences
Annual Medical Student Leadership Conference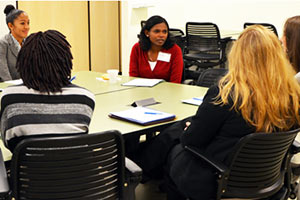 In 2012, PLDP students organized a leadership conference for Boonshoft School of Medicine students. All medical students were invited to attend, but a strong emphasis was placed on first- and second-year students. The first annual conference had one keynote speaker (Dr. Arthur Pickoff), five small group sessions with the opportunity to choose from seven different topics, and was attended by 42 students. The wonderful response from attendees led to this becoming an annual event, growing considerably each year in size and scope. While PLDP is still involved in the planning and sponsoring of the conference, the conference is now a collaboration of several organizations, including the Medical School Student Council, the Office of Student Affairs and Admissions, American Medical Association, Phi Rho Sigma and Boonshoft for Healthcare Improvement.
---
Boonshoft for Healthcare Improvement (BHI)
PLDP alumni Colleen McCormick Badke, M.D., M.P.H., and Lakshman Swamy, M.D., M.B.A., established a local chapter of the Institute for Healthcare Improvement (IHI) Open School in 2011. The chapter supports students of all health professions in learning about health care quality and patient safety. BHI encourages medical students to participate in the IHI coursework and student training conferences, and provides the tools to facilitate student-initiated quality improvement projects in the Dayton community. The courses are also accessible free-of-charge to interested students, residents and faculty physicians who are not members of BHI.
---
STEPS Initiative
PLDP alumni Rebecca Beesley, M.D., M.P.H., Nicole Craker, M.D., M.P.H. and Matias Iberico, M.D., M.P.H., were part of a student-led interdisciplinary group that started the Student Teaching Educational Plans for Success (STEPS) Initiative in 2012 to address the health concerns of the homeless population of Dayton, Ohio. Since then, the STEPS Initiative has grown to include more than six different health disciplines. The organization currently hosts motivational interviewing sessions on health at three homeless shelters in the Dayton area: the Saint Vincent De Paul Gateway Shelter for Men, the Gateway Shelter for Women and Families and the Daybreak Youth Shelter.
At each STEPS Initiative session, students from health programs at Wright State University, Cedarville University, University of Dayton and Kettering College work side-by-side to start a dialogue about the participant's current health state and empower them to take STEPS towards a healthier lifestyle.
---
Finding Meaning in Medicine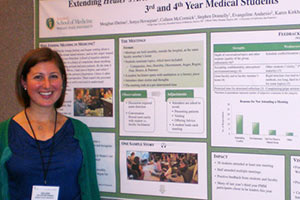 Finding Meaning in Medicine, or FMM, was developed by Dr. Rachel Naomi Remen (also the founder of The Healer's Art). In 2011, Boonshoft School of Medicine students (including two PLDP students) and faculty started a Finding Meaning in Medicine for Medical Students group using the model defined by Dr. Remen.
The goals of this program are to provide medical students in the clinical years with an opportunity to reflect on difficult clinical and ethical situations while improving their generous listening skills and reminding students of their humanistic goals in being physicians.
---
Hospice of Dayton Educational Experience
In 2012, two PLDP students developed a service learning opportunity for other medical students at the Hospice of Dayton. This experience continued as service learning for five years and then was integrated into the WrightCurriculum as interprofessional education.
The experience initially served as an extension of the principles and lessons learned in the Healer's Art course. It was also a way for students to have a first-hand look at a very different side of medicine, particularly the care of patients nearing the end of life's journey.
By shadowing a social worker or chaplain, students are able to learn about patient care from a new perspective and see the value of interprofessional teamwork, as hospice care requires communication between doctors, nurses, social workers, spiritual advisors and volunteers. Students also learn about the differences between facility options such as home care, assisted living facilities, hospice facilities and nursing homes.
---
Documentary Screenings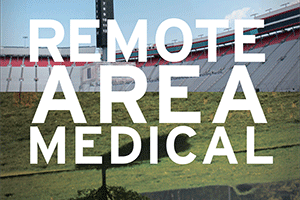 To raise awareness about public health and health care issues, PLDP has hosted several documentary screenings for the community since 2012. These screenings are an opportunity to engage students, faculty and health care professionals in meaningful discussions about health care and medicine, both from a patient perspective and health care system perspective. Some screenings are solely supported by PLDP, and some are presented in collaboration with other Boonshoft student organizations. Past film screenings included: The Weight of the Nation, Escape Fire: The Fight to Rescue American Healthcare, Remote Area Medical, Unnatural Causes: Is Inequality Making Us Sick? and an abbreviated version of Cancer: The Emperor of All Maladies, Unrest, The House I Live In, and Hilleman: The Perilous Quest to Save the World's Children.
---
Research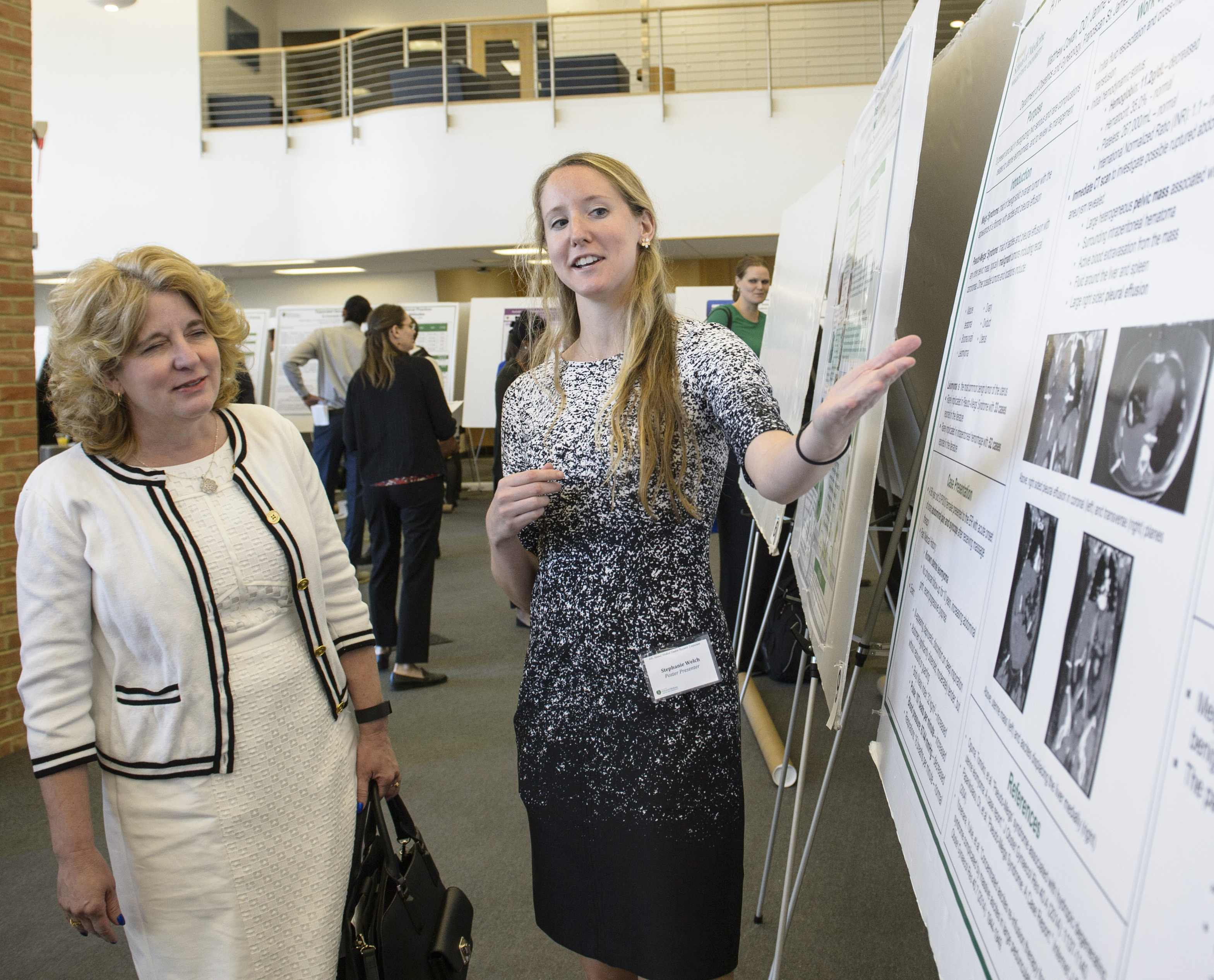 PLDP students have the opportunity to participate in research experiences, many of which lead to publication. M.D./M.P.H. culminating experience research projects are listed on the Wright State University CORE Scholar website.
Recent PLDP student research:
---
International Travel
"I am excited by the curriculum for PLDP. The additional time in my schedule allowed me to spend six weeks in Tanzania on a pediatrics rotation."—Betty Cheney, M.D., M.P.H.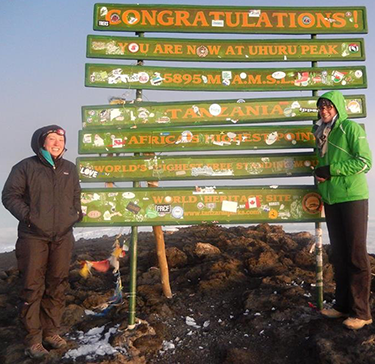 As part of their medical education or graduate education, PLDP students have traveled to:
Bolivia
Costa Rica
Dominican Republic
Eswatini (Swaziland)
Honduras
Jamaica
Ghana
Guatemala
Greece
India
Lesotho
Nepal
Nicaragua
Paraguay
Peru
Tanzania
---
Conferences Attended
American Academy of Child and Adolescent Psychiatry (AACAP)
Association of American Medical Colleges (AAMC)
American College of Physicians (ACP)
American College of Emergency Physicians (ACEP)
American College of Healthcare Executives (ACHE)
American College of Physician Executives (ACPE) "Leap Ahead for Medical Education" webinar
Association for Healthcare Research and Quality (AHRQ)/Practice Based Research Network Conference
American Medical Association (AMA)
American Medical Student Association (AMSA)
American Medical Women's Association
American Psychiatric Association (APA)
American Psychiatric Association's Institute on Psychiatric Services (APA IPS)
American Public Health Association (APHA)
Association for Prevention, Teaching, and Research (APTR)
Central Group on Educational Affairs (CGEA)
Dell Medical School Choosing Wisely Conference
Emergency Medicine Midwest Student Symposium
Gold Humanism Honor Society
Institute for Healthcare Improvement (IHI) National Forum
Institute for Healthcare Improvement/Academy for Healthcare Improvement
Maternal Child Health Epidemiology Conference
Midwest/Great Lakes Undergraduate Research Symposium in Neuroscience Panelist at College of Wooster
Medicine 2.0
Ohio Adolescent Health Symposium
Ohio Emergency Medicine Residents Assembly
Ohio Psychiatric Physicians Association (OPPA)
Pediatric Academic Societies
Root Cause Coalition National Summit
Society for Neuroscience Research
Student National Medical Association (SNMA)
Student Quality Leadership Academy
Team Based Learning (TBL) Conference
Unite for Sight, Global Health and Innovation Conference
WSU Medical Student Research Symposium
PLDP Council
Physician Leadership Development Program Council
The Physician Leadership Development Program (PLDP) is a unique composition of five years of dual-degree students committed to leadership in health care. The PLDP Executive Council was initiated by students to integrate their skills and interests as well as to collaborate to promote their professional, academic and leadership development.
Mission
Embracing the unique opportunities and increased responsibilities of students bridging the institutions in which we learn, our goal is to develop formal networks through communication and collaboration among students in the Physician Leadership Development Program providing a representative presence and influential voice within the Wright State University Boonshoft School of Medicine; the Center for Global Health; the WSU Graduate School; and into the greater community.
Officers
2020-21 Executive Board
Kyle Henneke, Chair - henneke.2@wright.edu
Deanne Locker, Vice-Chair - locker.12@wright.edu
Michael Bamisile, Treasurer - bamisile.2@wright.edu
Meha Joshi, FCC Chair - joshi.83@wright.edu
Teran Mickens, Social Chair - mickens.5@wright.edu
Faculty Advisor: John S. McAlearney, PhD - john.mcalearney@wright.edu
Questions about the PLDP program may be directed to the current PLDP Executive Council. We are happy to share our experiences with the PLDP program.
Testimonials
Student Testimonials
Stephanie Welsh, M.P.H., PLDP Class of 2019
"My experience with the M.P.H. curriculum has been overwhelmingly positive and if I had the decision to make over again, I would definitely pursue my M.P.H. at Wright State again. The learning environment fostered by the professors and fellow students is very collaborative and welcoming, which I especially appreciated as a medical student who wasn't a traditional two-year master's student. As I learned from this curriculum, health and well-being is determined much more by social factors like behaviors and environment than by traditional medical care. As a future physician, I wanted to gain a better understanding of all the factors that will affect my patients' health beyond their healthcare. Through courses about epidemiology, health programming, communications, and environmental health, I have gained important skills for better addressing the barriers to my patients' health. For example, if my patient is having trouble losing weight, I will be able to assess whether the issue is health literacy, access to safe exercise spaces or healthy foods, competing time constraints due to unmet needs for transportation or childcare, etc. Furthermore, I have gained knowledge into the public health programs available to my patients to help address their needs and barriers. Lastly, I have begun to learn how to use my voice as a future physician in advocating for policies and programs that will support the infrastructure needed for people to lead healthier lives. Apart from learning in the classroom, the Wright State M.P.H. curriculum's Practice Placement experience is an invaluable way to learn in the real world. Through my practice placement with a childhood asthma program, I learned firsthand by making home and school visits with Community Health Workers how to form trusting relationships with clients, to assess their medical, environmental, and educational needs, and to provide resources and referrals to address their needs. In our current healthcare climate of high costs and high needs, the knowledge and skills I gained from this program are what future physicians need to promote wellbeing and prevent disease on a population scale."
---
Justin Kelley, M.D., M.P.H., PLDP Class of 2018, Pathology
"The Master of Public Health program allowed me to make a difference in the community. The professors are personal and caring and give you a project that best fits your interests and skills. I learned I enjoy policy and marketing and was given a project to design a Continuing Medical Education program about a local campaign for physicians. With the support of the program, it was approved by the Boonshoft School of Medicine and incorporated in the Ohio Department of Health statewide campaign. The program also teaches the highest level of education and enabled me to earn the Certified in Public Health (CPH) certification. In the future, I wish to work for the Centers for Disease Control and Prevention (CDC) and feel empowered as a future physician leader with the competencies and skills I gained in public health through the program."
---
Alexandra Lawson, M.D., M.P.H., PLDP Class of 2018, Family Medicine
"I am so grateful for the PLDP and how it has already shaped my career. It is difficult to ask yourself what kind of doctor you want to be, especially when you're focused on just being accepted to medical school, but I ask myself that question, and I realized I wanted to be more than a clinician. I wanted to be engaged with my community through public health projects, contribute to research, and treat patients at the same time. As a M.D., M.P.H., I am able to accomplish all of those things in my career, and I was able to start while in medical school thanks to the design of the PLDP curriculum. I used the knowledge I gained in my Master of Public Health courses to impact and improve the care I gave to patients during my clerkship rotations, especially regarding socioeconomic status and social determinants of health. I highly recommend the PLDP to any student hoping to make a larger impact as a physician."
---
Nick Christian, M.B.A., M.D. Candidate, PLDP Class of 2017, Internal Medicine
"The PLDP prepared me to be a successful resident on so many levels. I am better versed in health systems science and the process of academic research, and I learned to be an intentional leader as a direct result of my dual degree. All of these things have enabled me to more effectively lead a medical team, and to become the change agent in health care that I've always hoped to be."
---
Rebecca Beesley, M.D., M.P.H., PLDP Class of 2016, Family Medicine
"The opportunity to participate in a longitudinal clinical experience in conjunction with obtaining my M.P.H. was invaluable. I experienced what real continuity of care looks like in the world of pediatrics. In addition, I could incorporate what I was learning in my M.P.H. classes into the day-to-day activities of a practicing physician. I also used my graduate year to explore other opportunities and projects that I wouldn't otherwise have time for during my medical school years. I really appreciated having the extra time to develop myself as a physician and to work on projects that I feel will benefit my career in the future."
---
Michael Robertson, M.D., M.B.A., PLDP Class of 2016, Family Medicine
"I was interested in the M.D./M.B.A. program because it would allow me to bridge my various career interests: medicine, engineering, teaching/tutoring. In hindsight, the beauty of the M.B.A. program is that I learned a holistic perspective to medicine that wouldn't have been as apparent to me from simply studying the basic sciences. During rotations, there's always behind the scenes aspects that don't make sense from the patient's and/or health care teams' perspective. I can now see how those systems were set up, and more importantly, I can already visualize solutions that would be in the best interest of patients while still acceptable to physicians and policymakers alike."
---
Betty Cheney, M.D., M.P.H., PLDP Class of 2015, Pediatrics
"The longitudinal clinical clerkship allowed me to interact with the same patients over an entire year and across multiple appointments. No other experience allows for continuity of care and relationship building with patients over an extended time. The public health skills elucidate many subtleties and nuances in the various healthcare settings encountered throughout the rest of medical school. Furthermore, my patient care has improved because of my awareness of available community resources. I have a better understanding of health literacy and the most appropriate methods to communicate with my patients both individually and as a community."
---
Colleen McCormick Badke, M.D., M.P.H., PLDP Class of 2013
She says, "I believe the dual degree broadened my perspective in medicine. It gave me new knowledge and skills within medicine, showing me how to have an impact on the health of the population rather than just impacting one individual at a time. As a result of the dual degree, I have a stronger interest in research and population health. This has influenced some of my research interests, including my work in infant safe sleep and drowning prevention. It has also influenced my primary research goals as a pediatric intensivist."
---

Robert Eick, M.D., M.P.H., PLDP Class of 2013, Family Medicine
"So much of health care, and improving health, is social. Prior to medical school, I saw the opportunity to also study public health as a way to embrace this reality and enable a population-level approach to my future career in medicine. For me, as a medical doctor who has not chosen to practice, my public health training has been an instrumental complement to my M.D. degree as I have embraced more non-traditional roles in health care. The additional leadership and administrative training that I gained within the PLDP has been especially beneficial, enabling my success in leading diverse health care teams."
---
Lakshman Swamy, M.D., M.B.A., PLDP Class of 2013, Internal Medicine
"The problems with the delivery of health care – the 'systems' of care- are widespread and well known, if not well understood. As an early medical student, it was apparent to me that the even the smartest and hardest working doctor would always be held back by our broken systems of care. I knew I wanted to work on those systems, and the dual degree program focused on just that. The M.B.A. provided me with foundational knowledge and exposure that led to a critical change in my perspective. For the first time, I was able to see things outside the lens of clinical medicine. The perspective change was the start. Since then, I have found myself able to identify patient safety and systems issues quickly and accurately, and the M.B.A. certainly helped me learn how to actually make a difference. I focused my M.B.A. on quality and safety, and I use that every day in my clinical work as a pulmonary/critical care fellow as well as in my QI and research work. An understanding of finances and accounting, key principles of operations/supply chain management, marketing skills and of course, leadership and management training have all been integral to my work. It was not as obvious in the early and more grueling clinical years, but once I started to explore my options, it was amazing how often people would say, 'Oh, you've got an M.B.A.! You should talk to this person…you should definitely get involved with this…' – it broadcast my skills and interest in a meaningful way."
---
Michael Baria, M.D., M.B.A., PLDP Class of 2011, Physical Medicine and Rehabilitation
"The M.B.A. has served me well. It gives me a great overview of the organizational structure. There are multiple facets to our organization and my M.B.A gives me the knowledge on how to navigate my career. Also, I am responsible for developing the Biologics program so my M.B.A. has given me an excellent foundation to understand the finances, marketing, and partnership efforts necessary to make this work."
---
Sherry Adkins, M.D., M.P.H., PLDP Class of 2011, Family Medicine
"The M.P.H. has given me a broader perspective on patient care, the dysfunction of care delivery in the current medical setting, and overall human behavior, which impacts my clinical work greatly. The course on social and behavioral determinants of health gave me a framework to approach patient and clinician behavior and wellbeing. I have also used some of the skills I learned in statistics to conduct background research and administer surveys on provider burnout. I look forward to using my public health training and my concern for physician wellness and workforce issues – such as the closing of primary care residencies, particularly in rural locales – to improve health care in our region."
---
Daniel Lui, M.D., M.B.A., PLDP Class of 2010, Family Medicine, CEO, Giving Back Life, Inc.
"Running a US-based nonprofit along with a foreign medical clinic in China can be extremely overwhelming. I realize how much I don't know and how much I constantly need to grow and learn. The M.B.A. degree and education has provided me the self-awareness to know what I don't know, which gives me opportunities to ask for help (a very difficult thing to do), and in turn has been a significant reason for our growth as an organization and clinic. The M.B.A. degree and education has also given me the tools to, at the very least, communicate more effectively in the business world and see the bigger picture when it comes to corporate culture, leadership and management, operations, mission and vision casting, etc."
---
Aaron Patterson, M.D., M.B.A, PLDP Class of 2009
He says the dual degree has benefited his career, "I think the training I received through the program has been very helpful in preparing me to lead teams, to make a business case for the work that I do, to better understand complex systems, and to think more strategically.  I created a job that did not exist where I work because I saw a critical need for it and I do not think I would have been able to pull that off without the background from the program. I feel a lot more comfortable pursuing administrative opportunities as a result of the program.  However, I also see the appeal of going out on one's own to create the kind of health care services that organizations can sometimes struggle to achieve.  This background has opened up that possibility in ways that I would not have felt comfortable with before."
---
Kyle Horton, M.D., M.B.A., PLDP Class of 2008, Internal Medicine
"I was drawn to the thought of a second degree because of the future opportunities it would offer. I chose to earn an M.B.A. because it's important to understand the business climate in order to navigate health economics. The leadership development aspect of the program was such a selling point, it would have felt like a missed opportunity had I not pursued the dual degree."
 
Last edited on 10/01/2020.