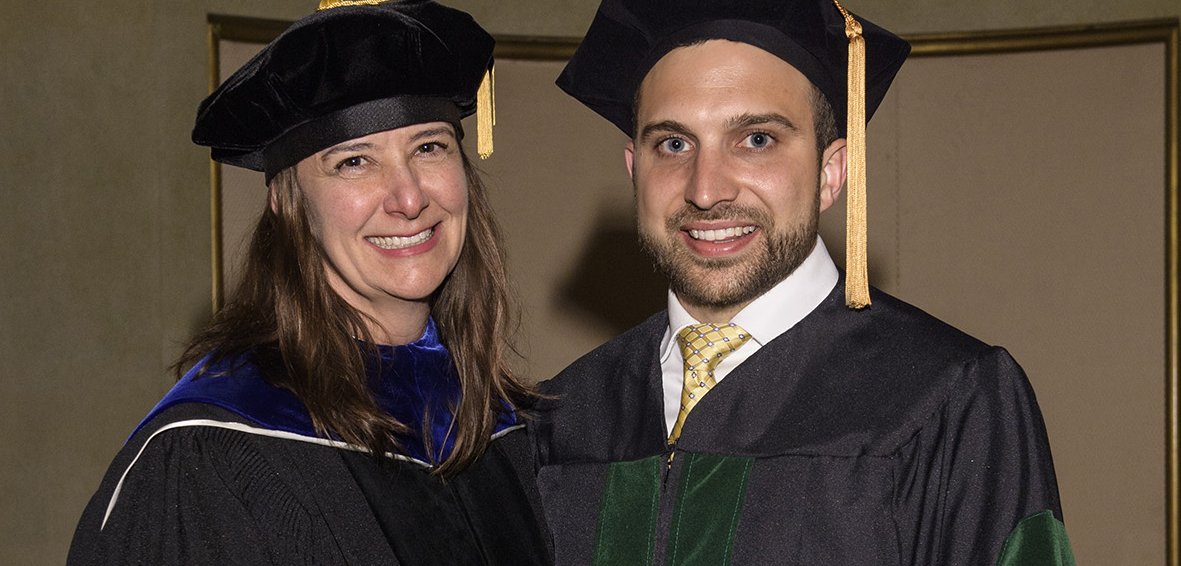 Residencies
Residencies
"I matched at my number one choice of residencies, and in part because I had such a broad research background and varied experiences because of the PLDP program as well as my MPH to discuss at interviews. The program really helped me stand out as an applicant."
—Bre Bolivar, M.D., M.P.H., PLDP Class of 2012
Graduates from the Physician Leadership Development Program have pursued careers in dermatology, emergency medicine, family medicine, internal medicine, obstetrics/gynecology, pediatrics, physical medicine and rehabilitation, psychiatry and surgery. Participation in the PLDP has made a significant contribution toward their acceptance into the residencies of their choice at many prestigious programs around the United States, including:
Advocate Christ Medical Center, Brook, Ill. (Pediatrics)
Beth Israel Medical Center, New York, N.Y. (Internal Medicine, Psychiatry)
Boston University Medical Center, Boston, Mass. (Internal Medicine)
Carolinas Medical Center, Charlotte, N.C. (Family Medicine)
Clinton Memorial Hospital, Wilmington, Ohio (Family Medicine)
David Grant Medical Center, Travis Air Force Base, Calif. (Transitional Year)
East Tennessee State University, Johnson City, Tenn. (General Surgery)
Emory University, Atlanta, Ga. (Emergency Medicine)
Grant Medical Center, Columbus, Ohio (Family Medicine)
Indiana University, Indianapolis, Ind. (Pediatrics)
Kaiser Permanente, San Francisco, Calif. (Internal Medicine)
Kettering Medical Center, Dayton, Ohio/Mayo Clinic, Rochester, Minn. (Physical Medicine & Rehabilitation)
Mayo Clinic, Rochester, Minn. (General Surgery)
Medical College of Wisconsin, Milwaukee, Wis. (Internal Medicine/Geriatrics)
Mountain Area Health Education Center, Asheville, N.C. (Obstetrics/Gynecology)
New York Presbyterian-Columbia University Medical Center, New York, N.Y. (Emergency Medicine, Family Medicine)
Northwestern University, Chicago, Ill. (Pediatrics)
Ohio State University Medical Center, Columbus, Ohio (Psychiatry)
Ohio State University Medical Center, Columbus, Ohio/University of South Florida, Tampa, Fla. (Dermatology)
Oregon Health & Science University, Klamath Falls, Ore. (Family Medicine)
Pennsylvania State University, Hershey, Penn. (Dermatology)
Riverside Methodist, Columbus, Ohio (Physical Medicine & Rehabilitation)
Trident Medical Center, Charleston, S.C. (Family Medicine)
Tulane University, New Orleans, La. (Obstetrics/Gynecology)
University Hospitals Case Medical Center, Cleveland, Ohio (General Surgery)
University of California-Davis Medical Center, Sacramento, Calif. (Family Medicine)
University of Chicago Medical Center, Chicago, Ill. (Pediatrics)
University of Cincinnati, Cincinnati, Ohio (Anesthesiology)
University of Florida College of Medicine, Shands Hospital, Orlando, Fla. (Pediatrics)
University of Illinois College of Medicine, Chicago, Ill. (Internal Medicine)
University of Kentucky, Lexington, Ky. (Otolaryngology)
University of Louisville, Louisville, Ky. (Emergency Medicine)
University of Michigan, Ann Arbor, Mich. (Pathology)
University of Michigan Hospitals, Ann Arbor, Mich. (Physical Medicine & Rehabilitation)
University of Pittsburgh Medical Center, Pittsburgh, Pa. (Internal Medicine, Pediatrics)
University of South Florida Morsani, Tampa, Fla. (Family Medicine)
University of Southern California, Los Angeles, Calif. (Psychiatry)
University of Virginia, Charlottesville, Va. (Emergency Medicine)
University of Wisconsin Hospital and Clinics, Madison, Wis. (Neurology)
Virginia Commonwealth University Health System, Richmond, Va. (Internal Medicine, Pediatrics)
Wright State University Boonshoft School of Medicine, Dayton, Ohio (Emergency Medicine, Family Medicine, Psychiatry)
Leadership
Leadership Experiences
Student Opioid Coalition (SOC)
After learning about the ongoing opioid crisis during a community health elective, Nick Christian, M.D., M.B.A. (Class of 2017) founded the Student Opioid Coalition (SOC), an interdisciplinary group of medical, nursing, pharmacy and other health professions students. Through the SOC, Boonshoft School of Medicine students are equipped to advocate for drug abuse prevention as future physicians and take a proactive, rather than reactive, role in managing the opioid crisis in Montgomery County. Since Nick founded the group, SOC students have taken on a number of projects positively impacting the community. Some are working with the Community Overdose Action Team (COAT), an interagency collaboration between Public Health Dayton & Montgomery County and Montgomery County Alcohol, Drug Addiction, and Mental Health Services dedicated to reducing the number of deaths caused by drug overdoses. PLDP students continue to be active in the SOC. Goals for the organization include promoting interprofessional education and synergizing the efforts of emergency medicine physicians, addiction specialists, pain management specialists, and mental health counselors toward the long-term success of risk reduction and overdose prevention efforts.
Annual Medical Student Leadership Conference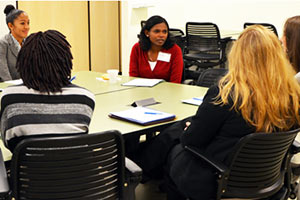 In 2012, PLDP students organized a leadership conference for Boonshoft School of Medicine students. All medical students were invited to attend, but a strong emphasis was placed on first- and second-year students. The first annual conference had one keynote speaker (Dr. Arthur Pickoff), five small group sessions with the opportunity to choose from seven different topics, and was attended by 42 students. The wonderful response from attendees led to this becoming an annual event, growing considerably each year in size and scope. While PLDP is still involved in the planning and sponsoring of the conference, the conference is now a collaboration of several organizations, including the Medical School Student Council, the Office of Student Affairs and Admissions, American Medical Association, Phi Rho Sigma and Boonshoft for Healthcare Improvement.
---
Boonshoft for Healthcare Improvement (BHI)
PLDP alumni Colleen McCormick Badke, M.D., M.P.H., and Lakshman Swamy, M.D., M.B.A., established a local chapter of the Institute for Healthcare Improvement (IHI) Open School in 2011. The chapter supports students of all health professions in learning about health care quality and patient safety. BHI encourages medical students to participate in the IHI coursework and student training conferences, and provides the tools to facilitate student-initiated quality improvement projects in the Dayton community. The courses are also accessible free-of-charge to interested students, residents and faculty physicians who are not members of BHI.
---
STEPS Initiative
PLDP alumni Rebecca Beesley, M.D., M.P.H., Nicole Craker, M.D., M.P.H. and Matias Iberico, M.D., M.P.H., were part of a student-led interdisciplinary group that started the Student Teaching Educational Plans for Success (STEPS) Initiative in 2012 to address the health concerns of the homeless population of Dayton, Ohio. Since then, the STEPS Initiative has grown to include more than six different health disciplines. The organization currently hosts motivational interviewing sessions on health at three homeless shelters in the Dayton area: the Saint Vincent De Paul Gateway Shelter for Men, the Gateway Shelter for Women and Families and the Daybreak Youth Shelter.
At each STEPS Initiative session, students from health programs at Wright State University, Cedarville University, University of Dayton and Kettering College work side-by-side to start a dialogue about the participant's current health state and empower them to take STEPS towards a healthier lifestyle.
---
Finding Meaning in Medicine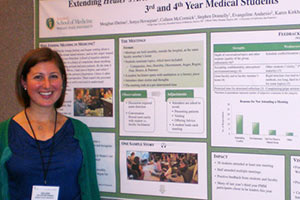 Finding Meaning in Medicine, or FMM, was developed by Dr. Rachel Naomi Remen (also the founder of The Healer's Art). In 2011, Boonshoft School of Medicine students (including two PLDP students) and faculty started a Finding Meaning in Medicine for Medical Students group using the model defined by Dr. Remen.
The goals of this program are to provide medical students in the clinical years with an opportunity to reflect on difficult clinical and ethical situations while improving their generous listening skills and reminding students of their humanistic goals in being physicians.
---
Service Learning at Hospice of Dayton
In 2012, two PLDP students developed a service learning opportunity for other medical students at Hospice of Dayton. This experience is now offered annually to first year medical students.
The service learning experience serves as an extension of the principles and lessons learned during the Healer's Art Course. It is also a great way for students to get a first-hand look at a very different side of medicine, particularly the care of patients nearing the end of life's journey.
By shadowing a social worker or chaplain, students are able to learn about patient care from a new perspective and see the value of interprofessional teamwork, as hospice care requires communication between doctors, nurses, social workers, spiritual advisors and volunteers. Students also learn about the differences between facility options such as home care, assisted living facilities, hospice facilities and nursing homes.
The service learning experience includes the full orientation given to all Hospice volunteers, which allows students to volunteer at the Hospice of Dayton after their shadowing hours are completed.
---
Celebrating Life and Health Fair
Every spring, PLDP supports a student-run interdisciplinary health screening booth at the annual Celebrating Life and Health Fair sponsored by the Levin Family Foundation. WSU medical and nursing students measure fair attendees' blood pressure, height and weight, and calculate BMI. Sinclair Community College dietetic students provide diet and nutritional education. More than 200 visitors are screened at the booth each year.
---
Documentary Screenings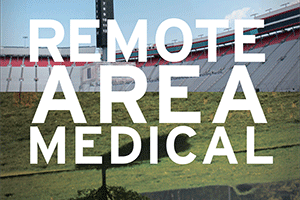 To raise awareness about public health and health care issues, PLDP has hosted several documentary screenings for the community since 2012. These screenings are an opportunity to engage students, faculty and health care professionals in meaningful discussions about health care and medicine, both from a patient perspective and health care system perspective. Some screenings are solely supported by PLDP, and some are presented in collaboration with other Boonshoft student organizations. Past film screenings included: The Weight of the Nation, Escape Fire: The Fight to Rescue American Healthcare, Remote Area Medical, Unnatural Causes: Is Inequality Making Us Sick? and an abbreviated version of Cancer: The Emperor of all Maladies.
---
Research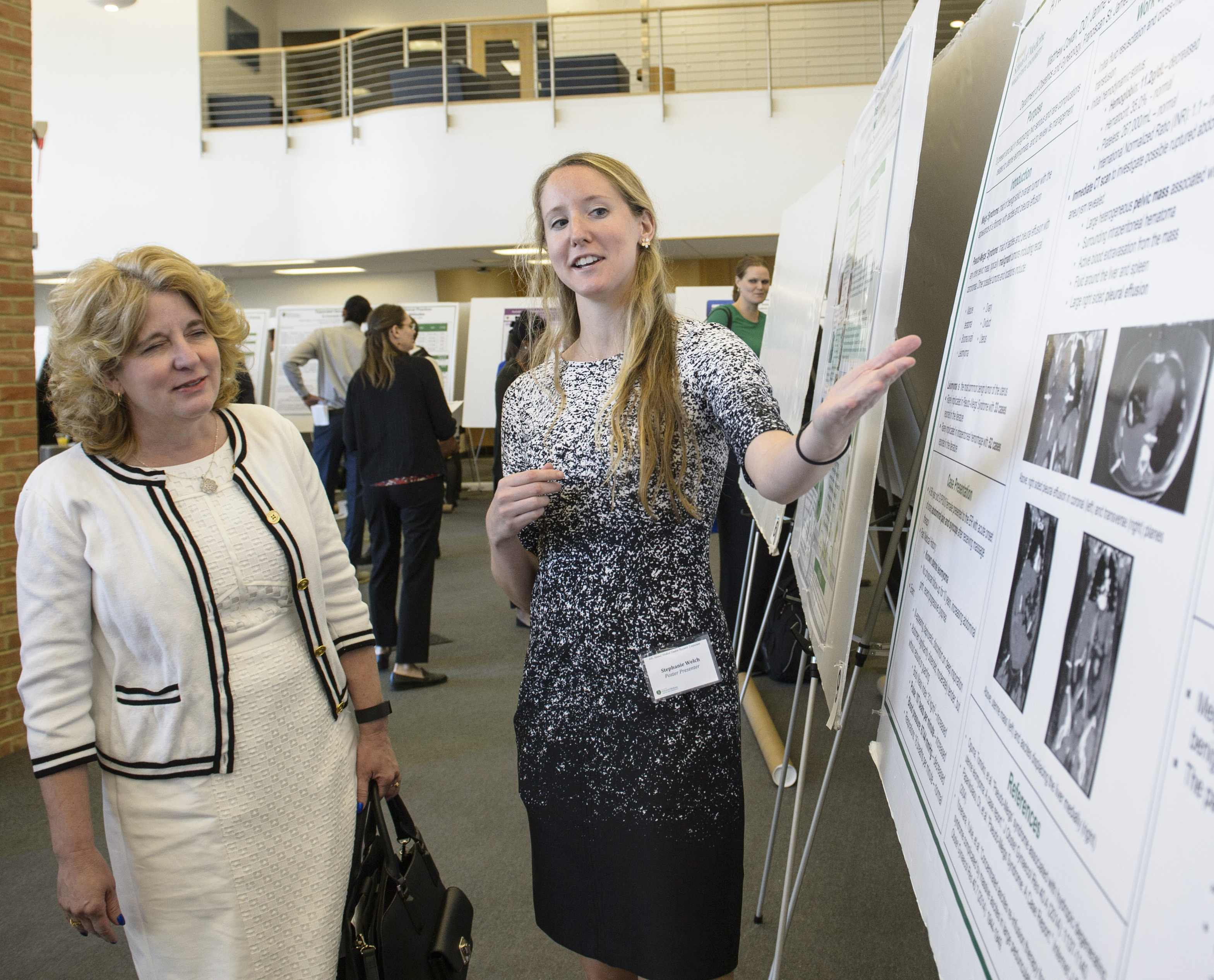 PLDP students have the opportunity to participate in research experiences, many of which lead to publication. M.D./M.P.H. culminating experience research projects are listed on the Wright State University CORE Scholar website.
Recent PLDP student research:
---
International Travel
"I am excited by the curriculum for PLDP. The additional time in my schedule allowed me to spend six weeks in Tanzania on a pediatrics rotation."—Betty Cheney, M.D., M.P.H.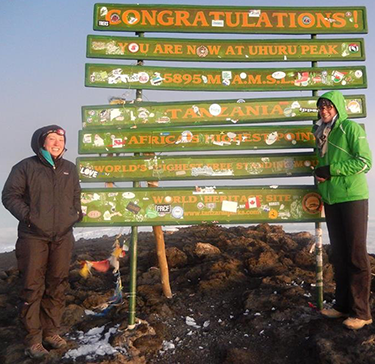 As part of their medical education or graduate education, PLDP students have traveled to:
Bolivia
Costa Rica
Dominican Republic
Honduras
Jamaica
Ghana
Guatemala
India
Lesotho
Nepal
Nicaragua
Paraguay
Peru
Swaziland
Tanzania
---
Conferences Attended
American Academy of Child and Adolescent Psychiatry (AACAP)
Association of American Medical Colleges (AAMC)
American College of Physicians (ACP)
American College of Emergency Physicians (ACEP)
American College of Healthcare Executives (ACHE)
American College of Physician Executives (ACPE) "Leap Ahead for Medical Education" webinar
Association for Healthcare Research and Quality (AHRQ)/Practice Based Research Network Conference
American Medical Association (AMA)
American Medical Student Association (AMSA)
American Medical Women's Association
American Psychiatric Association (APA)
American Psychiatric Association's Institute on Psychiatric Services (APA IPS)
American Public Health Association (APHA)
Association for Prevention, Teaching, and Research (APTR)
Central Group on Educational Affairs (CGEA)
Emergency Medicine Midwest Student Symposium
Gold Humanism Honor Society
Institute for Healthcare Improvement (IHI) National Forum
Institute for Healthcare Improvement/Academy for Healthcare Improvement
Maternal Child Health Epidemiology Conference
Midwest/Great Lakes Undergraduate Research Symposium in Neuroscience Panelist at College of Wooster
Medicine 2.0
Ohio Adolescent Health Symposium
Ohio Emergency Medicine Residents Assembly
Ohio Psychiatric Physicians Association (OPPA)
Pediatric Academic Societies
Society for Neuroscience Research
Student National Medical Association (SNMA)
Student Quality Leadership Academy
Team Based Learning (TBL) Conference
Unite for Sight, Global Health and Innovation Conference
WSU Medical Student Research Symposium
Executive Council
PLDP Executive Council
The Physician Leadership Development Program (PLDP) is a unique composition of five years of dual-degree students committed to leadership in health care. The PLDP Executive Council was initiated by students to integrate their skills and interests as well as to collaborate to promote their professional, academic and leadership development.
Mission
Embracing the unique opportunities and increased responsibilities of students bridging the institutions in which we learn, our goal is to develop formal networks through communication and collaboration among students in the Physician Leadership Development Program providing a representative presence and influential voice within the Wright State University Boonshoft School of Medicine; the Center for Global Health; the WSU Graduate School; and into the greater community.
Officers
PLDP Executive Council officers are:
Student college:
School of Medicine
Student college:
School of Medicine
Address:
Rike Hall 290, 3640 Colonel Glenn Hwy, Dayton, OH 45435-0001
Questions about the PLDP program may be directed to the current PLDP Executive Council. We are happy to share our experiences with the PLDP program.
Testimonials
Student Testimonials
Kara Dawn (Yutzy) Callahan, M.P.H., M.D. Candidate, Class of 2018
"PLDP provided me with the opportunity to develop myself into the professional I always saw myself being 'in the future.' I know that I will work in an underserved community, and that community development will be an important aspect of my future practice. Whereas before it was a good idea that I would 'do someday,' I now feel competent to join other leaders to bring that community development about."
---
Katherine Wehri Takayasu, M.D., M.B.A., PLDP Class of 2009, Family Medicine
"As my education in medical school became more clinical, I began to see the commonalities among my two degrees and how integrated the topics in medicine and business really are. The program has definitely exceeded my expectations in terms of helping me to connect two seemingly dissimilar topics.
"What I've realized over the past few years is that I can combine my knowledge in business with medicine in so many other ways. I've found throughout medical school that I enjoy working with under-served populations because of the need to be both a caring clinician and a smart utilizer of valuable resources. There is need in almost every area of medicine for people like us, and what's exciting is that we can truly do anything we want."
---
Luke Rothermel, M.D., M.P.H., PLDP Class of 2010, General Surgery
"As the master's classes offer a different time obligation for students than clinical work, I was able to expand my opportunities into various leadership and research roles during these times. Though a year is added to the medical school experience, I feel very fortunate for the added time to accomplish many goals beyond the medical curriculum."
---
Chad Garven, M.D., M.P.H., PLDP Class of 2012, Family Medicine
"Public health needs medicine and vice versa, and there is no better way to show that than in this program. The leadership stressed in this program was also attractive. Having this second degree in the medical field makes you a leader in the community and this is an opportunity to foster those leadership characteristics."
---
Bre Bolivar, M.D., M.P.H., PLDP Class of 2012, Obstetrics/Gynecology
"I matched at my number one choice of residencies, and in part because I had such a broad research background and varied experiences because of the PLDP program as well as my M.P.H. to discuss at interviews. The program really helped me stand out as an applicant. Specifically, I used my M.P.H. in the last year during a trip to rural northern Tanzania to help start a nonprofit called Mama Maisha, which trains maternal health advocates to help decrease maternal mortality surrounding pregnancy and delivery. The attending OB/GYN with whom I am working always mentions how helpful my 'M.P.H. brain' is to the project."
---
Colleen McCormick Badke, M.D., M.P.H., PLDP Class of 2013, Pediatrics
"Participating in the Physician Leadership Development Program was the best decision I made in medical school. In five years, I was able to obtain an M.D. and an M.P.H., and just as importantly, learn crucial skills in leadership, teamwork, conflict resolution and communication. The program gave me a much better understanding of our health care system, and it gave me the confidence to think about how to make our system better. I am currently a second year pediatrics resident at Lurie Children's Hospital in Chicago. The PLDP taught me, and my residency experience has confirmed this, that medicine is so much more than caring for a sick patient; it involves communication, leadership, research and an understanding of systems. Without a doubt, the PLDP and M.P.H. program supplemented my medical school education to help me be a better leader in my residency program and prepare me for an active role within pediatrics."
---
Kiran Faryar, M.D., M.P.H., PLDP Class of 2013, Emergency Medicine
"I have begun to realize and witness not only how integrated the fields of medicine and public health are, but also the necessity of physician leaders in our society today. This program has provided me the unique opportunity to not only study, but, more importantly, practice leadership both within the program and within our community… The PLDP and its faculty continually foster an environment of creativity and leadership that encourages students to take leadership roles."
---
Lakshman Swamy, M.D., M.B.A., PLDP Class of 2013, Internal Medicine
"The reason this program was created, and the reason I am in it, is to take back control of health care by understanding that health care is a complex field that requires more than medical knowledge to manage. This doesn't mean I want to be the CEO of a hospital or work for UnitedHealthcare by any means. I just think that in whatever way I make use of them, these skills and this knowledge will allow me to be more aware and in charge of my own profession. There is a lot more to being a doctor than medical school teaches you."
---
Betty Cheney, M.D., M.P.H., PLDP Class of 2015, Pediatrics
"The longitudinal clinical clerkship allowed me to interact with the same patients over an entire year and across multiple appointments. No other experience allows for continuity of care and relationship building with patients over an extended time. The public health skills elucidate many subtleties and nuances in the various healthcare settings encountered throughout the rest of medical school. Furthermore, my patient care has improved because of my awareness of available community resources. I have a better understanding of health literacy and the most appropriate methods to communicate with my patients both individually and as a community."
---
Michael Robertson, M.D., M.B.A., PLDP Class of 2016, Family Medicine
"I was interested in the M.D./M.B.A. program because it would allow me to bridge my various career interests: medicine, engineering, teaching/tutoring. In hindsight, the beauty of the M.B.A. program is that I learned a holistic perspective to medicine that wouldn't have been as apparent to me from simply studying the basic sciences. During rotations, there's always behind the scenes aspects that don't make sense from the patient's and/or health care teams' perspective. I can now see how those systems were set up, and more importantly, I can already visualize solutions that would be in the best interest of patients while still acceptable to physicians and policymakers alike."
---
Jasmin Scott-Hawkins, M.D., M.P.H., PLDP Class of 2016, Psychiatry
"The Physician Leadership Development Program is absolutely in a class of its own. Not only are we afforded with the opportunity to complete two degrees in just five years, we are also provided with intensive leadership training, a longitudinal clinical experience in the specialty area of our choic
e, and the time to pursue opportunities of interest such as community outreach, leadership positions, program development, in-depth research, national conference attendance, international mission work and much more! Completing the PLDP provided me with the skills and qualities to stand as a competitive applicant in the residency application process and to land a spot in the residency program of my choice. Further, I will carry the skills, qualities and mindset that I have acquired through the PLDP into my career working within the intersection between medicine and public health with the goal of positively impacting the most underserved patient populations."
 
---
Nick Christian, M.B.A., M.D. Candidate, PLDP Class of 2017
"My graduate M.B.A. course work really filled in the gaps that a pure medical education is unable to fill due to time restraints. I now feel as though I can competently navigate the world of hospital administration, health insurance and health care providers at large. The more clinic time I experience, the more I see the complexity of all of these moving parts, and develop a love and appreciation for the people that are trying to bring these parts together to assemble a health care machine that puts the patient in the driver seat."
Last edited on 03/21/2018.