Annual Dinner and Distinguished Guest Lecture
2023
Tuesday, April 25, 2023
Lisa Egbert, M.D.
The Steam Plant
617 East 3rd Street
Dayton, Ohio 45402
Lisa Bohman Egbert, M.D., was re-elected vice speaker of the American Medical Association (AMA) in June 2022. Dr. Egbert, who has been attending AMA meetings since her first year of medical school, has held numerous leadership positions that reflect her commitment to medicine during every stage of her career. She began by serving as the student representative to the AMA Women in Medicine Advisory Panel, then as a member of the AMA Resident Physicians Section Governing Council before becoming chair of the AMA Young Physicians Section. Subsequently, she served on the board of AMPAC, the AMA's political action committee, and on the AMA Council on Medical Service before her election as vice speaker of the AMA House of Delegates.
Dr. Egbert represents the AMA on the COLA Board of Directors, in addition to serving on the AMA Foundation Board of Directors and as a member of its Executive Committee. Dr. Egbert is a founding member of Launch2047, a Columbus, Ohio, based subsidiary of the AMA's Health2047, and is excited to help "launch" the cutting-edge innovations developed by Health2047. In addition to her involvement at the national level, Dr. Egbert has been a strong advocate at the state and local levels. She is a past president of Ohio's Montgomery County Medical Association and is currently serving as the immediate past president of the Ohio State Medical Association. Dr. Egbert graduated summa cum laude and with honors from The Ohio State University earning her undergraduate and medical degrees. After completing her residency, Dr. Egbert began her solo practice in obstetrics and gynecology in Dayton, Ohio.
---
2022
April 27, 2022
Dr. M. Matias Iberico '13
The Steam Plant
617 East 3rd Street
Dayton, Ohio 45402
Cocktail Reception: 5:30 p.m.
Dinner: 6:30 p.m.
Business attire
M. Matias Iberico, M.D., M.P.H., D.T.M.&H., is an internist and assistant professor of medicine at Tulane University in New Orleans, Louisiana. He completed medical school at Wright State University and internal medicine residency training at Kaiser Permanente in San Francisco. In medical school he was awarded a Fulbright scholarship to study poverty and tuberculosis in Peruvian peri-urban slums and completed a master's degree in public health. After residency, he went on to complete the University of California San Francisco's HEAL Initiative Global Health Equity Fellowship. During fellowship, his work focused on community health systems with Muso in Bamako, Mali. His current global health equity work includes co-directing the Resident Initiative in Global Health Training (RIGHT) at Tulane University School of Medicine and supporting community health worker program development in rural Chiapas, Mexico, with Compañeros en Salud/ Partners in Health (CES). As part of his work with CES, he collaborates with the Community Health Impact Coalition on various advocacy and research projects.
---
2020
April 29, 2019 
Dr. Rosalind Moore Dulan and Dr. Michael Dulan, '97
Wednesday, April 24, 2019
The Steam Plant
617 East 3rd Street
Dayton, Ohio 45402

Cocktail Reception: 5:30 p.m.
Dinner: 6:30 p.m.
Business attire
Dr. Michael Dulan and Dr. Rosalind Moore Dulan, 1997 resident graduates of the St. Elizabeth Family Practice Residency Program. They will share lessons they have learned from serving prison populations at Dayton Correctional Institute, international mission trips, and working together as a husband and wife team for more than 20 years at Dulan and Moore Dulan Family Wellness Center in Lebanon, Ohio.
For more information, contact Nicki Crellin, director of major gifts, at nicki.crellin@wright.edu or (937) 245-7634.
---
2019
April 24, 2019 
Backpack Medicine
Wednesday, April 24, 2019
The Steam Plant
617 East 3rd Street
Dayton, Ohio 45402
Reception 5:30 p.m.
Dinner 6:30 p.m.
Business attire
Our guest speaker grew up in Fairborn, Ohio, with parents who showed her the importance of serving and caring for those less fortunate. She decided early on that she wanted to become a physician. During her undergraduate studies at the University of Notre Dame, she completed a summer mission trip to Palestine. The trip opened her eyes to foreign service, and the influence society has on health. Not long after, she returned to Dayton to attend the Boonshoft School of Medicine.
As a medical student, she championed the needs of the underserved. She helped found the Global Health Initiative, and completed a trip to El Salvador to serve with Doctors for Global Health. she graduated with an M.D. degree in 2005 and continued to complete internal medicine residency training at Albert Einstein College of Medicine, Montefiore Medical Center in the Bronx, New York.
In 2008, she worked in Uganda as a medical volunteer. Since 2009, she also has volunteered with Health Rights International, a group that provides medical affidavits for those seeking asylum in the United States. Doorley has served on the Board of Directors for Doctors for Global Health from 2005-2008 and 2011-2014.
For many years, she treated the homeless as medical director of the Valley Homeless Healthcare Program in San Jose, California. Most recently, Doorley has been named medical director of Albuquerque Health Care for the Homeless in New Mexico.
For more information, contact Nicki Crellin, director of major gifts, at nicki.crellin@wright.edu or (937) 245-7634.
---
2018
April 25, 2018
Debbie Antonelli
Debbie Antonelli is one of the nation's most esteemed WNBA and college basketball analysts, with 23 years' broadcasting experience on ESPN, Big Ten Network, CBS, and FOX. She was the first woman to work a men's NCAA Tournament game as an analyst in over 20 years.
Antonelli has covered 80 college basketball games each season in 30 years of sports reporting. She is a respected expert on collegiate and professional basketball, informed by her own playing days at North Carolina State University. Because of her efforts, the hardwood at N.C. State was renamed Kay Yow Court, after the famous coach with more than 700 career wins.
She began broadcasting with the WNBA in 1996, its first year, and has spent more than 21 years working with the Indiana Fever and the Charlotte Sting. For the better part of a decade, Antonelli has advocated that Las Vegas become a destination city for women's college basketball. Her efforts have helped bring Play4Kay Vegas and other tournaments to the City of Lights.
Her experience in sports also has led her to develop media training workshops to teach coaches and athletes to communicate in any setting. Antonelli has trained players at schools such as Kansas, Notre Dame, Ohio State, Wake Forest, and many others. She sits on the Board of Directors of the Kay Yow Cancer Fund, Naismith Trophy, and the Women's Basketball Hall of Fame, among others.
This annual event honors outstanding medical students, residents and faculty from Boonshoft School of Medicine while recognizing the dedicated work of members of the Wright State University Academy of Medicine in an unforgettable evening of camaraderie and celebration. Each year, the event features luminary speakers from the field of medicine, arts or entertainment.
---
2017
April 26, 2017
Dr. Roger Pacholka
Roger Pacholka, M.D, is a proud graduate of Wright State University. He flunked out of college in 1971 but received a second chance from Wright State. Pacholka received his Bachelor of Arts degree in 1980, a Doctor of Medicine in 1985 and graduated from Wright State's Emergency Medicine Residency Program in 1988. Dr. Pacholka now leads medical students, residents, attending physicians and other health care professionals serving the poor in Southern Africa. As a medical student, he developed a two-month global health rotation in Swaziland, Africa, becoming the first of hundreds of Wright State students to work in the area. He serves as the medical director and U.S. board chairperson for Mercy Air South Africa, a nonprofit missionary aviation organization that provides humanitarian, medical, educational and agricultural programs throughout Southern Africa. At this year's Academy of Medicine dinner, the comedian-turned-doctor will share stories of his work in Africa and his journey since medical school.
---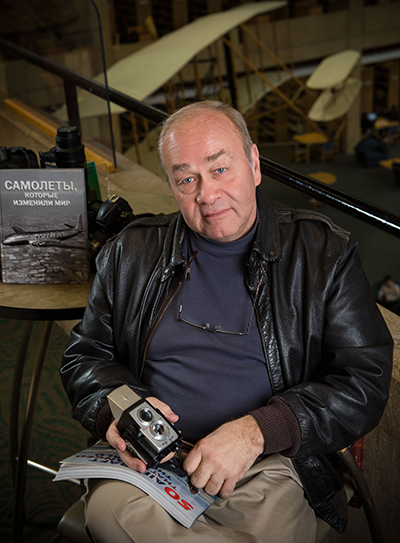 2016
April 27, 2016
Dan Patterson
Dan Patterson has been fascinated with flight his entire life. He employs his skills and talents as a designer and photographer to look at aviation in a different light. Over 30 books with his photos have been published meeting with international acclaim. Patterson was honored in 2003 as the National Aviation Hall of Fame's first winner of the Harry B. Combs Award for Excellence in the Preservation of Aviation History. He was introduced by astonauts Neil Armstrong and Gene Cernan. He was also named Wright State University Alumni of Year in 2003. Dan has had several major exhibits, including a one-man show at the National Museum of the United States Air Force in 2005 and the creation of a Very Large Book for permanent exhibit at the Wright Brothers Museum in Pau, France. He was selected as a lecturer for the Smithsonian Journeys Programs.
---
2015
April 29, 2015
Nick Mangold
Recognized as one of the National Football League's best offensive lineman, Nick Mangold first established himself during his days as a three-sport athlete at Archbishop Alter High School.
Having grown up in Centerville, Ohio, Nick played both offense and defense for the Knights and was named first-team All-Ohio his senior year. After graduation, he was selected to play in the U.S. Army All-American Bowl.
He continued his career at The Ohio State University where he was a three-year starter and co-captain his senior season. During his career at Ohio State, Nick was a two-time All-Big Ten selection as well as an Outland Trophy finalist and a finalist for the Rimington Trophy, presented to the top center in the country, after not allowing a sack his entire senior season.
In 2006, he was drafted in the first round (29th overall) by the New York Jets and was the first player ever to start the entire season at center for the organization. After his rookie season, he was named to the All-Rookie team and garnered AFC Rookie of the Year consideration, despite playing an often overlooked position. He has since been selected to the Pro Bowl five times and named All-Pro twice.
---
2014

April 23, 2014
J.R. Martinez
Long before J.R. Martinez won legions of fans as the winner of Dancing with the Stars in 2011, he was inspiring audiences of all kinds with his remarkable story.
Born to a single mother from El Salvador, his dream was to become a professional football player. His plans were derailed by a sports injury. So he enlisted in the U.S. Army, where he was assigned to the 502nd Infantry Regiment of the 101st Airborne Division. Martinez saw it as a way to give back to a country that already had given so much to him and his family.
In March 2003, J.R. was deployed to Iraq. Less than a month later, the Humvee he was driving hit a land mine. Three other soldiers were ejected from the burning vehicle, but Martinez was trapped inside. Suffering from smoke inhalation and severe burns to 34 percent of his body, Martinez spent the next 34 months in recovery, undergoing 33 different surgeries, including skin grafts and cosmetic surgery.
Martinez has spoken at events nationwide. His message of resilience and optimism has inspired a wide variety of organizations, including corporations, veterans groups and schools. In 2008, Martinez joined the cast of ABC's Emmy Award-winning daytime drama All My Children as combat veteran Brot Monroe. The show incorporated portions of Martinez's real life into its fictional storylines.
---
2013

Dr. Abraham Verghese
Geography is destiny. This simple phrase is woven like a thread through the tapestry of physician and best-selling author Abraham Verghese's life and his work. Verghese was the keynote speaker at the 2013 Annual Dinner.
A professor for the theory and practice of medicine and senior associate chair of the Department of Internal Medicine at the Stanford University School of Medicine, Verghese is the author of My Own Country: A Doctor's Story, chosen as a Best Book of the Year by Time magazine, and The Tennis Partner: A Story of Friendship and Loss.
Read more in the Wright State University Newsroom
---
2012
---
2009
Dr. Rachel Naomi Remen
For 2009 the Academy was privileged to host Rachel Naomi Remen, M.D., a renowned pioneer in the mind/body holistic health movement, best-selling author and nationally recognized medical reformer and educator.
---
2008
Dr. Antonia C. Novello
The 2005 dinner featured speaker Antonia C. Novello, M.D., M.P.H., Dr.P.H. Dr. Novello is a former Surgeon General of the United States, and former New York State Health Commissioner.
---
2007
Cokie Roberts
The 2007 dinner featured speaker Cokie Roberts. Ms. Roberts is an American Emmy Award-winning journalist and bestselling author.
---
2006
Naomi Judd
The 2006 dinner featured speaker Naomi Judd. Ms. Judd is an American country music singer, songwriter, author, and former nurse.
---
2005
Tom Crouch
The 2005 dinner featured speaker Tom D. Crouch, Ph.D., Curator for the Aeronautics Divison of the National Air and Space Museum. Dr. Crouch discussed the history of the Wright Brothers and their pioneering efforts here in Dayton.
---
2004
Dr. Mauro Ferrari
The 2004 dinner featured speaker Mauro Ferrari, Ph.D., Associate Vice-President for Health Science Technology & Commercialization at The Ohio State University. The event was held on April 28, 2004 at the Dayton Art Institute.
---
2003
Keith Lockhart
The 2003 dinner featured Keith Lockhart, Conductor of the Boston Pops Orchestra, and was held on Wednesday, April 30, 2003. Guests were treated to an elegant dinner on the main stage of the Schuster Performing Arts Center in Downtown Dayton.
---
2002
Geraldine Ferraro
The 2002 dinner featured Geraldine Ferraro, the first female candidate for vice-president, former congresswoman and U.S. ambassador to the United Nations Human Rights Commission. The dinner was held on Wednesday, April 24, 2002 at the Dayton Marriott Hotel.
---
2001
Paula Zahn
The 2001 dinner was held on Wednesday, April 25th at the Dayton Marriott. The Academy proudly presented guest lecturer Paula Zahn, national award-winning journalist and host of Fox Network's The Edge with Paula Zahn.
---
2000
Carl Reiner
The Academy of Medicine's Guest Speaker for the 2000 Spring Dinner was comedy legend Carl Reiner. The Emmy-Award winning actor and director entertained and amused our audience of distinguished members. The event was held on April 18, 2000 at the Five Seasons Country Club.
---
1999
Dr. Michael Levitt
Excellent food, fine entertainment, and an enjoyable lecture were presented April 28 at the 1999 Annual Dinner. The event featured Michael Levitt, M.D., gastroenterologist and associate chief of staff for research at the Minneapolis Veterans Affairs Medical Center. His presentation, "The Status of Flatus," educated and entertained those in attendance.
 
Last edited on 04/25/2023.