Wright Rural Medical Scholars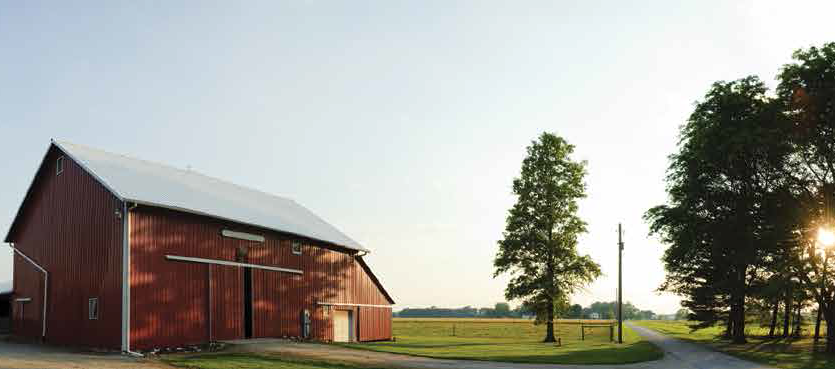 About WRMS
Welcome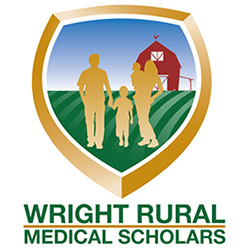 The Wright Rural Medical Scholars program (WRMS) strives to bolster the healthcare workforce in rural areas, particularly in rural West Central Ohio. To meet this goal, WRMS gives Boonshoft School of Medicine students opportunities to complete clinical experiences in the local area. WRMS follows in the footsteps of the Wright Rural Health Initiative, which has placed BSOM students in rural areas since 2013.
WRMS works in collaboration with the Wright State University Lake Campus, located in Celina on beautiful Grand Lake St. Marys, about 90 miles northwest of the Dayton Campus. The Lake Campus is Wright State's only regional campus and aims to meet the educational needs of West Central Ohio residents.
The Wright Rural Medical Scholars program is funded by Ohio Area Health Education Center funds.
Mission
To develop and nurture physicians pursuing rural medical practice in Ohio.
Opportunities within WRMS
There are two main ways to be involved with WRMS: the rural pathway or stand-alone rural rotations. WRMS's Rural Pathway is a more intensive experience for students interested in rural medicine and includes required clinical, scholarship, and extracurricular activities. Stand-alone rural experiences will also be available to students not involved with the rural track but would still like some rural medicine exposure during their medical education.
Rural Pathway Requirements
Clinical Requirements

Summer AHEC experience

An early clinical experience with a family medicine physician during the summer between first and second year of medical school

Clerkships

Must complete the Family Medicine clerkship at an approved rural site.
Must complete at least one-half of one additional clerkship at an approved rural site.

Electives

Students will complete at least one elective at a rural site. Away electives are allowed.

Scholarship Requirements

Required scholarly activity will include a rural theme and/or be with a rural mentor who has an affiliated faculty position in BSOM.

Extracurricular Requirements

Participate in the Advocates for Rural Medicine student organization by attending at least 50% of the group's meetings during the Foundations of Clinical Practice years.
Interprofessional Opportunities
WRMS also hosts interprofessional educational events that bring together medical, family nurse practitioner, Pharm.D., and nursing students at the Lake Campus. The events cover a variety of rural health issues and allow for great interprofessional interactions. Local health professionals also attend the events and provide their unique perspectives from their own experiences with rural practice.
Rural Medicine at BSOM In the News
Rural Medicine
About Rural Medicine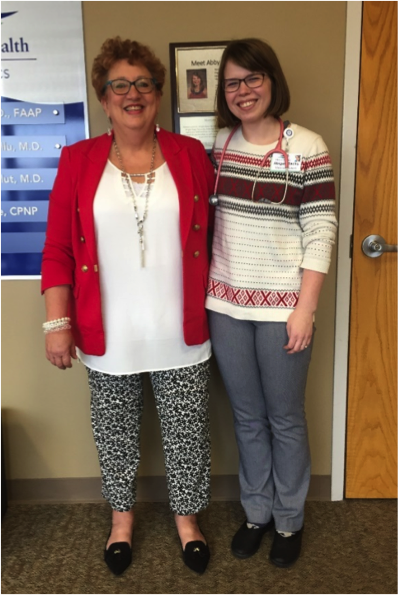 Rural medicine allows for a broad-scope of practice in an environment with often limited resources. As a healthcare provider in a rural area, you face obstacles to care that can be very different from those you encounter in your suburban or urban training sites. These challenges range from workforce shortages to socioeconomic factors to geographic isolation.
The National Rural Health Association reports rural physician access is limited with the patient-to-primary care physician ratio in rural areas being 39.8 physicians for every 100,000 people. This ratio is 53.3:100,000 in urban areas. Specialty care is even less available with 30 specialists per 100,000 patients in rural areas as compared to 263 in urban areas. This poor access to specialty care allows for broad-scope primary care, including treating a variety of disease states and performing procedures not commonly done in urban primary care.
Socioeconomic factors affecting rural communities are plentiful. Rural Americans are more likely to live below the poverty line than their urban counterparts. Food insecurity is common with 18.9% of rural households with children lacking access to sufficient food, compared to 15.7% nationally. Transportation difficulties is a common challenge for rural residents and affects access to healthcare and early childhood intervention programs. Educational levels are lower with less rural residents having an associate's degree or higher than residents of metropolitan counties. For more information regarding social determinants of health for rural Americans, visit the Rural Health Information Hub.
Rural Experiences for Medical Students
Know that you're interested in rural medicine and want to find out more ways to get involved during your medical school experience? Check out the recorded information session that was held in October 2020.
Local/State Level
National Level
Looking Ahead
For more information about rural training in residency:
For more information about future rural practice:
Sites
Current Rotation Sites for Medical Students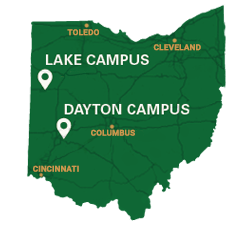 Rotations currently available to BSOM students include multiple clerkships through many different health systems across West Central Ohio.  Rotation opportunities are continuing to expand! 
Grand Lake Health System
Grand Lake's system includes Joint Township District Memorial Hospital in St. Marys and physician offices in St. Marys, Celina, Wapakoneta and Minster. Current rotations occurring at Grand Lake sites include family medicine, pediatrics, general surgery, and surgical sub-specialties. Students who complete a clerkship with Grand Lake are welcome to live at the Lake Campus.
Mercer Health
Mercer Health's system includes Mercer Health hospital in Coldwater and physician offices in Celina, Coldwater, New Bremen, Maria Stein, St. Henry and Fort Recovery. Current rotations occurring at Mercer Health sites include family medicine, pediatrics, general surgery, and surgical sub-specialties. Students who complete a clerkship with Mercer Health are welcome to live at the Lake Campus.
Family Health Services of Darke County
FHS is an federally qualified health center in Darke County. Its primary location is in Greenville, with additional offices in Versailles, Arcanum, and New Madison. Students can currently complete their family medicine clerkship with FHS.
Auglaize Family Practice Center
Auglaize Family Practice Center is a private office in Wapakoneta. Students who complete a family medicine clerkship at this location are welcome to live in a townhouse apartment at the Lake Campus
Mercy Health St. Rita's Medical Center
St. Rita's Medical Center is a member of Mercy Health, the largest health system in Ohio, and serves Lima and surrounding communities in a 10-county region of west central Ohio. Current rotations available at St. Rita's include family medicine and various electives.  Students are welcome to live in medical student housing provided by St. Rita's.
For Current Healthcare Professionals
Are you an interested healthcare provider that would like to precept students in your rural practice?  Contact Lori Martensen, Director of WRMS, for more information.
Communities
Communities We Serve
Mercer County
Mercer County is home to 40,783 residents.  The county seat and largest town is Celina. Celina is located on the northwestern shore of Grand Lake St Marys and is home to WSU's Lake Campus.  Other towns in the county that you may encounter patients from include Coldwater, Fort Recovery, St. Henry, and Rockford.  Mercer County Community Hospital is located in Coldwater.  Mercer County has a bustling economy and boasts the lowest unemployment rate in the state of Ohio. The major industries in the county include agriculture and manufacturing.  Mercer County has a large population of immigrants from the Marshall Islands, an island country in the Pacific Ocean.  The county's Community Health Improvement Plan priorities include nutrition and weight status, mental health, and substance abuse.
Auglaize County
Auglaize County is home to 45,920 residents.  The county seat is Wapakoneta, the birthplace of astronaut Neil Armstrong.  Joint Township District Memorial Hospital is in St. Marys, a town just east of Grand Lake St. Marys.  The county's economy is based in manufacturing. Other towns in Auglaize county include Minster, New Bremen, and New Knoxville.  The county's Community Health Improvement Plan priorities for 2018-2021 include chronic disease management, mental health, and addiction.
Darke County
Darke County has a population of 52,959 according to the 2010 census.  Greenville is the county seat and largest city.  Other towns you may encounter patients from include North Star, Versailles, and Arcanum.  Darke County is one of the top agricultural counties in Ohio with over 1600 farms and over 80% of the county's land being cropland. Wayne HealthCare Hospital and Family Health Services of Darke County are located in Greenville.   The county's Community Health Improvement Plan priorities include chronic disease prevention and education, coordinated care and case management, mental health and substance abuse. 
Allen County
Allen County is the northernmost of our rural rotation sites.  According to the 2010 census, it is home to 106,331 residents.  The county seat is Lima, where Mercy St. Rita's Medical Center is located.  Other towns include Delphos, Bluffton, and Spencerville.  If rotating in August, check out the annual Allen County Fair, the largest county fair in the state of Ohio with over 220,000 visitors.  The community's Community Health Improvement Plan priorities for 2018-2020 include mental health and substance use, chronic disease prevention, maternal and infant health, and housing and public transportation.
Living Rural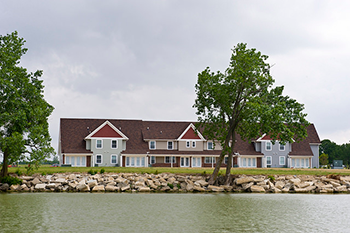 Lake Campus Apartment 
Boonshoft School of Medicine assumes the housing cost for its students and Cedarville assumes the cost for its students staying in the Lake Campus apartments. Each apartment is a four-bedroom, two-bath townhouse. Each student has a private bedroom and shares the bath with one other person. A common kitchen and living area is shared by up to four students. The apartment is fully furnished and has cable television and Wi-Fi. Students bring sheets (twin, extra long), towels, toiletries and food. There is a laundry facility in the complex that accepts the Wright 1 card. The townhouse has a semiprivate patio that looks out on the lake, so don't forget to pack a lawn chair! It is within a 10-minute drive of Walmart, Kroger, Kohl's, and many (both chain and locally-owned) restaurants and coffee shops.
Lima Housing
Mercy St. Rita's offers free housing for rotating medical students at two homes in very close proximity to the hospital.  Each student may share a room with one other person depending on the number of rotating students.  Students also share bathroom, kitchen, and living area with up to 4-6 students per house.  Free cable television and Wi-Fi is provided.  A linen service is also provided including bed lines, blankets, and bathroom linens. There is no laundry facility, but clean linens are provided weekly. Students bring their own toiletries and food.  Students are also encouraged to bring items to make themselves comfortable including pillows, comforter, or blanket.  The houses are a short drive from many restaurants, grocery stores, the Lima Mall, and a movie theater.
Past Students
Past Student Experiences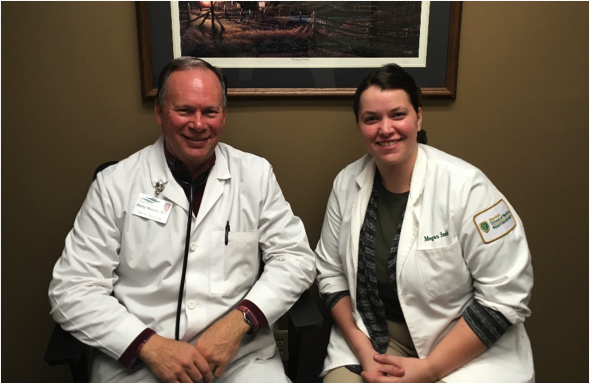 Boonshoft School of Medicine started placing medical students in rural rotations in 2013.  In the first 6 years, 106 rotations (including both clerkship and elective rotations) have been completed at our rural sites.  Alumni who have completed rural rotations have matched into a variety of specialties at residencies across the country.
Rural 101: Tips from Past Students
Be flexible – Rural physicians often have many additional duties other than seeing patients in their office. Take advantage of these additional opportunities to see how physicians serve as community leaders.  Some past examples of "outside-the-clinic" duties that you could be exposed to include hospital committee meetings, sports physical fairs at local schools, nursing home rounds, working with pubic health officials, regional research teleconferences, etc.
Be proactive - The medical education culture is still being established at many of our rural health systems and support staff may not be familiar with working with learners.  Be proactive during your rotation.  Introduce yourself to everyone and show that you would like to be as involved as possible in clinical duties.
Actually talk to your patients – A piece of advice you should take throughout your clinical experiences, whether rural or not. Past students have been surprised at how welcoming the rural patients are to medical students in their community.  Patients often thank students and ask about their career plans, etc.
Explore your community – Rural alumni recommend staying weekends during your rotation! Explore the town. Shop and eat at local businesses.  Take the time to see where your patients live. It will also save some drive time and is the perfect opportunity for some uninterrupted study time with few distractions.
Make the most of your drive time – Most rural alumni report the amount of driving is the biggest "con" to rural rotations. Unfortunately driving to and from Dayton for didactics must be done so make the most out of your time in the car.  Past students have discovered fun podcasts, had uninterrupted phone time with friends and family, or even found medicine-related podcasts to "study" during the drive.  The American Family Physician Podcast is a favorite during the family medicine clerkship.
Rural Alumni Spotlight
Jerika Ortlieb, M.D.
Dr. Ortlieb, BSOM Class of '18, completed rural Family Medicine and General Surgery clerkships during her MS3 year. Her favorite part of her rural rotations was working one-on-one with attending physicians. Dr. Ortlieb says her rural clerkships were wonderful, hands-on educational experiences unlike what is common at large academic centers.   She is currently a family medicine resident with Soin Family Medicine in Beavercreek, OH.  She hopes to practice broad spectrum family medicine with interests in academic medicine, rural medicine, and international health.
Jerosen C. Williams
Jerosen C. Williams, BSOM Class of '19, completed his family medicine clerkship with Dr. Masser at Mercer Health. When describing his rural experience, he says "For the first time, I felt like an actual clinician. My notes mattered. My physical exam mattered. I was an integral part of the team." Jerosen will complete a general surgery residency at Emory University in Atlanta, GA.  His career goals include becoming the Chief of Surgery for a major urban hospital.
Brett Fields
Brett Fields, BSOM Class of '19, completed his family medicine and pediatric clerkships with Grand Lake Health System.  One of Brett's favorite parts of his rural rotations was feeling like he made a difference by coming up with creative solutions to help his patients. He also enjoyed frequent opportunities to practice motivational interviewing and patient education. He will complete his psychiatry residency with the Wright State University Psychiatry Residency Training Program in Dayton, OH.  He would like to initiate a global health telepsychiatry program in his future practice.
Jenna Decker
Jenna Decker, BSOM Class of '19, rotated with Drs. Jonathon and Michelle Winner with Mercer Health for her family medicine clerkship.  Jenna says "moving to rural Ohio for 6 weeks was a fantastic experience" and "the community is very welcoming and quite dynamic."  She encourages future students to spend time exploring the area and local events such as the Minster Oktoberfest or Eldora Speedway.  She will complete her neurology residency at the University of Michigan in Ann Arbor, MI.  Jenna plans to stay involved in academia, including mentoring residents and medical students and paving a pathway for more female neurologists to serve in leadership roles.  
Tyrel Fisher
Tyrel Fisher, BSOM Class of '19, completed his family medicine, pediatrics, and general surgery clerkships at rural sites. He recommends rural rotations to future students because they allow for a more hands-on experience.  When recounting his rural surgery rotation, he says "I got to first assist all surgeries and drive back and forth between two different hospitals to see patients like a country doc."  Tyrel will complete his emergency medicine residency at the University of Arizona in Tucson, AZ.  His future career goal is to serve as a medical director for search and rescue teams with the National Park Service.
Jessica Uhler
Jessica Uhler, BSOM Class of '19, completed six rotations at rural sites during her clinical training including AHEC preceptorship, Family Medicine, Women's Health, Pediatrics, General Surgery, and Neurology. She recommends rural rotations to future students largely because of the one-on-one time with attendings.  She says, "I found my rural rotations to be of more substance than my Dayton rotations, mainly because there are no residents. The attendings truly treat you more like an intern."  Jessica will complete her family medicine residency at Community Hospital East in Indianapolis, IN.  She plans to practice outpatient family medicine in a rural community and mentor rural students interested in medicine. 
Matthew Diehl
Matthew, Boonshoft School of Medicine Class of '21 says, "the opportunity to electively complete rotations rurally had been an interest of mine since my days of applying to medical school at Wright State. The Wright Rural Medical Scholars program provided a transformative experience to ascertain skills and knowledge at a higher level by receiving one-on-one instruction. I truly believe this accelerated my clinical acumen and hands-on abilities, all while allowing me to create relationships with patients in such a tight-knit community. I am forever grateful to my preceptors and the community for letting me participate in their patient care."
Student Surveys
Apply
Application Process
Admission process for the Rural Pathway will occur in January of the first year of medical school. Up to 5 students will be admitted each year.  Contact Lori Martensen, Director of WRMS, for more information regarding the Pathway and stand-alone rural experiences.
Rural Report
Rural Report
Contact

Department:
Medical Education - BSOM
Title:
Rural Health Manager
Address:
Dwyer Hall 112, Lake Campus, Celina, OH 45822
Last edited on 02/03/2023.