Orthopaedic Surgery Residency Program
Attention: Applicants for 2021-2022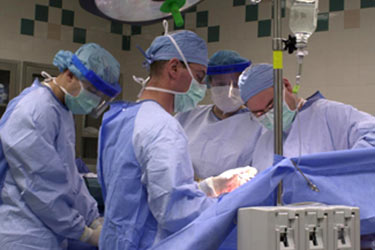 We participate in the match at the R-1 level each year. There are two distinct tracks for a total of four slots. Application should be made through the Electronic Residency Application Service (ERAS). 
Interviews will be held on January 7 and 8, 2022. For more information, see our "How to Apply" page.
Program Goal
Our program is committed to producing well-trained, academically-oriented orthopaedic surgeons while adhering to all Accreditation Council for Graduate Medical Education (ACGME) and American Board of Orthopaedic Surgery (ABOS) requirements and standards. The basic philosophy provides a broadly based orthopaedic education, exposing residents to all major subspecialties. The learning environment, protected by strict rules, requires residents to attend all educational activities.
Clinical Exposure
The five-year orthopaedic residency program provides the resident a well-rounded clinical exposure with graduated responsibilities and exceptional supervised training. Residents receive extensive trauma experience, primarily at Miami Valley Hospital, a Level-I Trauma institution, where orthopaedics is an important component of the surgical multidisciplinary team. Residents train in pediatric orthopaedics at the Dayton Children's Hospital, providing many outstanding multidisciplinary clinics. Our residents receive additional joint replacement and adult reconstruction training at Miami Valley Hospital South, Atrium Medical Center and the Dayton Veterans Affairs Medical Center.
Mentor-Based Training
Residents progress through subspecialty rotations in a mentor-based training system. This enables the resident to experience continuity of treatment from preoperative evaluation through surgery and postoperative treatment. Rotations consist of three-month blocks in each of the following subspecialties: Adult Reconstruction, Foot & Ankle, Hand, Joint Replacement Knee, Pediatrics, Shoulder & Elbow, Spine, Sports and Trauma.
ACGME Core Competencies for Resident Training
Patient Care
Compassionate, appropriate and effective for treatment of problems and promotion of health
Medical Knowledge
Basic science and clinical, established and evolving
Practice-Based Learning and Improvement
Evaluating one's own care, changing practice by finding information and applying EBM
Interpersonal and Communication Skills
Effective information exchange and collaboration with patients and colleagues
Professionalism
Commitment to professional responsibilities, ethical behavior, sensitivity to diversity
Systems-Based Practice
Using resources, improving system of care and patient safety
Accreditation
Since its inception at Miami Valley Hospital in 1973 under the leadership of Dr. Hobart Klaaren, the Orthopaedic Surgery Residency Program has been granted full accreditation by the ACGME Residency Review Committee (RRC).
The RRC reviewed our program in 2007, increasing the number of allowed positions from three residents per year to four residents per year for a new total of 22 available resident positions. All positions are filled through the National Residency Match Program (NRMP).
The internship (PGY-1) conforms to American Board of Orthopaedic Surgery (ABOS) guidelines and requirements. In addition to the five-year training track, we now offer a six-year track, which includes a musculoskeletal research year between the first and second clinical training years. The Orthopaedic In-Training Exam (OITE) is administered nationally each fall.
Program Overview
The five-year Orthopaedic Residency Program curriculum is comprised of general orthopaedics and subspecialty rotations. Overall, the residents acquire a broad spectrum of orthopaedic training, experiencing the field both from the private practice perspective as well as full-time academic medicine. Because our program is designed to foster one-to-one resident-to-faculty mentor relationships, participating faculty monitor residents closely as they assume increasing responsibility throughout their training.
During residency training, each resident develops and completes a research project under the direction of department faculty. We emphasize and monitor education goals and protect resident conference time in order to further achieve those goals.
For more details, please read Typical Education Program for Residents.
Benefits
Gym: There is a full service gym at Miami Valley Hospital that is equipped with elliptical machines, treadmills, weight lifting machines, free weights and two racquetball courts. There is also a full service gym at the Dayton VA that is free to use.
Insurance: Insurance is available to purchase through Premier Health partners. For more information see the Premier Health Employee Plan.
Vacation: Residents are granted three weeks of paid vacation each year. Vacations are not allowed during the first and last months of the resident year (July and June). This allows a seamless transition between years of residency. Only one vacation week is allowed during each three-month block.
Meals: Residents are provided a monthly stipend for meals. There are snacks, beverages and breakfast items in many of the lounges.
2020-2021 Annual Salary
R1 (PGY-1): $58,365
R2 (PGY-2): $59,966
R3 (PGY-3): $61,485
R4 (PGY-4): $62,962
R5 (PGY-5): $65,416 
News
Last edited on 08/06/2021.