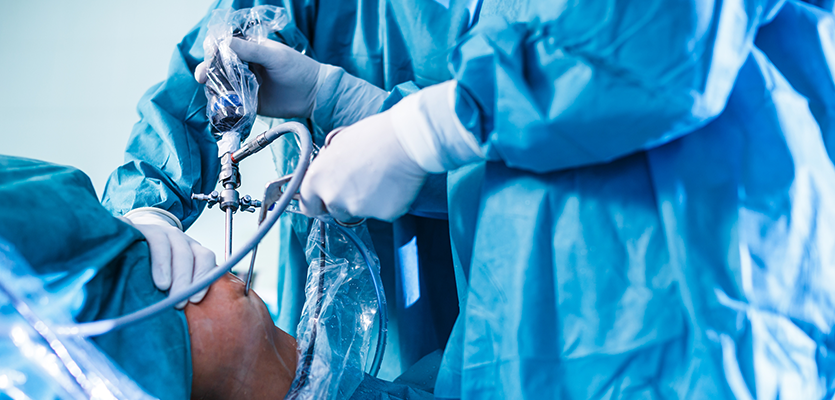 Program Codes:
ACGME # - 2603821105
NRMP # - 2011260CO – Orthopedic Surgery Only  
NRMP # - 2011260C1 – Ortho Surgery/Research Only
Application Process & Criteria
We participate in the match at the R-1 level each year. There are two distinct tracks for a total of four slots. Applications are accepted only through the Electronic Residency Application Service (ERAS). The ERAS Application acceptance cutoff date is Oct. 31 at midnight each year. Applicants must meet the following requirements:
Be a citizen of the United States or have Permanent Residency (green card)
We do not sponsor visas of any type
Graduates must provide the following requirements: 
Medical degrees from U.S. medical school
Curriculum Vitae (CV)
Personal statement
Three letters of recommendation
Medical Student Performance Evaluation (dean's letter) from your medical school
Official transcripts from your medical school
The above criteria are intended to serve as guidelines only.
A group consisting of five full-time faculty members and at least one clinical faculty member makes up the selection committee. Each application is reviewed by two committee members. All the applications are discussed, and approximately 40-50 are selected for interview.
Interviews
Interviews are extended to those applicants with credentials suggesting a strong candidacy for orthopaedic surgery. Our 2021-2022 interview dates will be January 7 & 8, 2022. Due to the continuing pandemic situation, the program will be offering virtual interviews.
The interview will consist of an overview of the Orthopaedic Surgery Residency Program followed by individual interviews with the program director, faculty members and chief resident(s). We will also have a tour of Miami Valley Hospital. Throughout the interview process, applicants will have opportunities to meet with our current residents.
After the interviews are complete, the rank order for the purposes of the match is established by the committee members conducting the interviews, with appropriate input from the resident staff who either know or have had interactions with the candidates.
All residents are taken through the match and selections based solely on qualifications. Each year minorities and women have been ranked.
Salary & Benefits
2020-2021 Annual Salary
R1 (PGY-1): $57,221
R2 (PGY-2): $58,802
R3 (PGY-3): $60,278
R4 (PGY-4): $61,714
R5 (PGY-5): $64,147
Benefits
Health and dental insurance
Life and long-term disability options
Short-term disability incorporated into maternity/family/sick leave
Annual vacation: 21 days
Educational leave: 7 days
Relocation allowance
Gym facilities – Full-service gym at Miami Valley Hospital that is equipped with elliptical machines, treadmills, weightlifting machines, free weights and two racquetball courts. There is also a full-service gym at the Dayton VA that is free to use
Malpractice insurance is provided by Miami Valley Hospital during residency
Monthly meal stipend
Free parking
Free counseling service for residents and their families
Moonlighting (with approval of Program Director)
Other Information
Miami Valley Hospital is a smoke-free environment. Smoking is not permitted in the hospital confines except in a designated area for employees. No smoking is permitted anywhere on the 7th floor.
A complete history and physical examination by Miami Valley Hospital Employee Health is required before beginning work. Lab work, drug screen, and TB testing is included.
Hepatitis B immunization is required; immunization must be verified.
Tetanus, Rubella and Rubeola immunizations must be verified.
Social Security Number must be provided to show evidence of employability.
Last edited on 09/13/2021.