Orthopaedic Trauma Fellowship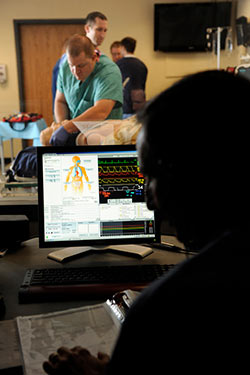 A full-time academic fellowship in adult orthopaedic traumatology available through Wright State University Department of Orthopaedic Surgery. This one-year program accepts one fellow per year and runs from August 1 to July 30. The fellow will work at Miami Valley Hospital, the region's only Level 1 Trauma Center. In addition to the clinical (emergency room, floor, and private office) and operative responsibilities, the fellow will actively participate in the Orthopaedic Medical/Surgical Clinic – General/Fracture Division on Tuesday mornings. All duty hour restrictions are to be followed.
This program provides extensive exposure to all conventional areas of orthopaedics:
4,000 trauma encounters annually
4 CareFlight helicopters with 35 years of service
4 mobile ICU ground transports
Full ancillary service support
130,000 ED visits annually
Orthopaedic trauma OR with C-arm 7 days/week
Ortho trauma service = 6 attendings; 1 fellow; 3 ortho residents; trauma APN; medical students
The fellow will gain experience with the full spectrum of isolated and polytraumatic conditions in the adult population. The primary focus will be on injuries of the appendicular skeleton, along with pelvic and acetabular injuries. Hand and spine injuries are covered by separate services. Additional experience will involve the evaluation and treatment of traumatic soft tissue injury, as well as chronic post-traumatic conditions (malunion, nonunion and infections). The fellow will participate in the initial evaluation, examination and diagnostic workup to develop diagnoses and treatment plans (both operative and nonoperative).
Fellow salary for the 2020-2021 Year will be  $67,829 plus benefits. In addition to a two-week vacation allowance, fellows may attend one or more of the following courses, some of which are subject to grant funding availability:
Orthopaedic Trauma Association
American Academy of Orthopaedic Surgeons
Taylor Spatial Frame training
Stryker Pelvic Fellows Course
Boston Fellow Course
AO Fellows Course
The deadline for applying is December 1st. To be eligible, applicants should have completed a residency in orthopaedic surgery prior to entering the program. This fellowship participates exclusively in the San Francisco match program.
This Orthopaedic Trauma Fellowship program is accredited through the Orthopaedic Trauma Association.
---
Participating Faculty
---
Welcome to Dayton
Last edited on 08/28/2020.