Team-Based Learning™ Introduction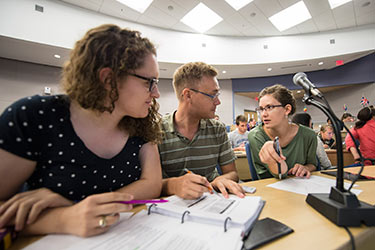 Our school has successfully implemented Team-Based Learning™ in all of our preclinical courses and most of our clerkships. We are the first school in the country to adopt so fully this educational strategy.
Team-Based Learning™is an instructional strategy based on procedures for developing high performance learning teams that can dramatically enhance the quality of student learning by:
Enhancing problem-solving skills
Replacing or reducing lecture time
Ensuring that students are prepared and on time to class
Creating a remarkable amount of energy in the classroom
Promoting team work
Encourage critical thinking
Team-Based Learning™is a well-defined instructional strategy developed by Dr. Larry K. Michaelsen that is now being used successfully in health professions education. The Team-Based Learning™ method allows a single instructor to conduct multiple small groups simultaneously in the same classroom.
Learners must actively participate in and out of class through preparation and group discussion. Class time is shifted away from learning facts and toward application and integration of information. The instructor retains control of content, and acts as both facilitator and content expert. The Team-Based Learning™ method affords the opportunity for assessment of both individual and team performance.
As an instructional method, Team-Based Learning™ consists of repeating sequences of three phases:

In Phase 1, learners study independently outside of class to master identified objectives.
In Phase 2, individual learners complete a multiple-choice exam to assure their readiness to apply Phase 1 knowledge. Groups of 6-7 learners then re-take this exam and turn in their consensus answers for immediate scoring and posting.
In Phase 3, groups collaborate on in-class application assignments. At designated times; all groups simultaneously share their groups' answers with the entire class for easy comparison and immediate feedback. This stimulates an energetic total-class discussion with groups defending their answers and the teacher helping to consolidate learning.
Team-Based Learning™ emphasizes three keys to effective active learning:
Individual and group accountability
Need and opportunity for group interaction
Motivation to engage in give-and-take discussion
Last edited on 08/08/2017.