Welcome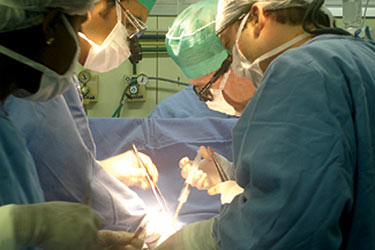 Thank you for your interest in the Wright State Plastic Surgery Residency Program at the Boonshoft School of Medicine in Dayton, Ohio. We invite you to explore the many facets of our program. Our program seeks to provide a well rounded plastic surgery educational experience by taking full advantage of outstanding full and part time faculty members in the Dayton area. Our residents primarily rotate with faculty members located at Miami Valley Hospital and Good Samaritan Hospital as well as Children's Medical Center of Dayton. Our program is now a six-year Integrated Residency Program.
---
Application Process & Criteria
Program Codes
ACGME #362-38-00-144
ERAS # 2011360A0
ERAS Surgery Preliminary/Plastic Surgery# 2011440P1
The Wright State University Plastic Surgery Residency Program has one preliminary position with Wright State University Integrated Surgical Residency Program via the National Residency Matching Program (NRMP) for a combined program of General Surgery (three years) and Plastic Surgery (three years) per year. It is your obligation to obtain this information from each program before you apply. You can access additional information about our residency program via the American Medical Association's FREIDA Online.
Register via the Electronic Resident Application System (ERAS). Only electronic applications are accepted. You will need to provide:
Curriculum vitae
Personal statement
Three letters of recommendation
Medical Student Performance Evaluation (dean's letter) from your medical school
Official transcripts from your medical school
The deadline for receipt of applications for academic year 2017-2018 is November 30, 2017. We do not accept applications received through the U.S. postal service and we do not sponsor any type of visa.
First consideration for the categorical position will be given to applicants with:
Minimum USMLE Step I score of 240
Research in progress or published
Class ranking in the upper quartile
The above criteria are intended to serve as guidelines only.
Interviews
All applicant files are screened as soon as the dean's letters are received and files are complete. Invitations are extended to those applicants with credentials suggesting a strong candidacy for plastic surgery. Applicants are invited to visit our program on December 2, 2017. The visit generally is a little more than a half day in duration. An overview of the plastic surgery program is provided. Prospective residents have the opportunity to meet with nine to ten faculty members, including the program director. During the visit, residents are available to answer questions. The day concludes with lunch and a tour of Miami Valley Hospital.
Last edited on 10/31/2017.