Acute Care Surgery and Surgical Critical Care Fellowship Programs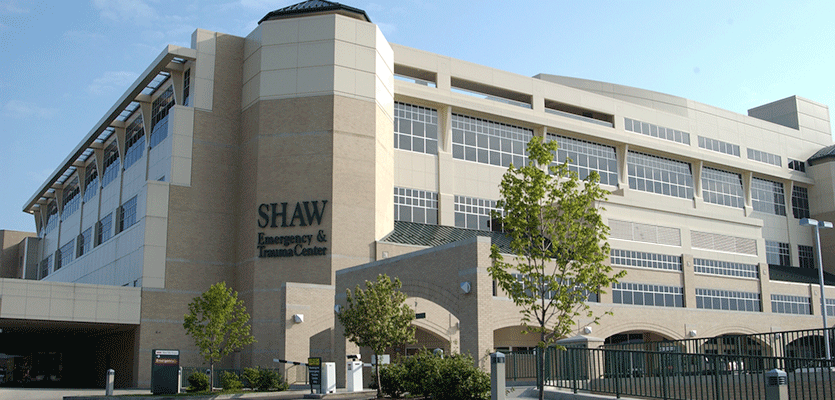 The Boonshoft School of Medicine of Wright State University Acute Care Fellowship program is under the Division of Trauma and Emergency General Surgery. It is structured to enable development of advanced proficiency in the management of all aspects of care of critically ill trauma and emergency surgical patients. The program includes rotations in all disciplines at Miami Valley Hospital. The Department of Surgery has forged a collaborative relationship with other Departments at the Medical School and the clinical service lines of Miami Valley Hospital to provide a comprehensive educational experience.
For the purposes of patient care and resident/student education, the service is broken down into two Emergency General Surgery services and one SICU service. Each with an attending surgeon rotating on a weekly basis. Senior surgery residents run the EGS services separately. The ICU service is run by the fellow. The fellow takes a 12-hour call every other Friday for trauma and emergency general surgery, fully participating in the trauma bay resuscitations and decision making commensurate with their experience. There is always a trauma attending in house. The fellow has a shared weekly clinic for follow-up visits.
Two Training Tracks
Surgical Critical Care
Accredited by Accreditation Council for Graduate Medical Education(ACGME) for 2 positions per year. ​
The objective is to provide an environment enable the fellows to develop advanced skills in the management of all clinical aspects of surgical critical illness.​
Critical care experience is in the Surgical Intensive Care Unit (SICU) at Miami Valley Hospital(MVH) Level 1 ACS Trauma Center with over 3500 trauma activations per year​.

Core Rotations:​

Surgical Oncology service at MVH (4–12 weeks)​
Cardiothoracic Surgery service at MVH ( 4–12 weeks)​
Vascular Surgery service at MVH (4–12 weeks)​
Neurosurgery at MVH (2–4 weeks)​
Orthopedics (2–4 weeks)​

Elective options include​:

Nephrology (2 weeks) ​
Pediatric ICU (1 month)​
Infectious Diseases (2 –4 weeks)
Acute Care Surgery Fellowship
Approved for 2 positions, is the second year is the Acute Care Surgery program, a verified America Association for the Surgery of Trauma (AAST) fellowship. Accepted fellows advance from the Surgical  Critical Care year and have already completed General Surgery Residency. Builds upon the foundation of the SCC year to prepare graduates to develop clinical excellence in trauma and emergency general surgery.
Core Rotations: ​

The Trauma/Emergency General Surgery service at MVH, fellows  function as junior attendings under the supervision of a senior surgeon (3 months).​
Surgical Oncology service at MVH (1 month)​
Cardiothoracic Surgery service at MVH (1 month)​
Vascular Surgery service at MVH (1 month)​
Neurosurgery at MVH (1 month)​
Orthopedics (1 month)​

Electives:​

Intervention Radiology​
Obstetrics and Gynecology​
Burn service​
Head and Neck Surgery service​
Plastic and Reconstructive Surgery​
Medical Examiner
Curriculum
Boot camp: 2 days at the beginning before clinical rotations​
Critical Care Ultrasound Course ​
Weekly Critical Care Surgery conference and EGS: we follow the Training Curriculum developed by the SCCPDS ​
Weekly trauma performance improvement (PI) conference (M&M)​
Monthly Coroner's conference​
Monthly Cadaver lab
We provide the necessary tools for the fellows to develop proficiency in critical care echocardiography both through the Society of Critical Care Medicine and working side-by-side with participating hospital cardiologists. The fellow will actively participate in the teaching of critical care ultrasound to the surgical residents.
Call and operative experience
Fellows in the SCC year are limited to a 12-hour call on Friday and/or a 24-hour call on a Saturday alternating with the second-year fellows. Full participation in the resuscitations and operations of trauma and EGS patients is expected. The call is with the General Surgery  Fourth- Year resident and a maximum of 2 call per month. Calls during the week are not permitted because responsibilities in the ICU​
Fellows in the second year in addition to the Friday and Saturday call, can take 12-hour night calls during the week. The AAST mandates a total 52 night calls over the 2-years. ​
The last 3 fellows averaged about 370 cases (235 – 561)
Research
Research is encouraged and opportunities are available, supported by a fulltime Ph.D. basic science faculty and a BSN, RN; both dedicated to assist in the departmental research.
Facilities
Miami Valley Hospital is an 848-bed regional referral and specialty center, a member of the Premier Health Partners network. It is one of five major teaching hospitals in the Greater Dayton area affiliated with The Boonshoft School of Medicine of Wright State University. The facility is a 20-year ACS-verified Level I Trauma Center (with over 3,000 trauma admissions and 500 emergency surgery admissions per year) and the only Burn Center in southwest central Ohio. The MVH Shaw Trauma and Emergency Center is a 71-bed emergency department, the busiest emergency department in the state of Ohio, seeing nearly 100,000 patients annually.
There are separate Medical-Surgical, Neurocritical Care, Heart & Vascular and Burn ICU's. A Level III Neonatal ICU with neonatal ECMO capability of up to 60 beds is housed in the hospital complex.
Specific Advanced Training
The Fellow may attain the appropriate credentials to become a course director of these educational endeavors if desired.
Advanced Trauma Life Support (ATLS)
Advanced Surgical Skills for Exposure in Trauma (ASSET)
Fundamentals in Critical Care Support (FCCS)
Critical Care Echocardiography
Fellowship at a Glance
Fellowship positions: 2
Duration: 1-2 years
RRC Certified: SCC—Yes
Program Director
Program Coordinator
Core Faculty
Affiliated Faculty
Last edited on 06/27/2023.