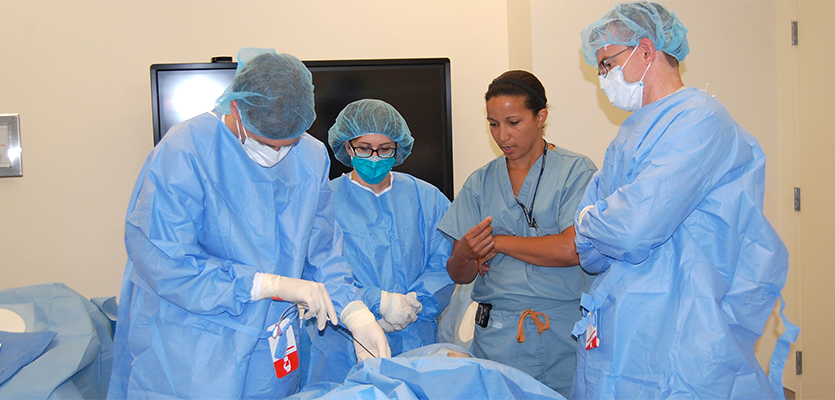 The concept of progressive, supervised responsibility is closely followed and is considered the core of the surgical curriculum. The residency utilizes the Association of Program Directors in Surgery Surgical Resident Curriculum as its basic curriculum document. All residents are required to review the goals and objectives for each rotation prior to its initiation.
Resident training focuses primarily on the principal areas of general surgery, including: head and neck, skin, soft tissue and breast, alimentary tract, abdomen, endocrine, general vascular, thoracic, pediatric and trauma surgery. Rotations are structured to assure the resident experience with general surgical conditions related to age group, gender and socioeconomic status. Surgical subspecialty, anesthesiology and interventional radiology exposure is also provided to complete the clinical rotations.
The entire chief year is spent in general surgery. Rotations in the final year are carefully adjusted to provide the best possible balance of clinical and operative experience.
Teaching Conferences
Formal teaching conferences are organized both by the department and by the individual participating hospitals.
A city-wide surgical grand rounds is conducted weekly.
Weekly morbidity/mortality conferences are held at each hospital with full faculty participation.
A weekly surgical/science didactic session is conducted.
Mock oral exams are administered to third, fourth and fifth year residents annually.
Journal clubs, tumor boards and a broad range of specialty conferences are conducted at individual hospitals. Teaching conference participation by residents is mandatory. Distinguished visiting surgeons are brought to Dayton three to four times a year. Lectures and teaching rounds are a prominent part of these visits.
Research
Academic interests and development are encouraged and nurtured. The opportunity to participate in clinical research with either the academic or clinical faculty is ever present. There is a laboratory-based research year for at least one resident between the PGY-2 and PGY-3 years. This yearlong research experience can be expanded to accommodate more if desired, and is available on an elective basis for military residents. These research experiences are typically with one of the surgery faculty but can be in other laboratories and can accommodate clinical research activities if appropriate.
Last edited on 08/06/2018.