Hospice and Palliative Medicine Fellowship Program (HPM)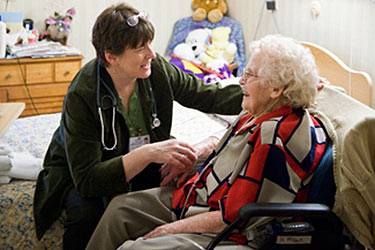 The Hospice and Palliative Medicine Fellowship Program offered by the Wright State University Boonshoft School of Medicine is uniquely structured to maximize individualized and one on one educational opportunities, while encouraging fellows to guide the training experience to meet their future practice goals. Our one-year fellowship is comprised of 13 block rotations (four weeks each) in pain management, supportive care, and clinical research. The primary teaching institutions are the 
Dayton Veterans Affairs Medical Center
(VAMC), 
Miami Valley Hospital
, 
Dayton Children's Hospital
 and 
Hospice of Dayton
 (HOD).  Formal conferences with enthusiastic staff participating from departments of hematology/oncology, geriatrics and internal medicine as well as various other health disciplines — such as pharmacy, nursing, social work, psychology and chaplaincy — provide an integrated learning experience in the study of Hospice & Palliative Medicine. Opportunities exist for attending one major conference during the training period. We expect fellows to become proficient in consultations, pain and symptom management, interdisciplinary care and patient-oriented research.
Mission & Vision
Our mission: To provide the highest quality of Hospice and Palliative Medicine care in our community while training future healthcare professionals in that standard of excellence.
Our vision: For today's students, residents, and fellows to become tomorrow's leaders in primary and specialized care in End of Life and Palliative patient care.
Rotation Schedule
VA Inpatient Hospice Unit with Inpatient Palliative Care Consults – Five blocks
MVH Inpatient Palliative Care Consults with ICS Ambulatory Palliative Care – Three blocks
HOD Inpatient Hospice – Two blocks
Pediatric Palliative Care – 1 block
Elective – 1 block
Selective – 1 block
VA Palliative Care Clinic – Every Tuesday afternoon
HOD Home Visits – Alternate Monday afternoons
ECF Palliative Care/Hospice - Alternate Monday afternoons
Core Conferences – Every Thursday afternoon
Application Process and Criteria:
ACGME #: 5403814022
The Hospice and Palliative Medicine Fellowship is a one-year clinical training program for physicians who are board certified or board eligible from an Accreditation Council for Graduate Medical Education-approved internal medicine or family medicine residency. Two fellows are accepted annually through the National Residency Matching Program (NRMP), and are expected to start July 1; however, accommodations for off-cycle trainees will be considered. Only electronic applications are accepted via the Electronic Resident Application System (ERAS). You will need to provide:
Curriculum vitae
Personal statement
Three letters of recommendation, including one from a program director
Official transcripts from your medical school
Last edited on 10/21/2020.