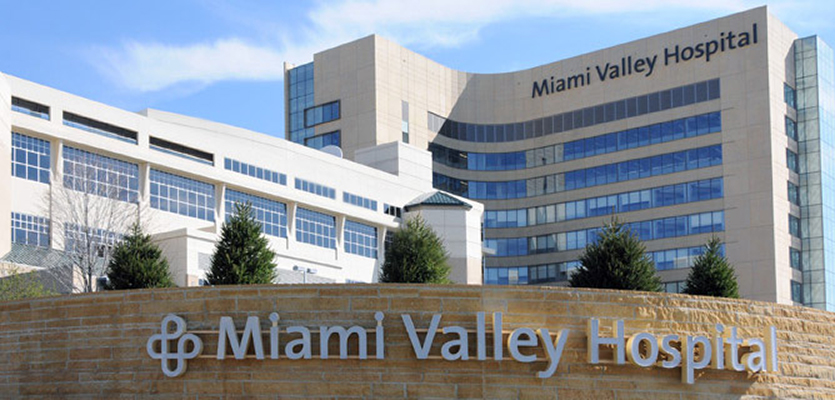 Miami Valley Hospital
Miami Valley Hospital (MVH) is an 848-bed community hospital and a principal teaching affiliate of Wright State University Boonshoft School of Medicine. Reverend Carl Mueller of the German-Lutheran Church founded the hospital in 1890. MVH is accredited by the Joint Commission on Accreditation of Healthcare Organizations (JCAHO) and MVH ranks in size among the nation's top 100 hospitals with a staff of more than 1,200 physicians representing 34 primary, medical and surgical specialties.
Miami Valley Hospital's regional services include a high-risk maternity center serving 17 counties; a recently redesigned and expanded Neonatal Intensive Care Unit with our family-centered maternity program; MVH is a Level I Emergency and Trauma Center; CareFlight, the area's air ambulance service; the Regional Adult Burn Center; and the Regional Chronic Kidney Dialysis Center. Other services offered include a senior program, health information center, cardiovascular laboratory and intensive care unit, medical/surgical intensive care unit with an expanded advanced care unit, cancer treatment and research, alcohol and chemical dependency unit, sports medicine and physical rehabilitation, and a neuroscience center that offers diagnosis and treatment for hearing and balance disorders, chronic pain and sleep disorders.
MVH nurses and other health professionals care for patients at the bedside and work closely with physicians and residents to develop and implement individualized care programs.
The MVH Craig Memorial Medical Library is one of the largest of its kind in Ohio. It has more than 30,600 bound volumes, monographs, and 600 journal subscriptions. Additional material through interlibrary loan and computerized, bibliographic searching tools are available to physicians and residents. Shared services with all the Dayton hospital libraries and WSU School of Medicine's Fordham Health Sciences Library are maintained via the OhioLINK computer system.
Berry Women's Health Pavilion opened in July 1990 offering the most comprehensive maternity service available in a 17-county area. There are 36 private rooms with family-centered maternity care and offers the birthing room concept for those expecting uncomplicated vaginal births. MVH also offers 16 specialized postpartum care private rooms for cesarean births, a nursery and a solarium.

Maternity 1, Birthing Center 1, and Newborn Nurseries
Each inpatient unit cares for postpartum vaginally -- delivered patients, post-operative Cesarean, tubal ligation patients, and healthy newborns. Maternity 1 (M1) provides capacity for 22 mothers and 22 babies. Birthing Center 1 (BC1) has capacity for 18 mothers and 12 babies. Services provided include nursing care during recovery from birth, infant care, care coordination, and discharge instructions. Length of stay varies according to patient condition, with an average of 2.3 days for vaginal deliveries, 3.6 days for Cesareans, and 2.2 days for newborns. Average daily census is 12 mothers and 12 babies per floor.
Birthing Center 2
Labor & Delivery (L&D) provides care to mothers and neonates of all risk categories. L&D incorporates perinatal care including: antepartum, intrapartum, neonatal and postpartum services. All pregnant patients, unless a scheduled admission (i.e. induction of labor or Cesarean) with anticipated on going pregnancies are seen in the triage area for diverse chief complaints (i.e. rule out labor and/or ruptured membranes, antepartum testing, evaluation of vaginal bleeding, monitoring blood pressure, lab testing). Patients are seen in one of the nine triage rooms, prior to being admitted, transferred, or discharged. Newborns are assessed at birth and are transitioned at the bedside or at the Transitional Nursery.
Medical and nursing staff assesses the patients' needs. Care is determined based on the physical, social, and historical data as well as other diagnostic data and patient preference. All patients are assessed by an RN upon arrival. We are a Level III Center, patients and referring agencies have access to maternal-fetal, neonatal physicians, and anesthesia services 24 hours/day seven days a week. In addition, through our affiliation with Wright State University Boonshoft School of Medicine, there is in-house resident and attending coverage 24hours/day.
Maternity 2 and Newborn Nursery
Maternity 2 (M2) is 16 bed inpatient unit that cares for antepartum patients with medical, surgical, or obstetrical complications; postpartum cesarean and vaginally-delivered patients, healthy newborns, and postoperative gynecology patients. Patient ages range from newborn to women from menarche to menopause.
Neonatal Intensive Care Unit

The Berry Women's Health Pavilion supports MVH as the Region II Perinatal Referral Center. Nurses and physicians are prepared to assist with care for both high-risk mothers and infants before, during, and after birth. The Pavilion also includes an expanded Neonatal Intensive Care Unit (NICU), a Level III newborn nursery with 60 newborn beds and 2 infant isolation rooms. This inpatient unit cares for healthy neonates from birth through the transitional period, and those neonates with a variety of medical and surgical conditions. The patients' ages range from the neonate at birth (encompassing all stages of prematurity to term) up to 28 days of age, and infants beyond the neonatal period but less than one year of age.
The NICU provides 24 hour, 7 days per week comprehensive care through a multidisciplinary team approach. Care of the patient is based upon physical, developmental, social, and historical data, as well as other diagnostic and family preferences. There are 60 private rooms located in the Berry Women's Health Pavilion. Admission to the nursery is determined by physician protocol criteria.
Diagnostic and consultative services are readily available. The NICU provides care for patients with a variety of medical diagnoses and surgical conditions. Extracorporeal Membrane Oxygenation (ECMO) is available on site. We are the only facility in 17 counties who has this capability. A collaborative relationship exists between Miami Valley Hospital and the Children's Medical Center of Dayton for specialty coverage and transport. Home care service is contractually provided through an agreement with Fidelity Home Care. Graduate nursery beds for infants no longer requiring the intensive care of NICU are included in the nursery.
The Perinatal Ultrasound and Diagnostic Center offers routine and advanced perinatal diagnostic services with the most advanced ultrasound equipment to help determine the fetal well-being. Through CareFlight, MVH also provides patients and physicians with on-site, high-risk maternity air ambulance service.
Due to continued community growth, an addition to the Berry Women's Health Pavilion was completed in 1996 containing private offices and the Family Birthing Center which offers alternative birthing plans.
Birth and Family Education
The Birth and Family Education (BFE) department consists of an all RN staff that provides a wide variety of education and support to childbearing women, their families, and support systems in the classroom setting or in the inpatient antepartum setting. Individuals may register for any of the classes by calling 208-BABY. Certified Lactation Consultants provide lactation education and support to women (and their families and support systems) that state the intent to breastfeed or provide human milk to their infants. Postpartum follow-up is provided as needed with phone consults or lactation clinic visits. Other in-patients with medical care needs who are lactating are also seen for consults by the lactation consultants.
Five Rivers Health Center – Center for Women's Health
The Five Rivers Health Center – Center for Women's Health (FRHC - CWH) provides outpatient services for obstetrical and gynecologic care to patients from the age of 10 through the lifespan. A Registered Nurse, Nurse Practitioner, Certified Nurse Midwife, resident and/ or Attending physician, assesses patient care needs. Appropriate diagnostic services are available based on the physical or historical data collected. Social services and nutritional counseling are available to all patients. Childbirth classes are taught in English and Spanish. Teens may attend the Teens Learning and Caring (TLC) childbirth preparation classes.
Family Beginnings Birth Center (FBBC)
FBBC is a wellness model of care for low-risk women and their families, providing minimal intervention childbearing care. Services provided include care coordination, educational classes, nursing care during labor, birth, recovery, and infant care.
Diagnostic Ultrasound and Antenatal Testing
The unit primarily provides antenatal services for diagnostic testing of low and high-risk pregnancies. These services include comprehensive obstetric and gynecologic ultrasound, neonatal ultrasound of the head and abdomen, antepartum testing, genetic counseling, and preconception counseling. The clinical staff consists of Board-certified Perinatologists, American Registered Diagnostic Medical Sonographers, Registered nurses, Board Certified Genetic Counselors, and Dieticians. Care is provided in a coordinated, multidisciplinary team approach. There is emphasis on patient education and choice of treatment options. Services are provided Monday through Friday with U/S and medical staff available after hours on an on-call basis.
---
USAF Medical Center, Wright-Patterson Air Force Base
The Wright-Patterson Medical Center (WPMC), is located northeast of Dayton on Wright- Patterson Air Force Base (WPAFB) and offers a rich, educational history linked closely to the city of Dayton, the "Birthplace of Aviation" and the home of Wilbur and Orville Wright. In the early 1990s, the 62-bed institution received a $126 million renovation and expansion. It is one of five Air Force medical centers throughout the world and acts as a referral hub for military bases throughout the Northeast and Midwest regions of the country.

WPMC maintains accredited programs in internal medicine, surgery, obstetrics and gynecology, pediatrics, psychiatry, clinical psychology, nurse anesthesia and dentistry. Faculty members are board-certified or active candidates for certification and maintain an active interest in research.
---
SpringCreek Fertility
SpringCreek is a full-service fertility center between the Dayton Metropolitan area and Toledo Metropolitan area, offering evidence-based, patient centered fertility treatments for anyone wanting to continue to build their family. Fertility treatments and preservation are priced for accessibility and tailored to meet family goals. Our residents do not see their own patients at SC, but work under the direct supervision of clinical faculty with their patients.
---
Kettering Medical Center
Kettering Medical Center (KMC) is a 508-bed facility, employing 550 physicians in more than 35 primary, medical and surgical specialties. Our residents work with the clinical faculty at KMC for the purpose of increasing the residents' gynecological surgical experience. Our residents do not see their own patients at KMC, but work under the direct supervision of clinical faculty with their patients.
---
Wright State University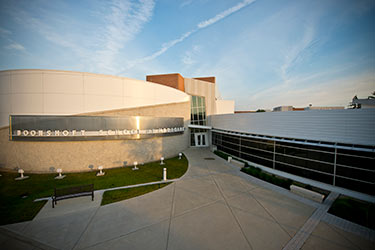 Wright State University is a metropolitan, fully accredited state-supported university with approximately 18,000 students including more than 4,000 students enrolled in graduate and professional degree programs. The university's main campus is located 12 miles and 15 minutes east of downtown Dayton. The faculty includes approximately 950 full-time members, many of whom are active in research programs.
Wright State University Boonshoft School of Medicine was established in 1973, and is fully accredited by the Liaison Committee on Medical Education (LCME). It is a community-based medical school affiliated with seven major teaching hospitals and more than 25 other health care institutions in the Dayton area. Educational programs include undergraduate medical education for about 445 medical students; residency training in 13 medical specialties for about 440 resident physicians; 10 fellowship programs; and continuing medical education programs for practicing physicians in the community.
The Boonshoft School of Medicine's faculty comprises more than 460 full-time medical educators and about 1,250 voluntary faculty members. The school has established dual-degree programs combining the M.D. with a Ph.D., Master of Business Administration, or Master of Public Health in a unique physician leadership development program.
Last edited on 10/17/2019.