Gold Humanism Honor Society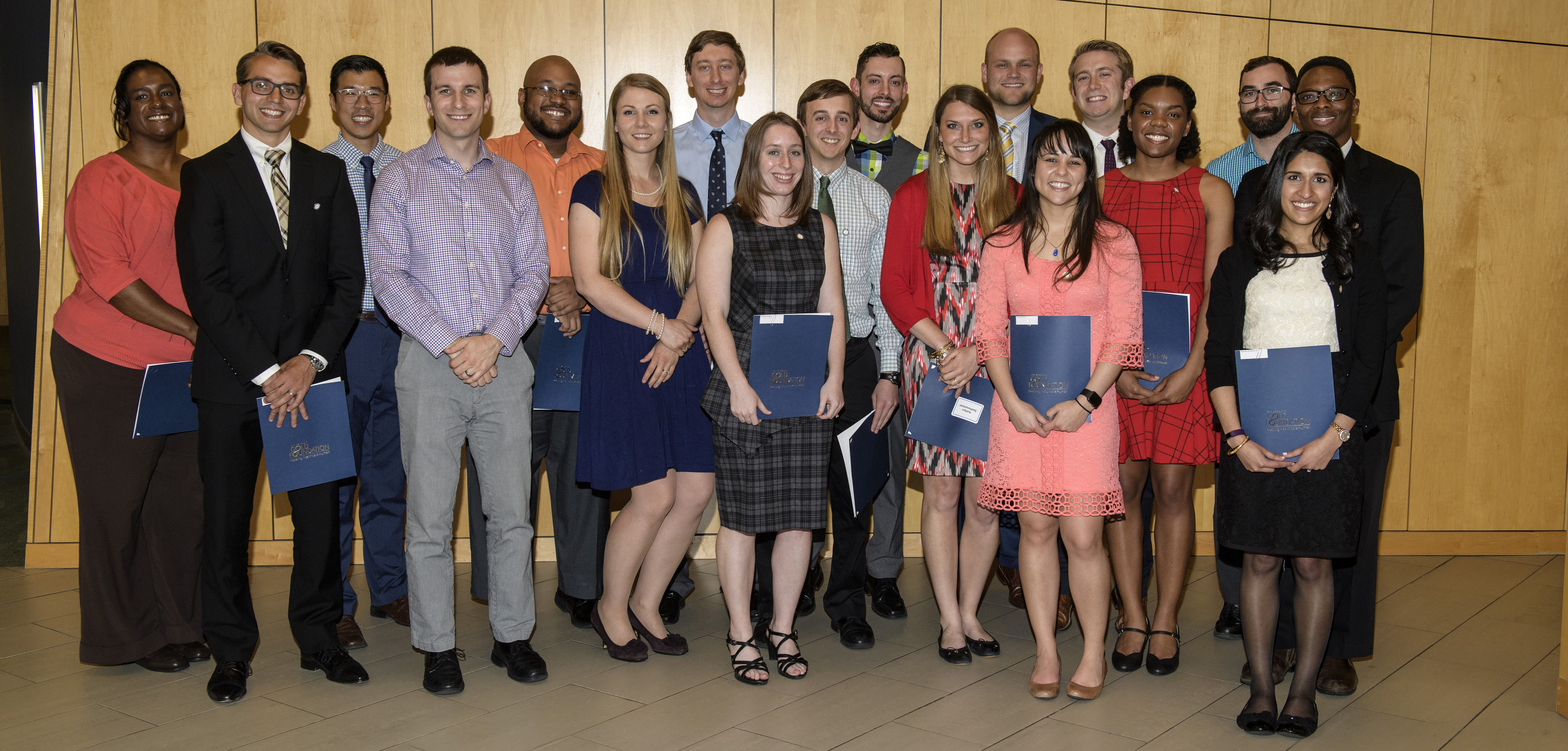 The Boonshoft School of Medicine chapter of the Gold Humanism Honor Society was established in 2004. Supported by the Arnold P. Gold Foundation, the national Gold Humanism Honor Society seeks to elevate the values of humanism and professionalism within the field of medicine by recognizing the attributes of the humanist physician — compassion, trustworthiness, altruism, reliability and the commitment to keeping patients as the first priority. The organization honors senior medical students, residents, role-model physician-teachers and others recognized for "demonstrated excellence in clinical care, leadership, compassion and dedication to service."
Boonshoft School of Medicine has emphasized the importance of humanistic attributes since its inception, and the WSU chapter was established to honor those students who best exemplify such attributes. Students are selected at the beginning of their fourth year on the basis of nominations from members of their class and faculty recommendations. Although members inducted into Wright State's chapter must demonstrate academic competence, it is their exemplary behavior, sensitivity to the needs of others and commitment to service that sets them apart.
The GHHS is a steadfast advocate for humanism through activities on campus and has continuing involvement with its inclusive membership. It helps to establish relationships with practicing physicians. Election of exemplars to the society makes a significant statement to medical school faculty, students and the public that an institution places high value on the interpersonal skills and attitudes that are essential for excellent patient care.
What is Humanism in Medicine?
Humanism in medicine fosters relationships with patients and other caregivers that are compassionate and empathic. It also describes attitudes and behaviors that are sensitive to the values, autonomy, cultural and ethnic backgrounds of others. The humanistic doctor demonstrates the following attributes: ("I.E., C.A.R.E.S.")
Integrity: the congruence between expressed values and behavior.
Excellence: clinical expertise.
Compassion: the awareness and acknowledgement of the suffering of another and the desire to relieve it.
Altruism: the capacity to put the needs and interests of another before your own.
Respect: the regard for the autonomy and values of another person.
Empathy: the ability to put oneself in another's situation, e.g., physician as patient.
Service: the sharing of one's talent, time and resources with those in need; giving beyond what is required.
Erica Taylor, M.D., professor of community health and director of the Division of Medical Humanities, serves as faculty advisor for the Wright State chapter.
---
For more information about the Gold Foundation and the national GHHS, visit their web sites:
---
Gold Humanism Honor Society Members inducted at Wright State
2022
Students
Steven Borchers
Desby Cheribin
Gisella Drouet
Alanah Grisham
Nishtha Gupta
Joshua Jantzi
Meha Joshi
Paige Lewis
Janet Lubov
Alexis Marrin
Dana Obery
Grace Owens
Jordan Rasp
Zenab Saeed
Ahmed Saeed
Carmen Stone
Laurie Thomas
Carolyn Turner
Faculty
Dr. Cassandra Milling
2021
Students
Sharlo Bayless
Bricey Bayonnet
Aaron Blevins
Jenna Braun
Jonathan Calcei
Christopher Cooley
Brenden Drerup
Derrek Edukugho
Jennifer Espenschied
Sanuri Gunawardena
Avni  Gupta
Kelly  Haller
Sachin Jindal
Daniel  Masters
Trevor McKoy
Elana Miller
Temitope Omoladun
Kennedy Osuagwu
Joshua Perrin
Bryn Thatcher
Todd Turner
Joseph Wiedemer
Faculty
Dr .Luke McCoy
2020
Students
John  Barnes 
Patrick  Barney
Alexander Chase
Sierra  Clark
Mark  Crager
Katherine Cross
Katie Cudahy
Brittany  Denny
Peter Greene
Matthew Lovell
Joshua Madden
Ryan  McNulty
Megan Mulligan
Joshua Omade
Samuel  Perry 
Noor  Saeed 
Faculty
Dr. Marc Raslich
2019
Students
Morgan Alexander
Derrius Anderson
Abigail Backs
Justin Chu
Kristin Coleman-Woodson
Carolyn Comes
Kristin Creel
Matthew Ellis
Dawda Jawara
Astrid Medina
Cara Murphy
Robert Nadler
Alexandria Sutton
Meenal Thadasina
Matthew Thomas
Morgan Torcasio
Lilian White
Lauren Wichman
Faculty
Dr. Bethany Harper
2018
Students
Jenna Decker
Megan Hirschbeck
Cynthia Joseph
Andrew Kilgore
Alexander Lang
Chloe Meyer
Dexter Nye
Erica Seabold
Anton Webb
Brianna Williamson
Christopher Woeste
Mirit Yacoup
David Yoder
Faculty
Dr. Ryan Mast
View a list of 2004-2017 Gold Humanism Honor Society Members (PDF)
Last edited on 07/11/2023.