Pediatrics Interest Group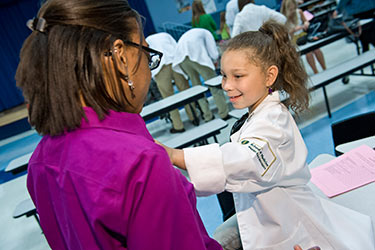 The Pediatrics Interest Group is an organization dedicated to exposing medical students to the countless opportunities in pediatrics. We hold monthly meetings and events, providing numerous opportunities for students to get involved. Our Observership Program allows students to shadow physicians at Dayton Children's Hospital and experience different specialties. Students are also able to get involved in the community through various volunteering opportunities. Furthermore, the Pediatrics Interest Group aims to increase student awareness through dinners and panel discussions with physicians, patients and Boonshoft's own graduating students bound for pediatric residencies.
Membership
Membership in the Pediatrics Interest Group is free, and all medical students are welcome to attend meetings and events. If there are any questions or concerns, feel free to contact any of the board members.
---
Fall Events
Introduction to Pediatrics Meeting
Back to School Event at Faircreek
Tour of Dayton Children's
Reverse Trick-or-Treat at Dayton Children's
Christmas Caroling at Dayton Children's
Meet & Greet Dinner with Faculty & Subspecialists at Dayton Children's
Intubation Lab
American Academy of Pediatrics (AAP) National Conference
Spring Events
"Dig for Dreams" Volleyball Tournament and Fundraiser
Meet the Patients/Parents Panel & Dinner at Dayton Children's
Match Panel with Graduating Fourth Year Medical Students
5K with Running Club and Oncology Club to benefit Dayton Children's
Year Round Events
Observership at Dayton Children's:
Child Life Volunteering at Dayton Children's
Tutoring at Faircreek (INSPIRE)
---
Officers
---
---
Last edited on 08/25/2023.