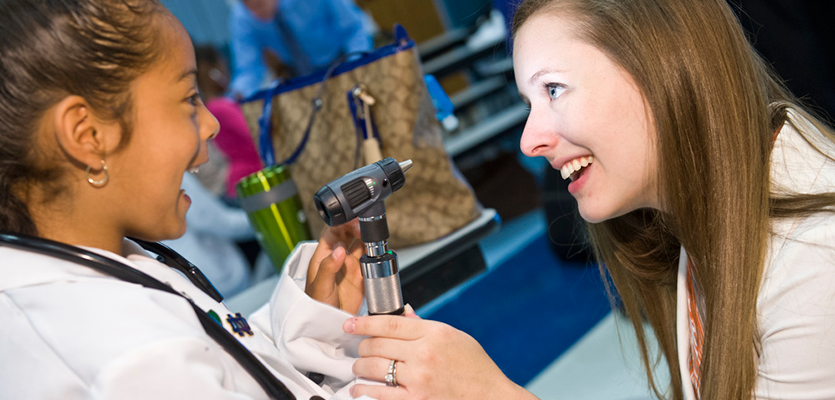 Student to Student is a community education program run by the medical students of Wright State University Boonshoft School of Medicine. The program serves to communicate a wide range of health information to students throughout the Greater Dayton community at no expense to them or their schools. Medical students visit classrooms and talk with students about a variety of health topics of interest to various ages. There are currently eight different topics to choose from, targeted to students ranging from preschool through 18 years old.
Our talks are geared toward "hands on" learning, using tools such as medical instruments, human bones and organs from Wright State's medical labs. We have found that these tools profoundly enhance student interest and learning. Active participation is encouraged via the friendly question and answer format of our presentations. Talks are presented upon invitation from classroom teachers and school administrators in schools within a 20-mile radius of Boonshoft School of Medicine.
Please note: The last talk for each academic year will be that last week of April. We are full-time medical students, so talks can only be given as our schedules permit during the academic year, from late August to the end of April. Due to the popularity of the program, please submit the form well in advance to schedule the presentation and time of your choice.
Please know that our schedules change on a weekly basis so availability of talk times will vary. We will try our best to find a time that works with your schedule. Additionally, we only receive our schedules a couple months at a time so we are unable to schedule talks more than two months ahead of time.
For more information, send e-mail to studentdocs@hotmail.com
Officers
To view the list of officers: https://wright.campuslabs.com/engage/organization/student-to-student
---
Student to Student Talks
The Dangers of Drug and Alcohol Abuse (Grades 5-12)
This frank discussion and slide show focuses on the most commonly used and abused drugs in today's society as well as their effects of on the body, with particular emphasis placed on the effects of alcohol. Healthy and pathological human organs are compared to illustrate the deleterious effects of drug use and chronic alcohol use.
How 2 B an M.D. (Grades 9 - 12)
This "career talk" is tailored to the student age group and has been particularly effective with middle school and high school students. Medical students discuss topics ranging from requirements for application to medical school, college years, life as a medical student, and what it is like to be a doctor.
The Human Body (Grades K - 12)
Our most popular talk! General anatomy and physiology are discussed. We bring real human organs, bones, and X-rays. The talks are a lot of fun. Talks are modified to be age appropriate.
Kids 'n Docs (Grades Preschool - 2)
This program familiarizes young students with medical techniques, instruments, and personnel in order to decrease apprehension toward visiting the doctor. Medical instruments and human bones are used to facilitate understanding.
Nutrition (Grades 1- 8)
This is an interactive session about wellness and nutrition. After a presentation about basic facts about nutrition, students will split into small groups and rotate between stations in which they will learn about the food groups, how to pack a healthy lunch, and sugar content in foods and drinks.
Puberty & Teen Pregnancy (Grades 4 - 12)
Medical students present a slide show and discussion focusing on male and female anatomy and physiology. For younger students, typically grades 4-7, puberty is the focus of the discussion. Older students, grades 7-12, may also hear frank and honest discussion about teen pregnancy, myths about sexual intercourse, birth control, and sexually transmitted diseases. Gender specific talks are available upon request. Only one request for a Puberty talk is necessary for gender specific talks. Please denote on the form when filling it out that you'd like to have a gender specific Puberty talk.
---
Contacts for the Beavercreek, Fairborn & Dayton Schools
Dayton Public Schools
Beavercreek City Schools
Board of Education
3040 Kemp Road,
Dayton, OH 45431
(937) 426-1522
Beavercreek High School
2660 Dayton-Xenia Rd
Beavercreek, OH 45434
Marian West
937-429-7547
Ankeney Middle School
4085 Shakertown Rd.
Beavercreek, OH 45430
Ms. Pamela Taiclet
937-429-7567
Ferguson Middle School
2680 Dayton-Xenia Rd.
Beavercreek, OH 45434
Gary Creviston
937-429-7577
Fairbrook Elementary
260 N. Fairfield Road
Beavercreek, OH 45430
Mr. Deron Schwieterman
937-429-7616
Main Elementary
2942 Dayton-Xenia Rd.
Beavercreek, OH 45434
Mr. Tom Dvorak
937-429-7588
Parkwood Elementary
1791 Wilene Dr.
Beavercreek, OH 45432
Dr. Ann-Olivia Westbeld
937-429-7604
E.G. Shaw Elementary
3560 Kemp Rd.
Beavercreek, OH 45431
Mr. Nick Verhoff
937-429-7610
Valley Elementary
3601 Jonathan Dr.
Beavercreek, OH 45434
Mr. Keith Earley
937-429-7597
Fairborn City Schools
Board of Education
306 East Whittier Avenue
Fairborn, Ohio 45324
(937) 878-3961
Fax: (937) 879-8180
board@fairborn.k12.oh.us
Baker Junior High School
200 Lincoln Drive |
Fairborn, Ohio 45324
(937) 878-4681
Fax: (937) 879-8193
Mr. Bill Howard, Principal
whoward@fairborn.k12.oh.us
East Sixth Grade
100 Lincoln Drive,
Fairborn, Ohio 45324
(937) 878-6108
Fax: (937) 879-8183
Mrs. Mary Ann Morgret, Principal
mmorgret@fairborn.k12.oh.us
Fairborn High School
900 East Dayton-Yellow Springs Road, Fairborn, Ohio 45324
(937) 879-3611
Fax: (937) 879-8190
Mr. Bob Cotter, Principal
bcotter@fairborn.k12.oh.us
Fairborn Intermediate School
25 Dellwood Drive
Fairborn, Ohio 45324
Primary: (937) 878-3969
Intermediate: (937) 878-4626
Fax: (937) 879-8191
Mrs. Sue Brackenhoff, Principal
sbrackenhoff@fairborn.k12.oh.us
Fairborn Primary School
4 W. Dayton-Yellow Springs Rd.
Fairborn, Ohio 45324
(937) 878-8668 or 878-4616
Office Fax: (937) 879-8196
ITC Fax: (937) 879-8181
Mr. Jerry Baker, Principal
jbaker@fairborn.k12.oh.us
Ms. Nancy McMahan, Principal
nmcmahan@fairborn.k12.oh.us
Last edited on 06/18/2020.