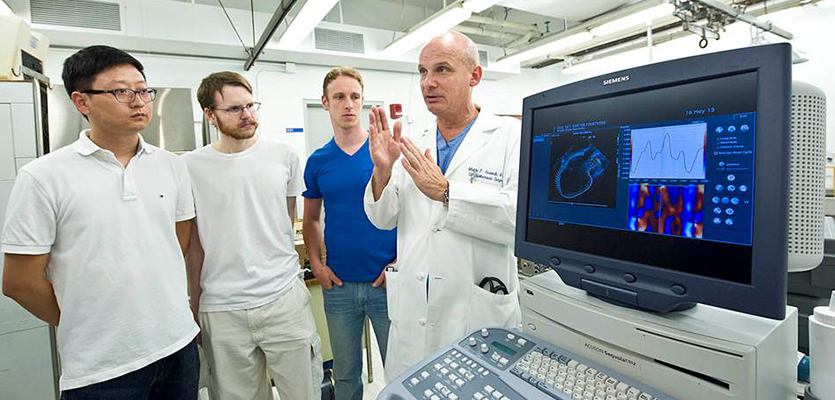 Welcome to the Wright State University General Surgery Residency Program home page. This is where you will find information regarding our general surgery residency program. This site is intended to provide potential residency applicants critical information about the program. Please review the material posted and feel free to contact us if you have questions that are not answered on these pages.
If you are interested in further information about the department, and not just the residency program, please visit our Department of Surgery home page.
Residency Program Overview
The Wright State University General Surgery Residency Program in Dayton is one of the largest general surgery programs in the United States. Our five-year, non-pyramidal program offers a broad exposure to general surgery and the surgical subspecialties in a community setting. This experience is coupled with a commitment to resident education and research consistent with university affiliation.
The department's focus on general surgery assures the resident comprehensive exposure to the depth and breadth of clinical surgery required for entry into either the private practice of general surgery or further fellowship training.
Eight categorical PGY-1 residents are accepted annually. Our full accreditation status, through the Accreditation Council for Graduate Medical Education, permits eight categorical residents to complete the program every year. In addition to the 40 categorical residents, five to eight non-categorical PGY-1 residents are accepted annually into our program. These are individuals seeking subsequent training in a career that does not require completion of the full five years of general surgery or are residents interested in general surgery yet have not secured a categorical position.
Completion of the entire five-year program ensures the resident a comprehensive experience with all major components of general surgery. This is accomplished by the participation of five diverse hospitals totaling 3,200 beds, and by the absence of competing subspecialty residency programs or fellowships. Outpatient experience is also extensive at the two federal facilities, in private physician offices and on the staff surgical services at the private institutions.
Residents in the program are given faculty status as resident instructors in the Wright State University Boonshoft School of Medicine. As such, they are expected to provide education to undergraduate medical students. They are also required to contribute scholarly activities by preparing an original effort which can be submitted to a local, state, regional, national or international scientific or professional organization for presentation, or to a recognized professional journal for publication prior to program completion.
Residents must perform in a consistently satisfactory manner during each service rotation. They are expected to read and understand the basic and current surgical literature and to demonstrate this knowledge base through satisfactory performance on the annual American Board of Surgery In-Service Training Examination (ABSITE®) as well as on the periodic basic/clinical science examinations conducted within the department.
Performance in all of these areas is reviewed semi-annually by the department Clinical Competency Committee, which includes representatives from all five participating hospitals, as well as two elected resident representatives. No resident will be advanced to the next level of training without committee review and approval.
The formal teaching conferences and research opportunities are described on the Curriculum page.
---
Department News
Last edited on 07/19/2018.