Miami Valley Hospital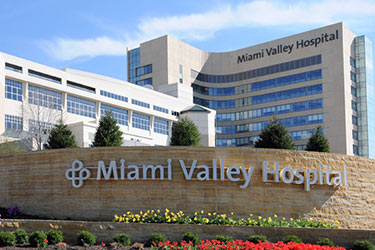 Miami Valley Hospital (MVH), one of the nation's 100 largest hospitals, offers unique opportunities to internal medicine residents. Residents benefit from the most advanced medical technology and regional leadership in many areas of service.
MVH is an 848-bed tertiary care facility supported by a medical staff of more than 1,200 physicians representing 50 primary, medical and surgical specialties. For more than 100 years, MVH has been recognized as the leading healthcare resource in the Miami Valley region and has earned a reputation for excellence by offering the broadest range of high-quality services delivered by a compassionate and experienced staff of employees and physicians.
MVH features the region's only Level I Trauma Center, CareFlight air ambulance program, and Adult Burn Center, as well as the only Blood and Marrow Transplant Program, the only kidney transplant program, and the only Level III center for high-risk maternity and newborn care. MVH has received honors in geriatrics, gynecology, neurology and neurosurgery, respiratory disorders and rheumatology.
The MVH Shaw Trauma and Emergency Center includes a 41-bed ultramodern medical-surgical ICU, with new medical-surgical general care areas, operating rooms, and a 71-bed emergency department. The Trauma Center is the busiest emergency department in the state of Ohio, seeing nearly 100,000 patients annually.
In 2017, U.S. News & World Report named MVH as highest ranking Hospital in not only Dayton, but Southwest Ohio. Among all hospitals nationwide, Miami Valley Hospital was ranked 28th for its pulmonology care, and 34th for nephrology care. 
Residents are provided a meal allowance for any of the three dining locations at MVH and have full access to the Medical Staff Dining Room. Internal medicine residents have complete access to the expansive MVH Medical Library.  Staffed by professional librarians, the library houses 20,000 bound volumes and 10,000 monographs, and subscribes to more than 600 journals. Other services provided to residents include free access to the ProHealth Fitness Center, a health club exclusively for physicians and hospital executives.
---
Dayton Veteran Affairs Medical Center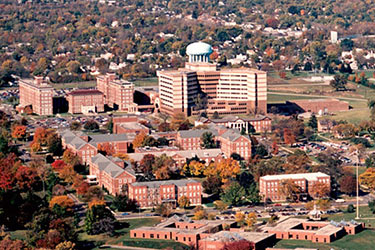 The Dayton Veterans Affairs Medical Center (VAMC) is a principal teaching hospital for the WSU Boonshoft School of Medicine. In addition to serving as a primary training site for internal medicine residencies, the VAMC offers integrated residencies in surgery and dermatology.
Internal medicine residents rotating at the VAMC receive comprehensive training in primary, secondary and tertiary care. Residents, who are encouraged to assume maximum patient care responsibilities commensurate with their clinical abilities and training levels, have immediate access to 30 full-time Wright State University Department of Internal Medicine and Neurology faculty for supervision and support.
Because the Department of Internal Medicine and Neurology also uses the VAMC as a focal point for clinical research, internal medicine residents experience research programs as an integral part of their education.
The VAMC offers all residents:
the use of an extensive, modern medical library;
access to the most up-to-date computer system in the Dayton area; and
education in computer applications within medical care.
The Dayton Veterans Affairs Medical Center is a 356-bed acute care facility that serves veterans from 29 counties. The center includes a 185-bed nursing home and a 91-bed domiciliary. Although the third oldest VAMC in the country, numerous enhancements and upgrades, including a state-of the-art simulation center and endoscopy facilities, have enabled the Dayton VAMC to provide the highest level of care to our veterans in the region. 
---
Wright-Patterson Medical Center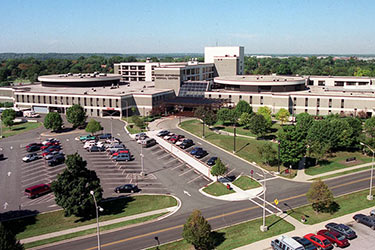 The 88th Medical Group at Wright-Patterson Medical Center is a tertiary care facility that serves not only Wright-Patterson Air Force Base but also the surrounding community. As the lead medical agent for the Department of Defense, Region V, it also serves as the military medical referral center for the seven-state region of Illinois, Indiana, Kentucky, Michigan, Ohio, West Virginia, and Wisconsin.
Because it serves such a large patient population, Wright-Patterson Medical Center is ideally positioned to support graduate medical education.
WPMC also offers:
training programs in pediatrics, psychiatry, child psychiatry, obstetrics and gynecology, general surgery, emergency medicine, general dentistry, hospital administration, nurse anesthesia, and psychology
specialty training for physician assistants in emergency medicine, general surgery, orthopaedics, and otorhinolaryngology.
An in-house computer system (CHCS) allows electronic order entry for laboratory studies, radiographic studies and prescriptions; retrieval of laboratory and radiologic data; review of medication profiles; appointment scheduling. Video terminals, located in every clinic and on all inpatient units, enable residents to retrieve and view radiologic studies through the Medical Diagnostic Imaging System (MDIS). A recent addition to the medical information system is the Clinical Information System, an electronic inpatient medical record system.
Wright-Patterson Medical Center maintains a long-standing affiliation with the Wright State University School of Medicine and the Uniformed Services University of the Health Sciences, F. Edward Hebert School of Medicine. The faculty in the Department of Internal Medicine and Neurology hold academic appointments at one or both of these schools.
---
Five Rivers Health Centers
The Medical Surgical Heath Center (MSHC) is the main civilian ambulatory practice site for our residency.  It is recognized as a Level 3 Patient Centered Medical Home (PCMH) by the National Committee for Quality Assurance (NCQA).  The MSHC provides comprehensive primary and specialty care for adults in the Dayton community. 
Residents provide care for a diverse group of patients while fulfilling our very important social mission.  This ambulatory practice provides a high level of support to our residents given them the opportunity to practice as part of a multidisciplinary team as they care for patients.  Resources available to patients include social workers, clinical nutritionists, clinical pharmacist, clinical psychologist, and an on-site pharmacy.
---
Last edited on 01/15/2019.