Miami Valley Hospital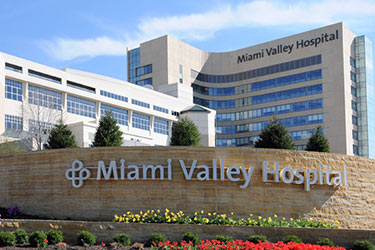 Miami Valley Hospital (MVH), one of the nation's 100 largest hospitals, offers unique opportunities to internal medicine residents. Residents benefit from the most advanced medical technology and regional leadership in many areas of service.
MVH is a 970-bed tertiary care facility supported by a medical staff of more than 1,200 physicians representing 50 primary, medical and surgical specialties. For more than 100 years, MVH has been recognized as the leading healthcare resource in the Miami Valley region and has earned a reputation for excellence by offering the broadest range of high-quality services delivered by a compassionate and experienced staff of employees and physicians. In 2021, U.S. News & World Report named MVH as the highest ranking Hospital in Dayton, and high performing in 3 adult specialties and 9 procedures/conditions. MVH has consistently been recognized as a top 100 hospital in the United States for clinical excellence, with numerous awards from HealthGrades and U.S. News & World Report.
MVH features the region's only Level I Trauma Center, CareFlight air ambulance program, Adult Burn Center, kidney transplant program, and the only Level III center for high-risk maternity and newborn care. The MVH Shaw Trauma and Emergency Center includes a 41-bed ultramodern medical-surgical ICU, with new medical-surgical general care areas, operating rooms, and a 71-bed emergency department. The Trauma Center is the busiest emergency department in the state of Ohio, seeing nearly 100,000 patients annually.
Residents are provided a meal allowance for any of the dining locations at MVH and have full access to the Medical Staff Dining Room. Internal medicine residents have complete access to the expansive MVH Medical Library. Other services provided to residents include free access to the ProHealth Fitness Center, a health club exclusively for physicians.
---
Dayton Veteran Affairs Medical Center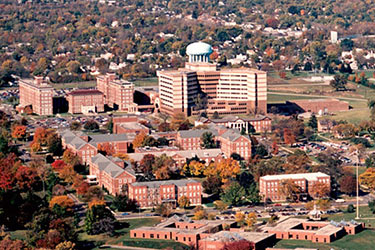 Dayton Veterans Affairs Medical Center (VAMC) is a 356-bed acute care facility that serves veterans from 29 counties. The center includes a 185-bed nursing home and a 91-bed domiciliary. Although the third oldest VAMC in the country, numerous enhancements and upgrades, including a state-of the-art simulation center and endoscopy facilities, have enabled the Dayton VAMC to provide the highest level of care to our veterans in the region. The VAMC is also a focal point for clinical research for residents.
---
Wright-Patterson Medical Center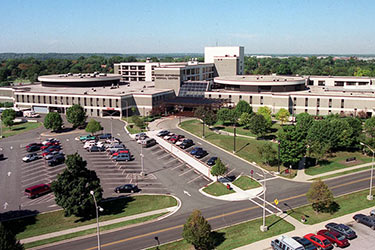 The 88th Medical Group at Wright-Patterson Medical Center is a tertiary care facility that serves not only Wright-Patterson Air Force Base but also the surrounding community. As the lead medical agent for the Department of Defense, Region V, it also serves as the military medical referral center for the seven-state region of Illinois, Indiana, Kentucky, Michigan, Ohio, West Virginia, and Wisconsin.
Wright-Patterson Medical Center maintains a long-standing affiliation with the Wright State University School of Medicine and the Uniformed Services University of the Health Sciences, F. Edward Hebert School of Medicine. The faculty in the Department of Internal Medicine and Neurology hold academic appointments at one or both of these schools.
---
Five Rivers Health Centers
Five Rivers Health Center is a robust, multidisciplinary healthcare center located in downtown Dayton. It provides quality, comprehensive primary and specialty care to patients and qualifies as a Patient Centered Medical Home. Wright State University Internal Medicine residents work at the brand-new Edgemont campus located at 721 Miami Chapel Rd, Dayton OH 45417. The Edgemont campus includes a pharmacy with drive-thru capability, acupuncture therapy, and social work/ case management services for patients. Other in-house medical specialties include sports medicine, podiatry, sickle cell, hematology/oncology, gastroenterology, infectious disease, MAT, psychiatry/behavioral health, dentistry, pediatrics, and women's health teams. 
Our interns see 4 to 8 patients per day as same day appointments and spend a total of 6 weeks in an ambulatory experience. As they transition to senior year, they become primary care providers, serving 7 to 14 patients a day in preparation for private or academic practice. Senior residents spend 14-16 weeks in clinic divided through the year in a 6 + 2 model to optimize continuity of care. 
Our clinic has numerous opportunities for quality improvement with which our residents are engaged. Residents work directly with Wright State University medical students. Didactics, in a case-based, small group structure, are held three times a week prior to the start of clinic.
Last edited on 11/15/2022.