R-1
The Intern Year is under the control of the program director. The rotations follow the requirements outlined by the American Board of Orthopaedic Surgery (ABOS). General surgery rotations include: trauma, surgical intensive care, plastic surgery/burns and vascular. Other rotations include internal medicine/infectious diseases. Finally, interns complete six months of orthopaedics including an orthopaedic trauma rotation emphasizing poly-trauma orthopaedic care as well as foot and ankle surgery and sports medicine.
---
R-2
Second year residents spend three months with Dr. Ryan Bauman, a total joints specialist. Another three-month rotation with Dr. Dennis Brown provides further training in joint replacement. Second year residents rotate for three months at the Dayton VA Medical Center. During this rotation, the resident gains experience in adult reconstructive orthopaedics by working closely with Dr. Anil Krishnamurthy, who specializes in joint replacement. The resident attends clinics with Dr. Krishnamurthy and Dr. Lawless acquiring skills in evaluating patients with major joint abnormalities. The resident learns appropriate non-operative care, makes decisions on appropriate surgical candidates for joint replacement, performs and assists in hip and knee replacement surgery and manages the patients post-operatively. The resident follows these patients over this three-month rotation. The resident presents all cases in a preoperative conference, becoming acquainted with different options available for patients undergoing primary and revision total joint replacement. Dr. Matthew DiPaola runs a specialty shoulder and elbow reconstruction clinic and Dr. Doug Gordon staffs the hand clinic. The second year resident participates in these clinics along with the chief resident at the Dayton VA Medical Center.
---
R-3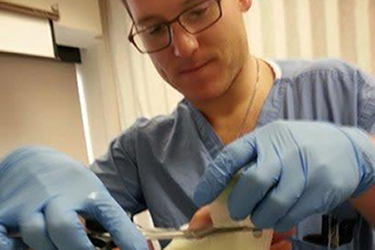 Third year residents spend three months at Dayton Children's Hospital experiencing all aspects of pediatric orthopaedic surgery, including spine. A weekly pediatric conference is held on Fridays from 6:45-8 a.m. at Dayton Children's. There are six full-time pediatric orthopaedic surgeons whose office is based at Dayton Children's. Residents see patients preoperatively, participate in their surgery and manage them postoperatively. They also see a large volume of pediatric fractures and provide ER consultation for closed reductions and management of pediatric fractures. Residents handle call from home. Specialty clinics include myelomeningocele and cerebral palsy.
Third year residents rotate for three months on the Foot & Ankle Service with Dr. Laughlin. The resident attends the private office and the Diabetic Foot Clinic (a multidisciplinary wound clinic at Miami Valley Hospital) and gains skills in evaluating and managing foot and ankle conditions. Orthotics and prosthetics are taught on this rotation, emphasizing writing prescriptions. The resident performs proper referral management of amputations and the amputee as well.
Third year residents spend three months rotating on the Trauma Service at Miami Valley Hospital — the busiest Level I Trauma Center Emergency Department in Ohio. The Trauma Service admits over 3,000 patients per year with 65-70 percent having orthopaedic injuries. The resident participates in acute trauma management and also covers cases in post-traumatic reconstruction performed by the trauma staff. The resident attends a trauma clinic, providing follow-up care of all the indigent fracture patients, as well as Dr. Michael Prayson's private office. Dr. Prayson directs the orthopaedic trauma service, which includes an orthopaedic trauma fellow (R-6), a chief resident (R-5), an intern (R-1), an emergency medicine resident, and an advanced practice nurse. All attendings taking trauma call are fellowship-trained in trauma and are required to accumulate at least 16 trauma-related Category I CMEs every six months.
Third year residents rotate for two months on the Spine Service focusing on spine trauma. The resident works with Dr. James Lehner and Dr. Nick Grisoni, attending their private patient office as well as Miami Valley Hospital's indigent care spine clinic.
---
R-4
Fourth year residents rotate for three months in hand surgery with Drs. Peter Barre, Beth Berrettoni and Gene Kim which are volunteer clinical faculty in our department. The resident gains continuity in patient care by attending the indigent care hand clinic, the hand surgeons' private offices and the hand clinic at the VA, providing preoperative, postoperative and non-operative care in these settings. All hand surgeons are fellowship-trained and have a Certificate of Added Qualification (CAQ) in hand surgery.
The resident spends three months on pediatrics with Dr. Michael Albert and Dr. James Lehner. This rotation expands on experiences gained during the third year spine and third year pediatric rotations.
Another rotation occurs at the Dayton VA Medical Center orthopaedic surgery service with Dr. Anil Krishnamurthy. Together with a second year resident, the chief resident attends clinics in adult reconstruction (Dr. Krishnamurthy), shoulder and elbow (Dr. DiPaola), and hand surgery (Dr. Gordon), participating in all the surgery generated by these clinics.
The final block concentrates on arthroscopy. The resident rotates for three months with Dr. Matthew Lawless focusing on knee surgery, and Dr. Joe Rubino focusing on shoulder and elbow surgery. Both services experience a high volume of arthroscopy and reconstructive surgery. The resident follows the Attending one-on-one in the private office, and in operating room, functioning as a chief resident with progressively-increasing responsibilities to prepare for the fifth year of training-the chief resident year.
---
R-5/Chief Resident
The chief resident year is divided into four blocks. One three-month block is spent at Miami Valley Hospital as the chief resident on the Trauma Service. Chief residents have their own fracture follow-up clinic supervised by Dr. Michael Prayson. This expands on their third year trauma service experience, enabling the resident to start functioning more independently and transitioning them into private practice. The chief resident supervises the junior residents and advanced practice nurse on the Trauma Service, and is also responsible for presenting the Ortho Trauma Review each month at the Grand Rounds on Wednesday.
There is an adult reconstruction rotation with Dr. Dennis Brown. During this rotation, the chief resident spends time gaining additional total joint experience. Dr Brown is a fellowship trained adult reconstruction surgeon who performs many joint revision procedures per year and performs the majority of alternate-bearing joint replacements in our area.
Another sports medicine rotation with Drs. Lawless and Rubino allows the opportunity to build on arthroscopy skills during the fourth year of residency.
The shoulder and elbow surgery rotation with Dr. Herbenick focuses on advanced arthroscopy and shoulder and elbow reconstruction skills. This mentor model rotation provides the opportunity to see patients in a high volume private clinic setting.
Last edited on 01/02/2019.