Welcome
The Integrated Pediatric Residency Training Program of the Wright State University School of Medicine is accredited by the Accreditation Council for Graduate Medical Education. Inpatient educational experiences take place at Dayton Children's Hospital. Residents' ambulatory experiences are enhanced by outpatient rotations that occur in a setting specifically focused on delivering outpatient care to healthy children as well as acutely and chronically ill children.
The unique nature of the integrated program allows residents to work at Dayton Children's and the Wright-Patterson Air Force Base Medical Center Pediatric Clinic. These geographically close (about four miles apart), but different, settings have much to offer residents. They afford residents experience with a wide variety of patients from different ethnic, socioeconomic and geographic settings. Each facility is staffed by a faculty of pediatric generalists and subspecialists recruited for their commitment to education. Both sites also provide pediatric training to medical students from Boonshoft School of Medicine and other primary care residency programs in the area.
Over the past 30 years, Dayton Children's, the United States Air Force and Wright State University Boonshoft School of Medicine have collaborated to offer the country's only civilian/military integrated pediatric residency program. At the end of the three-year curriculum, our graduates are well prepared for careers in primary care or the initiation of subspecialty fellowship training. Currently 48 residents are being trained in the program and will go on to serve our local community as well as communities around the world.
---
Message from the Program Director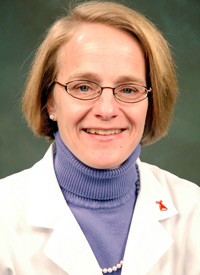 Thank you for your interest in our outstanding pediatric residency training program here at Wright State University Boonshoft School of Medicine (WSUBSOM). Our program's home is Dayton Children's Hospital. We recognize the important decision you have ahead of you in choosing where to train for pediatrics. It is an exciting and challenging time with this year's new normal during the COVID-19 Pandemic. We hope to offer you information about our program virtually. We feel that the most unique aspect of our pediatrics program is the warmth, bonding, and comraderie amongst our trainees. 2020's requirement for Virtual Interviewing may make this a bit more difficult to convey to you. Again, welcome and know that you have chosen an exceptionally fulfilling field.
Wright State Pediatrics has some unique strengths. It is a moderate size program — big enough to interact with a wide variety of faculty and peers, yet small enough to easily develop a great support system of mentors and friends. With a faculty of more than 50 academic general pediatricians and greater than 135 pediatric subspecialists, we are able to focus attention on the 48 pediatric residents we train. 
Dayton Children's Hospital is a great place to work. It provides, along with Wright-Patterson Air Force Base Medical Center, a broad and rich experience in pediatrics. We put quite a lot of effort into the details of our program: the competency-based curricula, the evaluation of residents in new and innovative ways, the emphasis on self-reflective learning and the outcomes measures we use to modify our program, to name a few. With a learner-centered approach that fosters the development of each individual resident, we aim to nurture the practice of life-long learning in our residents. Overall, we have a great program!
The faculty is top-notch and committed to your education. An active academic advising system ensures career progression. Mentors help solidify and support the future plans of our residents. Based on outcome and survey data, the training you receive here well prepares you for a career in general pediatrics. Likewise, if you plan on becoming a pediatric subspecialist, you will receive wonderful general pediatric training that will allow you to excel as a fellow. About 20 percent of our graduates each year choose to do a subspecialty fellowship. We have sent our graduates to outstanding fellowships; such as University of North Carolina (Endocrinology), Baylor (pediatric critical care), Riley Children's/Indiana University (neonatology) and the University of Washington (cardiology). Our board passage rate is above the national average. We are recognized nationally for being a strong place to train in general pediatrics.
Most importantly, we are proud of the people here. The atmosphere at Wright State is comfortable, warm, inviting and facilitative. We will help you to develop into a proficient resident. We will support you through hard times and share your joy in your successes. We believe in balance between your professional challenges and your personal life. We have a commitment to Diversity, Equity and Inclusion. An overarching guiding principle in our residency is the well-being of our residents.
Overall, Wright State is a quality experience in pediatrics training. Resident-friendly and geared towards the learner, we consistently try to evolve and grow the strengths we have. I hope you enjoy this unique year of 2020 and your time as a fourth year. We are here to help in your search for the "right-fit" training program. We hope to be able to meet with you and talk further about our exciting training program here at Wright State University.
Ann Burke, M.D., Director
Pediatrics Residency Program
Last edited on 04/28/2021.