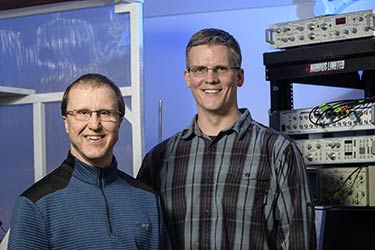 A variety of websites can help you find information about potential research mentors at Boonshoft School of Medicine. No single site has all the information you may need. Using several of the sites listed below should enable you to identify particular BSOM departments and faculty with research projects in fields that interest you.
Wright State University Resources
Research Databases
PubMed
PubMed comprises more than 20 million citations for biomedical literature from MEDLINE, life science journals, and online books. Citations may include links to full-text content from PubMed Central and publisher web sites. The database can be searched for keywords, specific researchers, and institutions.
ClinicalTrials.gov
ClinicalTrials.gov is a registry of federally and privately supported clinical trials conducted in the United States and around the world. ClinicalTrials.gov gives you information about a trial's purpose, who may participate, locations, and phone numbers for more details. Find trials for a specific medical condition or other criteria, including geographic location. The registry contains more than 100,000 trials with locations in 174 countries.
Library Research Tools
RefWorks
RefWorks is an online research management, writing and collaboration tool. It is designed to help researchers easily gather, manage, store and share all types of information, as well as generate citations and bibliographies. The service is free to all WSU students and faculty.
Research Quick Start Guide for Medicine
Find articles, books, drug information, images and more using the University Libraries' Research Quick Start Guide for Medicine. This portal includes links to databases such as PubMed and the Cochran Library and electronic book sources such as AccessMedicine and ACP Medicine. For more information, contact clinical medicine librarian Joanna Anderson (937-775-3840; joanna.anderson@wright.edu).
Last edited on 05/21/2019.