Research Learning Community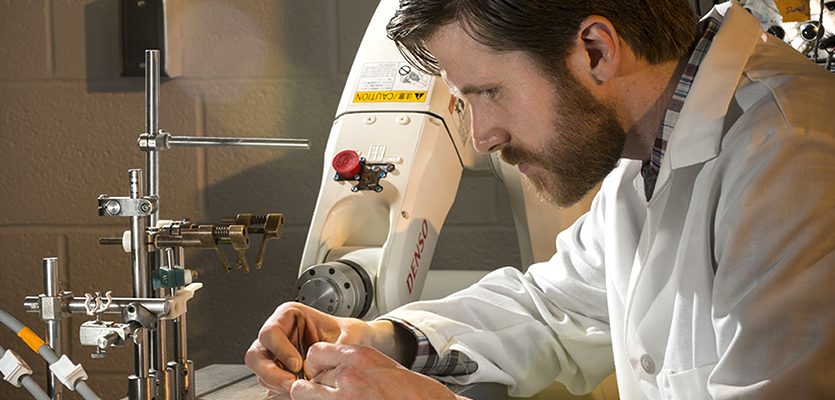 RLC Meetings Coming Up
Medical students are invited to attend Research Learning Community meetings this fall. Meetings are held in 101 Gandhi Auditorium from 5–8 p.m.
Upcoming meetings for the 2017-2018 school year are being planned now.  Check back soon for dates.
The Research Learning Community is an evolving collaboration  among medical students, faculty and the Office of Research Affairs at Wright State University Boonshoft School of Medicine. The RLC promotes research opportunities and seeks to build a supportive learning environment for medical student research. The RLC includes Biennium I research electives, student advising and the annual Medical Student Research Symposium. For more information about the RLC, contact Amber McCurdy in the Office of Research Affairs, at amber.mccurdy@wright.edu or (937) 775-3814. Student leaders include: Philip Walker, walker.423@wright.edu; Lucas Harrison, harrison.135@wright.edu; Zachary Sirois, sirois.3@wright.edu.
CITI Course on Human Subjects Protection
Wright State University's Institutional Review Board (IRB) requires all investigators (including faculty, students and staff) who will be engaged in research with human subjects to comlete the Basic Course in the Protection of Human Research Subjects offered online by the Collaborative Institutional Training Initiative (CITI). WSU is a CITI participating institution, and the course is offered free of charge to WSU personnel. WSU requires the renewal of CITI training every three years. Medical students who take SMD 616 (Introduction to the Research Learning Community), SMD 617 (Research Learning Community II), and CMH 811 (Medical Education Research) are required to complete CITI training during these research electives. In 2012 a CITI training requirement was adopted for all other B1 and B2 research electives, including student-initiated research electives (SIE's). Medical students who seek extracurricular research opportunities involving human subjects (e.g. clinical research) are strongly advised to complete CITI training before contacting potential faculty mentors. Read instructions for access to the online CITI course.
Finding Faculty Mentors
A variety of websites can help you find information about potential research mentors at Boonshoft School of Medicine. No single site has all the information you may need. Using several of the sites listed on the Finding Faculty Mentors webpage should enable you to identify particular BSOM departments and faculty with research projects in fields that interest you.
Research Electives
SMD 616 Research Learning Community 1: The elective for M1 students runs longitudinally from late May through the end of July. In March-May, students attend 8 weekly seminars (including the Medical Student Research Symposium) that introduce them to the Research Learning Community (RLC) at Boonshoft School of Medicine. Seminars include training in basic research skills that will prepare students to contribute to a faculty research project. Topics cover the responsible conduct of research, library and reference tools, human subjects research regulation, and strategies for participating in scientific meetings. Students who enroll in SMD 616 are responsible for finding a faculty mentor prior to the beginning of the elective. The student and mentor will develop a suitable plan for the elective  research experience involving at least 40 hours of contact time. Research experiences are completed in June-July. Enrollment in SMD 616 is limited to 15 students. The admission application deadline is December 1. Read the SMD 616 course description.
SMD 617 Research Learning Community 2: The elective for M2 students builds on the concepts and activities established in SMD 616 (Research Learning Community 1). The M2 elective provides a supportive environment for continuation or completion of research projects begun in SMD 616, but SMD 616 is not a prerequisite. The M2 elective also supports students who continue to participate in extracurricular or SIE (student initiated elective) research projects. SMD 617 runs longitudinally from October-April; the enrollment deadline is Sept. 30. Read the SMD 617 course description.
WSU Libraries Research Guide for Medicine
Find articles, books, drug information, images and more using the University Libraries' Research Quick Start Guide for Medicine. This portal includes links to databases such as PubMed and the Cochran Library and electronic book sources such as AccessMedicine and ACP Medicine. For more information, contact clinical medicine librarian Bette Sydelko (937-775-3840; bette.sydelko@wright.edu).
Last edited on 02/21/2018.