In 1991, Dee Wilcox began working at what was then the Wright State University School of Medicine. At the time, the medical school was still located in the Medical Sciences Building and her work involved helping to manage research labs. It seemed like a perfect fit for Dee, who had worked as a veterinary technician for the Montgomery County Animal Shelter before coming to Wright State. Her position allowed her to keep in touch with the technical interests that had made her so good at helping animals at the shelter, primarily dogs.
But she eventually developed allergies to substances in the lab and transferred to the Office of Student Affairs and Admissions in April of 1997. It was an abrupt change for her, as she preferred working with animals over working with people.
"The first two weeks that I started at Student Affairs and Admissions, I came home and I cried every day. I did not want to work with people. I loved my animals," Dee said. "After that two weeks, the students embraced me and, next thing you know, I'm a people lover. I'm hugging students. It's like, 'Oh my gosh, the students are pretty cool. I like them.' And then it went from I like them to I love them. They became my students."
Over the years before her retirement, Dee's love for students shone through as she helped to shepherd countless students through their time in medical school. She left a lasting impact because of the care and consideration that she gave them. Many of those who graduated came back to visit her, and many others fondly remembered how she had been there for them.
Because of this legacy, Dr. Gary LeRoy, M.D., '88, associate dean of Student Affairs and Admissions and associate professor of family medicine, has set up a scholarship fund in Dee's honor.  
"Many of our current students and alumni refer to her as 'Mama Dee' because she was their go-to person when they needed student services triage, words of encouragement, or some tough love to get them through tough times," LeRoy said. "After her many years of exceptional service, we could not allow her to retire without creating a scholarship in her name as tangible evidence of the legacy she left behind during her career at the Boonshoft School of Medicine."
Dee was incredibly surprised to have a scholarship started in her name.
"It blew me away. That is definitely a huge, huge honor. I am not a college grad, so to see these young people with their dreams and they're following through," Dee said. "I wanted to be a veterinarian, but I didn't follow through. I'm inspired to see these young folks follow through. To have a scholarship in my honor—when I found out, I cried. It kind of takes a lot to make me cry."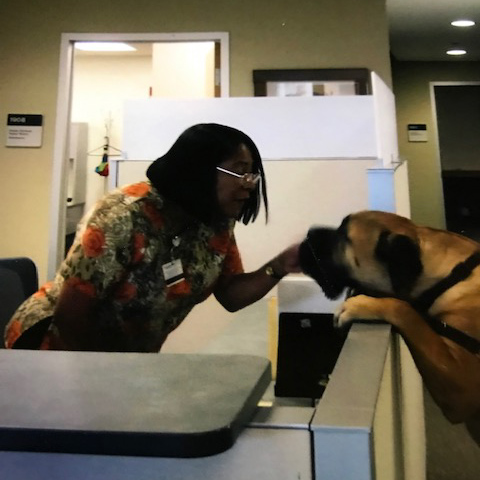 Dr. LeRoy routinely met medical school alumni at conferences around the United States who remembered Dee. No matter where he went, someone always asked about her. There was even a conference in Hawaii whose attendees asked about Mama Dee.
The class of 1999 was at the end of its first year when Dee started working in Student Affairs. She remembers how the students embraced her. Dee also was close with the class of 2000, which she saw all the way from matriculation through graduation.
Once Dee had gotten more used to working with students, she got over missing working with animals. She realized that there was something special about the medical students at Wright State University.
"My experience with people has always been that they can be very judgmental, whereas animals love you unconditionally," Dee said. "And to come there, to that school, and have the class of 1999 embrace me the way they did. And then to have the class of 2000 embrace me the way they did, and then every class thereafter. People are all right—maybe I was just around the wrong people."
Dee truly admired the collaborative spirit of the medical school, and how the students help one another to succeed. Instead of a cutthroat atmosphere full of arbitrary competition like at many other schools, the students at the Boonshoft School of Medicine are quick to come to each other's aid. She noted that, from day one, medical students here are entering the field of medicine with brains and compassion.
Over the years, Dee answered questions about making copies, finding study materials, or locating a good place to buy groceries. She helped students who were stressed out from taking exams.
"The front office would get loud. They would just want to come in and blow off some steam. We're not talking about anything in particular. We're just up there laughing, talking, having a good time," Dee said. "Sometimes they just needed somebody to talk to and they didn't feel like they did well and they're in tears. And I would have to remind them of the big picture."
There were times that she would call students to see if they needed her to pick things up, or get their books. Dee supported the students in countless ways, from just listening to sharing advice they sometimes didn't want to hear.
"I love you enough to have your back when you need me to have your back. And I love you enough to pull you out in the hallway and give you a nice tongue-lashing, if that's what you need," Dee said. "When they're not happy with me, I typically respond by telling them, 'Write your congressman. This is what you need to do.' There's a little bit of tough love in there."
Though some of the students didn't enjoy getting set straight at the time, many came back to thank Dee for saying what they needed to hear. One alumna has a spare key to her house. "Quite a few of our grads would come in. They were in town and decided to stop by," Dee said. "I was able to give them a tour of the building and go down memory lane. I've even taken them back into the lab because our lab is absolutely gorgeous compared to what they had."
The pace of technological advancement over the years was interesting to see for Dee, who saw that the medical school always was ahead of its time. It was true when she started, as the school was one of the first to have dedicated information technology staff. Since then, the technology prowess has grown by leaps and bounds.
It's just one example of the changes Dee witnessed over her 28-year career at the medical school. For example, internet use was not common for testing in the nineties. She remembers when medical students still took their boards in the auditorium in the Medical Sciences Building.
There are programs that have come and gone, and her old coworkers who have long since retired. The school of medicine was renamed during her career, and Dee witnessed all its incredible growth. She was around when it moved into White Hall.
Dee has found change again in getting used to retirement. "I miss the students. I really do. I've gotten a couple of emails from the students," she said. "I enjoy retirement, but I miss them."
To donate to the scholarship fund started in Dee's honor, visit wright.edu/give/wilcoxschl or contact Angela Clements, assistant vice president for advancement, at angela.clements@wright.edu or 937.245.7627.
— Daniel Kelly