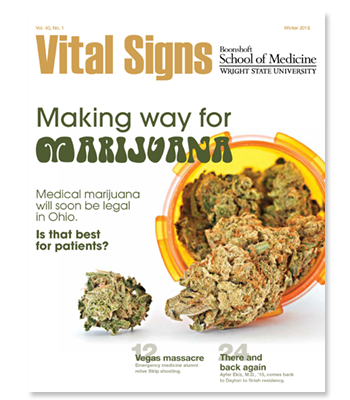 No matter the changes occurring in society at large, our true north as physicians is to do what's best for the patient. It is our guiding principle. However, this shared ideal does not ensure consensus on what is best when there is a paucity of evidence and divergent clinician opinion.
In this edition of Vital Signs, we explore a few ongoing debates that turn on this challenge, such as improving care for the elderly and the coming legalization of medical marijuana in Ohio. Those on all sides of these issues have fervent arguments for their positions. There is no shortage of good intentions, but there is little consensus. 
Welcoming the beliefs and differences of others is part of what makes our medical school such a strong and supportive community. It's helped to make the Boonshoft School of Medicine such a dynamic place, full of ingenuity with a passion for serving others. As welcoming others has served to make our collective fabric stronger, we can only hope for more unity elsewhere in our society.  
It is an unfortunate fact that mass shootings have become more common. And while we continue to prepare our students with advanced medical knowledge, insight, and experience, we also now must understand the tragedies they may face. It is an unpleasant but informed assumption to make, as many of our alumni have already served after these tragic events. You'll read about a few working in emergency medicine who were called in after the Las Vegas shooting. 
We also feature alumni whose careers were impacted by Horizons in Medicine, a program nearing its 40th anniversary that has introduced more than 600 underrepresented and minority high school students in the Dayton area to careers in science and medicine. This incredible program has encouraged 80 percent of its students to attend college.
Many Horizons students have gone on to become students at the Boonshoft School of Medicine. Their passions and curiosities are an inspiration. I hope you feel the same pride I do as you read about them and their peers. 
It is a distinct honor to educate our students and a joy to watch them grow into caring and competent physicians. We couldn't do it without the support of the Wright State family, our alumni, and friends. Thank you all for your passionate support and continued encouragement as we work together to train the next generation of physicians.
- Margaret Dunn, M.D., M.B.A., FACS
Dean