For over two decades, first-year students at the Wright State University Boonshoft School of Medicine have visited with students in Dayton Public Schools (DPS). Medical students who go are taking introductory courses to clinical medicine and the experience is one of their first working with children. Up to that point, they have only learned physical exam skills in adults via simulations or peer-to-peer exercises.
"They hear presentations on unique aspects of examining infants and children and have watched demos on real patients in front of the class. However, this opportunity cannot be duplicated in the classroom," said Gregory Toussaint, M.D., associate professor of pediatrics and assistant dean for clinical skills education. "It is their chance to now use those skills and attempt to examine a live, mobile, variably cooperative, child-sized human under the direct supervision of family medicine and pediatric department faculty."
At different times in the past, medical students have gone to other schools within the public school system, but most have gone through the program at Kiser Elementary. It was started under the direction of Bruce Binder, M.D., Ph.D., chair and associate professor of family medicine, and Katherine Cauley, Ph.D., professor emerita of pediatrics. Dr. Toussaint is the director of the Skills Assessment and Training Center who oversees the program.
Every year, for two Fridays in May, medical students visit the youngsters at Kiser Elementary. They put into practice what they have learned in class, performing physical examinations, ear and dental checks, and knee reflex tests, among other things. They put on their white coats and carry themselves professionally because the children look up to them.
"Everyone who has ever participated says what a fun time it is," said James Fowler, principal at Kiser Elementary until retiring in June 2019. "It's a fun time for the kids, too, because it gives them a chance to look at a possible future career and a chance to see positive role models, both male and female, of all different types of colors."
For the medical students, interacting with a diverse student population is a big benefit. Fowler also taught them many of the perceptions they had about inner-city schools simply aren't true.
"One of the other things I ask them when they come here is, 'Tell me some things, myths you've heard, about urban education.' They say it lacks resources; kids are rowdy, no parental support," Fowler said. "I tell them those are all myths. It changes some mindsets by having that conversation."
"They see a well-run DPS school with an incredibly diverse student population. Principal Fowler and his staff talk about the school and its students, including social determinants of health the BSOM students have learned about in class," Toussaint said. "Then the medical students walk into the cafeteria and get to interact with those children they've just heard about.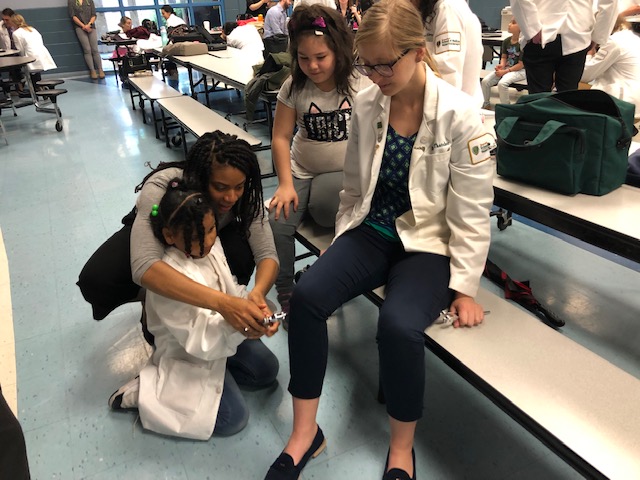 "
Fowler also told medical students about the importance of relationships. No matter the profession you're in, he taught them to always work on relationships and the importance of working with people. "That's the foundation for having success in anything," Fowler said.
"Principal Fowler has made a lasting impression on all of us for his caring, compassion, and dedication to all the students at Kiser and for his commitment to this unique partnership with the Boonshoft School of Medicine," said Melanie Miller, coordinator in the Office of Medical Education.
Miller and others keep the program running each year. She helps with setting things up and making sure activities go smoothly, even though the days at Kiser Elementary are sometimes described as "controlled chaos of fun, excitement, and learning." Between medical students, Kiser Elementary students, physician preceptors, and the incredibly helpful teachers and staff at the elementary school, as many as 114 people are together at the same time in the cafeteria area each of the Fridays.
The children at Kiser Elementary get to interact with what, to them, are real doctors. They are exposed to a career in medicine early on, and can potentially begin to see themselves treating patients one day.
"For the children at Kiser, this is an opportunity to interact, be examined, and generally get to play doctor themselves, all in a non-threatening environment," Toussaint said. "It's a longer interaction than what they typically get when in an actual clinical setting, and there are no needles, uncomfortable exams, microbiological cultures, etc. It's just a fun time for both sides of the equation."
Sometimes the medical students actually find ailments that need attention, such as lice, fluid in the ears, dental cavities, or rashes. Faculty preceptors confirm the findings and those children are referred to the school nurse, who shares the information with parents.
Medical students commonly say that the experience they have at Kiser Elementary is one of their favorites. For many, it helps them to see the field of pediatrics as a new possibility.
"One of the things that I ask them is, 'How many of you guys are going to be pediatricians?' And typically, very few of them want to go into pediatrics," Fowler said. "I always tell them that they need to think about pediatrics too, and maybe working with these kids will help steer them in that direction."
For Fowler, who was involved in the program since 2008, it's clear that the medical students get just as much out of the program as the elementary students. They get to interact with the children and learn about urban schools. The experience helps to connect them with the experience of treating real patients instead of dummies and simulations.
Children have always been inspiring to Fowler, who knew he wanted to work in education ever since his days in high school and even throughout his career as a missile operator in the U.S. Air Force.
"As an adult, the problem is that we forget what it feels like to be a child. And some days, you just need to be a child. You know what you can and can't do. But children have fun. And children, if you look at them, they don't care what color you are, they just want to play," Fowler said. "They can be mad at you today and forget about it tomorrow. They're the best of friends tomorrow. That's the lesson you learn from them."
— Daniel Kelly