After graduating from the Wright State University School of Medicine in 2000, Patricia Abboud, M.D., worked as an attending physician at Dayton Children's Hospital. She loved the work in Ohio, but it wasn't long before she and her husband began looking for opportunities to work closer to the Middle East.
Abboud and her family are Lebanese. They considered moving to Lebanon and other parts of the Persian Gulf, but Abboud couldn't find a place where she felt she could fully leverage the training she received as a fellow at Cincinnati Children's Hospital Medical Center, or as an attending physician at Dayton Children's Hospital. That is, until she discovered Sidra Medicine in Doha, Qatar.
In 2018, the country opened a brand new, state-of-the-art women and children's hospital. The undertaking would be modeled after the U.S. system, with Americans as well as others from Australia, Canada, New Zealand, and the United Kingdom at the leadership level.
"It was an excellent opportunity to be a part of something bigger and a once-in-a-lifetime experience to open a new hospital and work with people from over 100 different countries," Abboud said. "I also had the opportunity to take on new leadership roles and share my expertise."
In her work there, Dr. Abboud works primarily as a pediatric intensivist. She works as a clinician in Pediatric Intensive Care to care for the sickest children who come to the hospital. These are commonly children, for example, who have just left surgery, have respiratory failure, serious infections, or bleeding problems, or have cancer, among other ailments.
She has administrative duties that include helping to develop a pediatric critical care transport program for Sidra Medicine throughout the rest of Qatar. Dr. Abboud also has a faculty appointment with Weill Cornell Medicine-Qatar, and teaches residents, medical students, nurses, and therapists.
The hospital is trying to obtain Joint Commission International Accreditation (JCI), which works to improve patient safety and quality of health care in the international community by offering education, publications, advisory services, and international accreditation and certification. Abboud is responsible for a large section involving direct patient care. It entails overseeing the development of over 30 policies, procedures, and guidelines.
And though it may sound like the effort is just getting off the ground, Dr. Abboud has found that the medical care provided in Qatar is on the same level of that offered in the United States.
"The country of Qatar can afford the best and it brought all the talent to its country. There are world leaders in pediatric cardiac and general surgery, subspecialists who are primarily western-trained with the latest technology available at our fingertips," Abboud said. "The mission of the hospital is to be the beacon of learning and the region's leader in pediatric and women's care."
Still, there are differences between working in Qatar and working in the United States. For example, as everything is imported into Qatar, it is easy for there to be drug shortages. Most of the medications come into Qatar from different countries, and drug concentrations can be different. Because of this, Dr. Abboud and others working at Sidra Medicine have to be extra vigilant when mixing medications.
The patient population presents its own mix of challenges, as the majority of Qatar's population is made up of expatriates. There are many different nationalities, which contributes to varying disease processes and presentations. Dr. Abboud enjoys the challenges and complexity this offers. Her practice is similar to how it was in the United States, but much busier.
There are cultural differences that influence care, and a different belief system when it comes to the roles of medicine and spirituality.
"There is a stronger belief in God's intervention than I am used to in the USA. This is both helpful and, at times, disruptive. Parents may refuse a certain therapy for an unlikely risk and prefer to wait for spiritual intervention," Abboud said. "Other times, when our science only gives us so many options, we too as physicians put our faith in God's interventions."
Another element to practicing medicine in Qatar is the languages that are spoken. English is used commonly on rounds, with other practitioners and with family, but there are patients who greatly prefer to converse in Arabic. Since Dr. Abboud is fluent, she gladly obliges to make them feel more comfortable.
"This is where my Arabic is the most helpful as I don't need interpreters and the patients feel comfortable speaking directly with me," Abboud said. "I am 100 percent Lebanese by birth. Although born and raised in Cleveland, Ohio, as a child growing up, my parents insisted we learn the language as it is who we are. My husband is also Lebanese and speaks Arabic."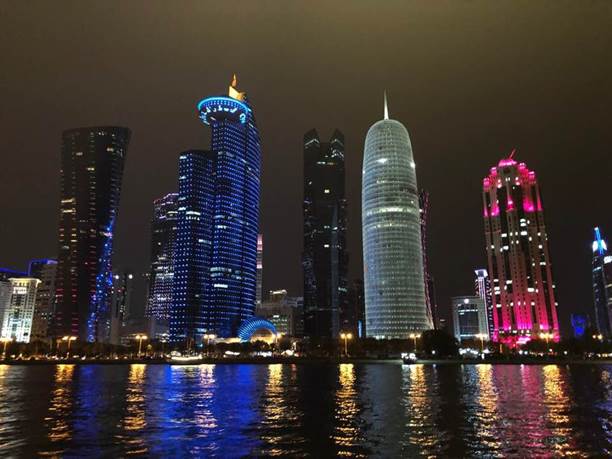 As Qatar is a Muslim country, the laws of Islam are practiced and enforced. But the country is very accepting of other faiths because of its large expatriate population. There are churches in the country of various denominations, and women who aren't Muslim aren't required to wear head covers.
Alcohol is permitted only in certain public areas, such as hotels, but people can purchase alcohol and consume it at home. Abboud notes that the expatriates that make up much of Qatar's population tend to earn more money compared to working in their home countries. In part because of the high per capita income, as well as harsh penalties for breaking the law, there is less crime in Qatar.
"I think stereotypes and the media may give most Americans a skewed view of what life is like in this part of the world, which is unfortunate," Abboud said. "I feel my family is living a better and more holistic life than they did in the USA."
She and her family live in an area of Doha called The Pearl, which is a manmade island in the middle of the Persian Gulf. All of the modern amenities her family could want are available in their neighborhood. Coffee shops, restaurants, upscale shopping, and public beaches are all within walking distance. They can go boating, kayaking, or even rent a yacht for the day. If it is too hot to walk, there is a private driver that will transport them, for free, wherever they want to go.
"It has been an adventure. We have the luxuries of home and then some, and parts of our culture with the food, language, arts, and friends. We are living a privileged life. I am making friends from all over the world and growing more cultural. I feel I am making a difference in the health care of children in this region," Abboud said. She credits Qatar's queen (Her Highness Sheikha Moza bint Nasser) for having the vision to build Sidra Medicine to provide better care for the region's children. "The Middle East and Arabian Gulf need to have better access to health care like we do in the West. We take it for granted in the USA."
— Daniel Kelly