Vital Signs » Spring 2020
Public health education continually evolves along with changing health challenges. The focus must shift because there are always new diseases and threats on the horizon. To compensate for the fluid nature of the field, many public health programs tend to specialize in certain areas of training.
The Department of Population and Public Health Sciences at Wright State sets itself apart with a different approach. It pioneered the first Master of Public Health program in Southwest Ohio. That advantage has helped it to grow its offerings extensively over the years.
The department, celebrating its 15th year, is home to the Physician Leadership Development Program that allows medical students to pursue M.P.H. and M.B.A. degrees in addition to the M.D. The department offers certificates in epidemiology, health care management, emergency public health, public health leadership, and aerospace medicine. It's home to robust research endeavors that are networked with local partners to improve the health of people in and around Southwest Ohio.
"We're a model academic public health partnership program," said Marietta Orlowski, Ph.D., chair of the Department of Population and Public Health Sciences. "We really have shaped the public health workforce for Southwest Ohio and many health commissioners seek out our graduates."
Public Health leadership
Those include graduates like Erik Balster, M.P.H., '10, the health commissioner in Preble County, Ohio. He chose the Master of Public Health program at Wright State University because the faculty and staff were individuals who are experts currently working in the field of public health.
Wright State's M.P.H. program was intriguing to Balster because of its community-driven focus. "I looked around the public health field in Ohio, and I noticed many graduates from the program were in leadership roles that had a significant impact in their communities," Balster said. "The program seemed like an important ingredient in their success and a logical next step for my career ambitions."
The master's program provided opportunities to work with other public health professionals in the field as well as in the classroom. "It gave me lifelong friendships and connections that have been essential every step along the way," Balster said.
Alumni connections have been a hallmark of the program since its beginning. The approach has yielded internship opportunities and high job placement rates. Balster and others have found that many of the partners he had in the classroom have later become partners in real-world public health projects.
"That's part of being networked and how it offers students a competitive advantage. They come in as a cohort and they go through together," Orlowski said. "We really believe that our distinct advantage is our integration with local public health and our cohort network model."
Balster has found that faculty in the department help graduates long after classes and projects are over. The department goes beyond its academic duties and is an active participant in many of the ongoing public health efforts in Southwest Ohio.
"Both present and former faculty continue to be essential partners in my successes. Sara Paton, who taught me epidemiology back when I was a student, is now an invaluable partner in some of the big projects I have led in southwest Ohio," Balster said. "Many others have provided oversight and direction. They continue to be my friends and co-authors with me on research."
Some of Balster's other projects include food service inspections, immunizations, and a more cost-effective community health assessment that can be used by all health departments while being compatible with hospital need assessments. He is also encouraging a One Health approach, which recognizes the connection of human health with animals and the environment.
"You don't have to go it alone. Public Health is a team sport. There are a lot of great professionals in the field willing to give a helping hand," Balster said. "Don't be afraid to ask for advice or help from other agencies, businesses and, most importantly, the people you serve."
Epidemiology
Much of the work of public health involves the practice of epidemiology, the study and analysis of the distribution, patterns and determinants of health and disease conditions in defined populations. All those who graduate from the Master of Public Health program are instructed on its practice.
The M.P.H. program has prepared epidemiologists that work in seven of the surrounding counties and they work in a variety of fields.  For example, Ashley Seybold, M.P.H., CHES, '16, is a maternal and child health epidemiologist with Public Health Dayton Montgomery County, monitoring birth outcomes across the county. Her classmate Kyle Wallace, M.P.H., CPH, '16, is an infectious disease epidemiologist. Their colleague, Dawn Ebron, M.P.H., CPH, leads the community health assessment.
In addition to local public health, program alumni have gone on to work with the Centers for Disease Control and Prevention or the Ohio Department of Health. They can be found in prominent public health positions all around Ohio and the United States. Most of the public health professionals in Southwest Ohio are proud graduates of the program.
Sara Paton, Ph.D., director of the M.P.H. program, is an epidemiologist. In her position, she has helped to train hundreds of public health practitioners in the Miami Valley. Dr. Paton has mentored many along their educational journeys, and stays in close contact with many of them.
Paton also has deep connections with the public health leaders in Montgomery County, as she worked at the county's health department for 14 years. She had the opportunity to help hire many of the epidemiologists who still work there. Paton still works closely with many of them today.
"Public health encompasses such a wide number of topics that your focus on what's going on in the real world and what needs to happen with your students, what they need to learn, it's always evolving," Paton said. "Opioids have been a big deal here in Ohio and the U.S. for the last few years. Now we've got coronavirus. We've had zika and Ebola. All sorts of things are happening that public health has to be on top of."
It's an interesting challenge for Dr. Paton and the rest of the public health faculty. She and others routinely are involved in unfamiliar areas. They accept it as part of the job.
The department is home to many accomplished epidemiologists with expertise is varying fields. Dr. Cristina Redko, associate professor, who has expertise in global mental health; Naila Khalil, Ph.D., associate professor, is an environmental epidemiologist who conducts research in environmental toxins and public health; and Tim Crawford, M.P.H., Ph.D., is an epidemiologist and statistician who studies health outcomes and behaviors of individuals living with HIV. 
"We are looking at the health of a community. It could be a county or it could be smaller, like a neighborhood. It could be a country. You are analyzing the health of that community," Paton said. "You might calculate the infant mortality rate for the community, or the rate of people who are dying from heart attacks. You might calculate what percent of people have access to good health care or insurance."
For teaching how to practice that kind of epidemiology, other public health programs will have a foundational course. But Wright State offers the Epidemiology Certificate, which provides graduate students with very specialized knowledge and skills. Courses offered under the certificate program include, for example, specialized instruction in chronic diseases or advanced biostatistics.
In addition, program alumni have gone on to work with the Centers for Disease Control and Prevention or the Ohio Department of Health. They can be found in prominent public health positions all around Ohio and the United States. Most of the public health professionals in Southwest Ohio are proud graduates of the program.
"Many alumni ask me how to go about things on different projects. I have a lot of epidemiology students I keep up with," Paton said. "That is the fun part of being the director and a faculty member because you can see what great public health work they are doing and help them develop themselves as professionals."
Medicine and Public Health
One of the innovative programs that has helped to spur continual improvements in the region's health is the Physician Leadership Development Program (PLDP). The initiative allows medical students at the Wright State University Boonshoft School of Medicine to earn M.B.A. or M.P.H. degrees while completing their M.D. degrees. The PLDP and M.P.H. programs both began with gifts from Oscar Boonshoft, who had a vision about the integration of medicine and public health.
John McAlearney, Ph.D., is director of the Physician Leadership Development Program. Since its beginning, the program has graduated many outstanding M.P.H. alumni who have gone on to positively impact the communities they serve. Sherry Adkins, M.D., M.P.H., '11, is one of them.
Adkins works as the president of the medical staff at Wayne HealthCare in Greenville, Ohio. She is a preceptor for medical students at Wright State University, serving as a clinical assistant professor of family medicine. Dr. Adkins also works as backup lab director for the lab at the health system's federally qualified health center.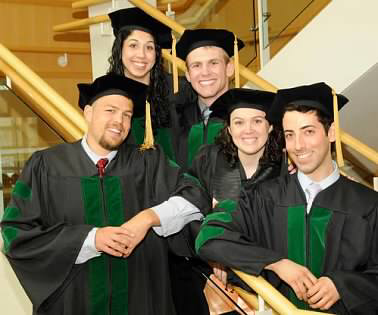 During her time in the M.P.H. program, Dr. Adkins met local health leaders and was exposed to big ideas in health care. She had excellent, highly professional, and high-achieving mentors.
"Dr. Orlowski has been a huge influence," Adkins said. "I look up to her as an example of a female academic who can inspire and teach others, collaborate among professionals, create meaningful scholarship, and foster a local and regional professional community."
Members of that community include health commissioners all across Southwest Ohio. Many are alumni themselves. Like all of the program's alumni, Adkins still benefits from connections with practitioners throughout the area. She remembers Dr. Paton and Dr. Cristina Redko, who were very supportive during her studies. Dr. Amanda Bell was a great encouragement to her while she was at medical school.
Dr. Adkins is also grateful for the guidance of Dr. Ed Onusko and Dr. Randy Longenecker. "Dr. Longenecker encouraged me to reflect on my own clinical practice, even as a learner, and demonstrated a willingness to define and work to solve problems himself, even at the systems level in medical care and graduate medical education in the United States," Adkins said.
She continues to be challenged by the values this mentor demonstrated – high value for generalist practice, creativity, and giving specific value and attention to unspoken knowledge. Dr. Adkins is still learning from her mentors, and routinely reflects on their examples.
"I think the name of the game in public health is collaboration and really trying to listen and understand what the population finds important and acceptable. There are so many professionals and individuals doing so much work in silos," Adkins said. "If we could truly map our resources locally and improve communication, coordination, and access to these services, that could make a huge difference."
Adkins believes public health institutions that can have a powerful impact are those that think systematically and are in touch with their populations in terms of understanding, beliefs, and values related to health outcomes. These are institutions that can be forward-thinking and constantly improving because they have self-awareness.
Her philosophy of medicine is in many ways guided by public health. She knows that she treats individual patients for their benefit, but she is also treating members of a community, a workforce, and a society. Dr. Adkins tries to keep in mind the relative value of the services that she provides because patients don't have infinite resources.
"The other part, which cannot be expressed in terms of public health, but is the heartbeat of medicine is the deep person to person care," Adkins said. "Dr. Rachel Remen describes medicine as 'a special kind of love.' Caring for a patient in this way fills my heart with joy. The tacit knowledge from my personal experiences with patients can drive a deeper and better public health approach. That is the listening part."
As public health education continues to evolve, Adkins and other alumni will stay connected to Wright State and those who helped them on their journeys in public health. Alumni and friends will continue to support the program and its students.
There will be expanded course offerings that include additional training on advanced epidemiological methods. More opportunities will be available for students to work on funded public health research projects. After the coronavirus pandemic, it's clear that these efforts are needed more than ever.
The department maintains its spot as Southwest Ohio's public health leader, and the top contributor to meeting community workforce development needs. Public health leaders are vital to our region's continued health, safety, and economic prosperity.
—Daniel Kelly