Master of Science Degree Program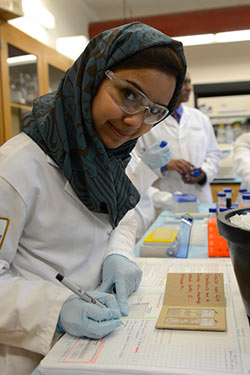 Our innovative program provides a comprehensive introduction to the broad range of theoretical concepts that comprise pharmacology and toxicology, providing both historical context and state of the art technical approaches to solving pharmacological and toxicological problems. This goal of providing students with a career-oriented yet theoretically based education will be accomplished within the core curriculum through the combination of text and literature based lectures, complemented by laboratory instruction and journal club type seminars.
The research-based master of science program and a leadership/administration master of science program are available to our students. All Master of Science in Pharmacology and Toxicology candidates, regardless of the option chosen, are required to have an advisor and an advisory committee. The advisory committee will help formulate a study program, provide counseling and evaluate student progress. To qualify for the Master of Science degree a student must satisfy the requirements of the Wright State University Graduate School as well as the program requirements.
What is pharmacology?
Pharmacology is the study of the therapeutic value and/or potential toxicity of chemical agents on biological systems. It targets every aspect of the mechanisms for the chemical actions of both traditional and novel therapeutic agents. The American Society for Pharmacology and Experimental Therapeutics provides more information in their Explore Pharmacology brochure (PDF).
What is toxicology?
Toxicology is the study of the adverse or toxic effects of drugs and other chemical agents. It is concerned both with drugs used in the treatment of disease and chemicals that may present household, environmental, or industrial hazards. The Society of Toxicology (SOT) provides more information about this exciting field.
Eligibility requirements
The minimum entry degree required for this program is a bachelor of science or equivalent degree from an accredited college or university. Your undergraduate preparation should include mathematics through calculus, biology, chemistry, biochemistry, and general physics. You will need to have attained a cumulative grade point average (GPA) of 3.0 or higher at your undergraduate institution. Although not required, it is advisable to provide Graduate Record Exam (GRE) scores as part of your application for admission. You are also expected to be fluent in both spoken and written English.
Taking courses before admission
Students may be eligible to take courses prior to admission although such cases are exceptions to our general policy of admitting students for full-time graduate study and research training. Students may apply up to 12 credits earned towards the master of science degree upon admission. However, taking courses does not guarantee admission to the program. Check with the Graduate School for information on an undeclared major.
Program requirements & standards
You will participate with faculty in intramural seminars and a weekly Journal Club and may be selected to attend and present your research findings at local and national scientific meetings and conferences.
Advisory Committee
Each student must have an advisory committee which will consist of two members of the Pharmacology and Toxicology faculty and the advisor. The committee will monitor the student's progress and serve as the examination group for the oral exam.
For more information about each program, see:
For application information, see:
For information on costs, see:
---
What research facilities are available?
The Department of Pharmacology and Toxicology occupies the second floor of the Health Sciences Building on the main campus of Wright State University. Resources include seven well-equipped biomedical research laboratories and common equipment facilities. The department has an Imaging Suite that features a laser scanning confocal microscope (Leica SP-2) and an epifluorescence microscope (Leica DM-5). Computer workstations for storage, quantification and analysis of data, and high-resolution printers for making images, are available.
Wright-Patterson Air Force Base is located immediately adjacent to Wright State University, where the facilities of the Air Force and Naval Toxicology Laboratories are available to students in the program. In addition to providing a training site for thesis research, these sites also serve as a window to potential career opportunities for graduates of this program. The laboratories at WPAFB conduct research on the health effects of a wide variety of agents for military and other government agencies including the National Institute of Occupational Safety and Health (NIOSH), the U.S. Environmental Protection Agency (USEPA), and the Agency for Toxic Substances and Disease Registry (ATSDR). The university has an agreement of cooperation with WPAFB promoting educational and research interactions applicable to this M.S. program.
---
Program administration
Responsibility for program administration lies within the Department of Pharmacology and Toxicology at Boonshoft School of Medicine. A program advisor will initially advise new program entrants until such time as a research advisor is selected by the student and approved by the program director. A Thesis Committee consisting of three graduate faculty members in addition to the research advisor will be selected by the student in consultation with the research advisor.
Terry Oroszi, M.S., Ed.D.
Director, MS Graduate Program and CBRN Defense Certificate Program
Pharmacology & Toxicology
Department of Pharmacology & Toxicology
217 Health Sciences Bldg
(937) 775-4832
terry.oroszi@wright.edu
Catherine Winslow, B.S.
Assistant to the Chair, Assistant Director, MS Graduate Program
Pharmacology & Toxicology
207 Health Sciences Bldg
(937)775-2463
catherine.winslow@wright.edu
Last edited on 06/01/2018.