Our Graduates Get Top Residencies
Of course, you want a medical school that will prepare you well for clinical training in your chosen specialty. Our graduates routinely match at prestigious residency training programs across the country, including the Mayo Clinic, Johns Hopkins Hospital, UCLA Medical Center, Cleveland Clinic, New York-Presbyterian University Hospital, Barnes-Jewish Hospital, Duke University and Stanford University. Long-term studies indicate that 95 percent of them are rated as equal to or better than their peers during residency training.
Typically, about 45 percent of graduating Boonshoft medical students choose residencies in primary care fields, while the majority choose other specialties ranging from anesthesiology to urology. After graduation just over half the members of each class relocate to another state to begin residency training.
During your medical career at Boonshoft School of Medicine, faculty are available as mentors, advocates and advisors. Many of our clinical faculty members have volunteered to serve as advisors in helping you make a specialty choice — your career in medicine. They can provide invaluable information about their medical specialties, including application procedures, requirements, certification and training programs.
Boonshoft School of Medicine graduates match in 18 specialties
Boonshoft School of Medicine had 99 graduating medical students assigned to residency programs through the National Resident Matching Program on March 17, 2017. More than 40 percent of the Wright State graduates will remain in Ohio during residency. Almost half (48.5 percent) will enter a primary care field (Family Medicine: 21.2 percent; Internal Medicine: 17.2 percent; Pediatrics: 10.1 percent). The rest matched in 15 other specialties: Anesthesiology: 2 percent; Dermatology: 2 percent; Emergency Medicine: 8.1 percent; Neurological Surgery: 1 percent; Neurology: 5.1 percent; Obstetrics and Gynecology: 6.1 percent; Ophthalmology: 1 percent; Orthopaedic Surgery: 6.1 percent; Pathology: 1 percent; Physical Medicine and Rehabilitation: 2 percent; Psychiatry: 7.1 percent; Radiology-Diagnostic: 2 percent; Surgery: 5.1 percent; Psychiatry/Family Medicine: 1 percent; and Plastic Surgery: 2 percent.
Residency placements by specialty for the past five years (2013-2017)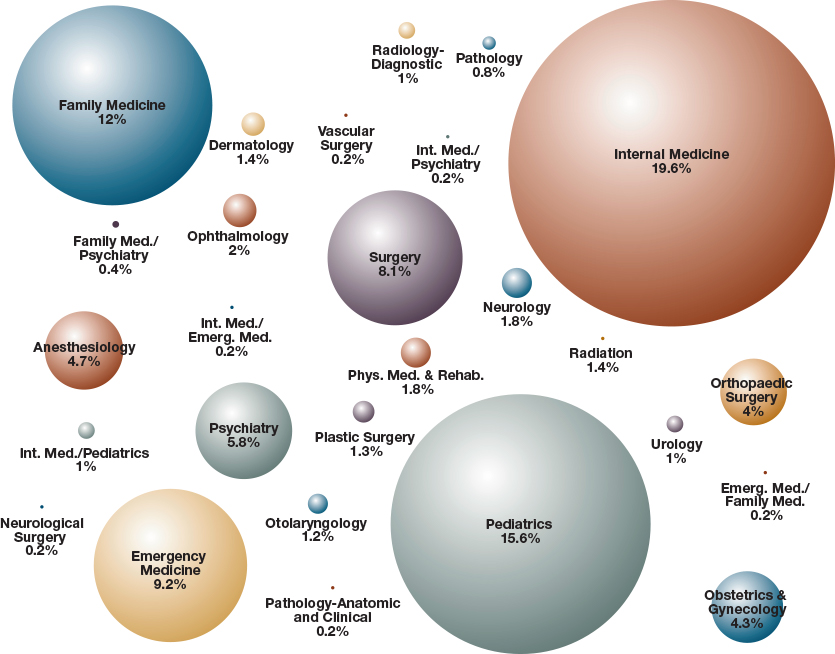 Last edited on 07/22/2019.