Welcome to the Incoming Class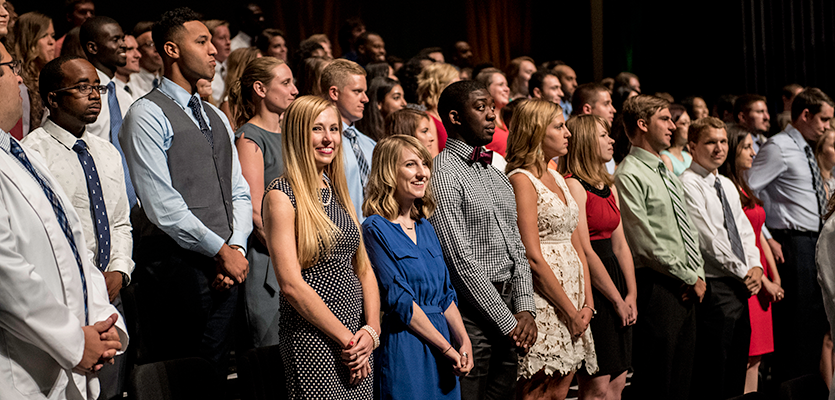 Congratulations
As an accepted member of the Wright State University Boonshoft School of Medicine, you can be extremely proud of your many accomplishments. You've worked very hard to reach this point, and your intelligence, dedication, compassion and other unique personal qualities have led to your recognition as one of the most promising students to enter medical school.
That's why we're so pleased to welcome you to Wright State. We look forward to providing you with the finest medical education possible and helping you fulfill your potential to become one of tomorrow's finest physicians.
We're here to help
As you prepare for this exciting new stage in your professional training, you can count on us for support and assistance every step of the way. We want to make your transition to medical school as positive as possible and prepare you for success right from the start.
A note on financial aid
Financial aid awards (loans) are generated in mid-April, and a message will be sent to your WSU email account when they are available. Scholarship awards also are determined in April, and notification will be sent out shortly after that. There is no need for first-year students to apply for scholarships. You will be considered for all scholarships for which you qualify.
Online resources for incoming students
If you've browsed the medical school or university web site, you probably have a sense of the vast amount of information available online. Here, on the incoming class's section of the website, we've collected and organized some of the most useful and pertinent material for you in one convenient place.
In addition to the information available through our admissions web site, you can use the links at the bottom of this page for quick access to useful information to help you prepare to begin medical school in July.
Student Handbook
The Boonshoft School of Medicine publishes a lengthy Student Policy & Procedures Guide, which is our official guide to rules, requirements and other important student policies. You may view the current Student Policy Guide here.
Staying in touch
We will occasionally contact you to provide more information on key topics, or to offer an advance look at what you can expect as a first-year medical student. We hope glimpses of life on campus, in our affiliated hospitals, and around the Dayton region will help you imagine yourself here and look forward to the next four years. Official communication concerning your status as an accepted student at Boonshoft School of Medicine will be sent to the Wright State University e-mail address you were given when you accepted our offer of admission. Please be sure to check your Wright State e-mail account regularly for these communications.
Please don't wait on us to contact you, though. If you ever have questions, need assistance, or simply want to reach out to some of the people who may become like a second family to you for the next several years, don't hesitate to contact us. We want to help, and you're the reason we're all here.
Again, congratulations, and we'll be in touch!
Gary L. LeRoy, M.D.
Associate Dean for Student Affairs and Admissions
Wright State University Boonshoft School of Medicine
Learn more…
Last edited on 11/02/2021.