Frequently Asked Questions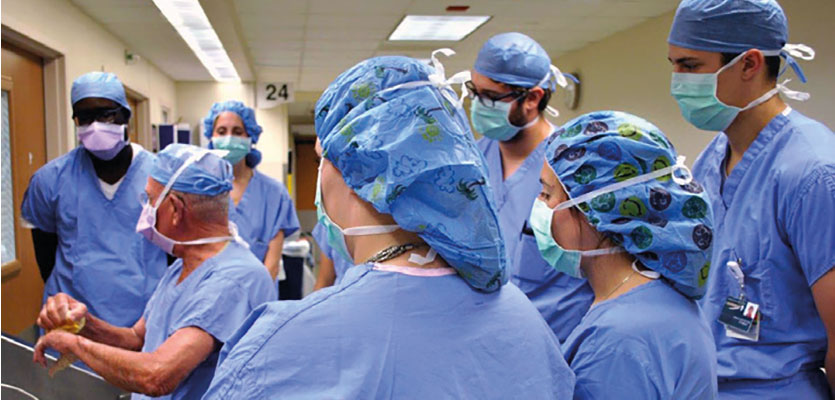 What is your Admissions Committee looking for?

The committee is looking for evidence of intellectual ability, dedication to human concerns, communication skills, maturity, motivation, and potential for medical service in an underserved area of Ohio. Academic factors include undergraduate school(s); science GPA and trend; difficulty of major and course load; MCAT scores; honors and awards for academic achievement; and research experience. Humanistic factors include pre-college and college extracurricular activities; hours worked while attending school; work experiences; volunteer experiences; honors and awards for non-academic achievement; and letters of recommendation.

What is your learning environment like?

Students repeatedly mention two things that stand out at Wright State's School of Medicine. Teamwork and team building are emphasized here — not competition. Classmates support and help each other — as do faculty members. Wright State has a low ratio of students per faculty member, and faculty are dedicated to student success.

What is a community-based medical school, and what does that mean for me?

Simply stated, Wright State University Boonshoft School of Medicine, like one-fifth of the nation's 141 accredited M.D.-granting medical schools, does not own or operate a university hospital or academic medical center. Instead, it partners with five major teaching hospitals and two federal institutions for clinical training. That means that you will experience a diverse patient base and observe several types of residency programs. Our alumni tell us that this community exposure prepared them to excel in their residency training. Find out more more about our affiliated hospitals and affiliated health care institutions.

I've heard you focus on primary care training. Will that limit my residency choice?

Our graduates enter a wide range of medical specialties and competitive programs across the country. In the last five years, approximately 45 percent of our graduates entered the generalist fields of family medicine, internal medicine, internal medicine/pediatrics and pediatrics; the other 55 percent entered a wide range of specialties and sub-specialties. See "Our graduates get top residencies" for more information about how well WSU graduates do in the match.

Do I have to major in pre-med?

No. While a basic understanding of the physical and biological sciences is important to a medical education, a broad appreciation of individuals and their social, cultural and artistic efforts is equally necessary. Each applicant's credentials for admission will be individually reviewed and evaluated. Entering students have a wide variety of majors including biology, chemistry, engineering, health, English, foreign language, anthropology, psychology and physics, to name a few.

Do you require a secondary application?

Boonshoft School of Medicine has a secondary application requirement with an additional fee. Those applicants exempted by AMCAS for fees do not have to pay for a secondary application. After we receive and review your application from AMCAS, we will notify you by email with instructions for completing the secondary application and paying the fee online. The secondary application fee is due by Dec. 15.

What letters of recommendation do you require?

 We prefer to receive a letter of recommendation from the premedical advisory committee at your college or university. If your school does not have such a committee, you may substitute letters from three faculty members who had you in class, including at least two letters from science faculty.

Your letters should be submitted through the AMCAS Letter Service. Letters of recommendation are due by Dec. 15. We do not accept letters sent directly to us.

Do you accept non-Ohio residents?

Yes. Approximately 25 percent of the students in recent incoming classes were classified as out-of-state.

Do you accept international students?

An applicant must be a U.S. citizen, possess a permanent resident visa or be a non-citizen with an I-94 Form from the Department of Homeland Security showing "Refugee" or "Asylum Granted Status" to be considered for admission.

Do you accept transfer students?

A limited number of transfer students are accepted at the third-year level from medical schools accredited by the Liaison Committee on Medical Education or osteopathic schools accredited by the American Osteopathic Association. Contact Student Affairs & Admissions for more information.

Do you have an early admissions program?

Yes. Applications for the Early Decision Program must be made to AMCAS by Aug. 1 of the year prior to the year of admission. You must be a resident of Ohio to be considered for Early Decision. All supporting materials, including letters of recommendation, must be received in the admissions office by Aug. 31. Applicants considered for Early Decision will be interviewed during September. The Admissions Committee will make its decisions and applicants will be notified by Oct. 1.

What is your interview day like?

Interviews are held on Tuesdays and Wednesdays from August through March. Candidates receive two one-on-one interviews lasting about 45 minutes each. The purpose of the interview is to gather information about your preparation and qualifications for a career as a physician. Campus tours, as well as opportunities to meet with faculty and students, are provided the same day as the interview. Learn more about interview day.

Do you let applicants know what their status is during the admissions process?

When we have received all the application materials and the application is complete, we email applicants to let them know what to expect next. Those who are not invited for an interview will be notified when the admissions process is over.
Last edited on 10/21/2016.