Matt Arroyo, D.O. — R3
Ohio University College of Osteopathic Medicine
---
Ryan Babienco, M.D. — R3
Loma Linda University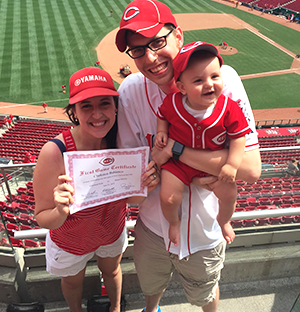 Ever watched the TV show Scrubs? Well then, just imagine a six-foot, eight-inch Dr. JD and you have me in a nutshell! Born and raised in Southwest Ohio, I've recently returned to Dayton after finishing medical school at Loma Linda University in southern California. I'm married to my beautiful and classy best friend Brianna, and together we have the cutest little boy you'll ever meet, Clarkston. I love cheering for my Cincinnati/Columbus sports teams, even though it seems we never make it past the first round of the playoffs. Some of my hobbies include scuba diving, alpine skiing, videography and winning game shows (ask me about The Price is Right sometime). But most of all, I love people, and I hope someday I'll meet you too!
---
Brent Balhoff, M.D. — R3
American University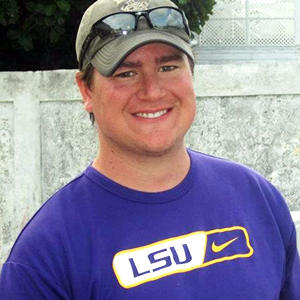 Born and raised in Baton Rouge, La., and an LSU Tiger fan until the day I die.
Undergrad: LSU (no surprise there)
Med School: American University of the Caribbean
Interests: College football/baseball, Cajun food/cooking (as best I can, at least)
Fun Fact: I was born with only one kidney.
I decided to pursue emergency medicine while working as an ER tech before medical school, and I haven't looked back!
---
Thomas Dailey, M.D. — R3
University of Texas Health Science Center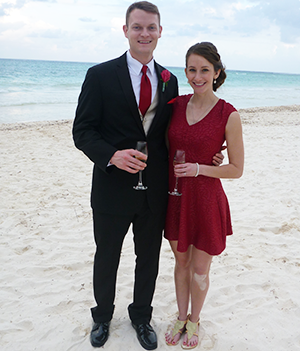 I was born and raised in Eatonville, Washington, and traveled to Texas to play baseball at Trinity University in San Antonio. I majored in biochemistry and molecular biology and a minored in economics and business. While at Trinity, I spent three years in the organic chemistry research lab, and met my future wife, Julia. I stayed in San Antonio to attend medical school at the University of Texas Health Science Center in San Antonio, and joined the Air Force as part of the Health Professions Scholarship Program. After medical school, I moved to Dayton, Ohio, for a surgery intern year. In my spare time, I enjoy cycling, rowing, kayaking, fishing, any activities on or near water, trying out the different beers and breweries of Dayton, watching movies. I've had a passion for emergency medicine ever since volunteering in the ED throughout college, so I am thrilled to join the emergency medicine team at Wright-Patterson Air Force Base/Wright State University.
Laura Field, M.D. — R3
Ross University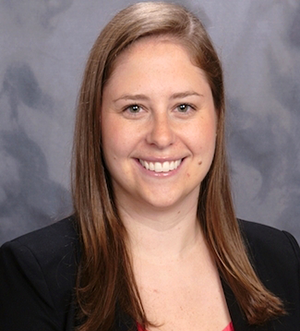 I am from Dayton, Ohio, and I went to medical school at Ross University. My hobbies include hanging out with friends, traveling, reading and running. I chose WSU because I wanted to return back home to Dayton, and I like that we get to work at a variety of hospitals. EM interests me because I like seeing a variety of patients, trauma and doing procedures.
---
Trenton Hansen, M.D. — R3
University of Utah
---
Chris Huelsman, M.D. — R3
Wright State University Boonshoft School of Medicine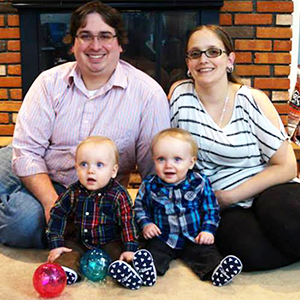 Both my wife and I are from about an hour north of Dayton and are so excited to be back in the area. We have identical twin boys, Dominic and Blake, and we've spent the last year in West Virginia while I have been an intern at Marshall's wonderful family medicine residency. But my heart is in emergency and I am excited to be back in Dayton as an EM resident.
---
Eugene Kang, M.D. — R3
Uniformed Services University of Health Sciences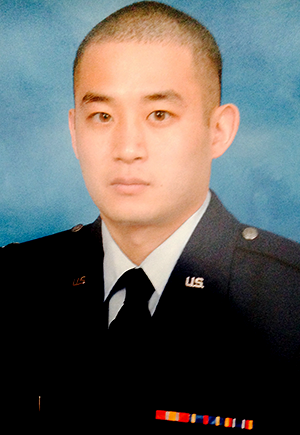 I was born and raised in the suburbs of Washington, D.C. While there I was heavily involved in wrestling and volleyball. Afterwards, I went to the College William and Mary where I earned a bachelor's in neuroscience. I then spent a year researching post-exposure prophylaxis for Ebola virus at USAMRIID. I obtained a master's in biomedical sciences at Eastern Virginia Medical School. I matriculated from USUHS in 2014 and completed a PGY1 year in internal medicine at WPMC prior to starting my Emergency Medicine Residency this year.
---
Dominic Kim, M.D. — R3
Uniformed Services University of Health Sciences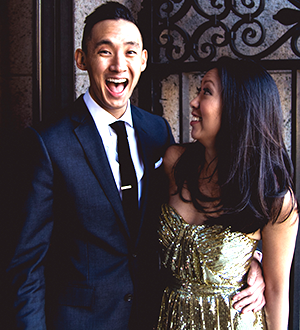 Hometown: Columbia, Maryland
Undergraduate School: Boston College. Go Eagles!
Medical School: Uniformed Services University of the Health Sciences
Hobbies/Interests: NBA, playing basketball (but really any sport), exercising, staying active by exercising or hiking, reading National Geographic or any nonfiction, traveling to new cities/countries, trying new cuisines/good restaurants, Yelp-ing, watching the Food Network
Fun fact: My favorite animal is the penguin. I have played pick-up basketball against both Jeremy Lin and Doug Flutie (not at the same time); Lin embarrassed me, Flutie not so much.
---
Josh Klepinger, M.D. — R3
Wright State University Boonshoft School of Medicine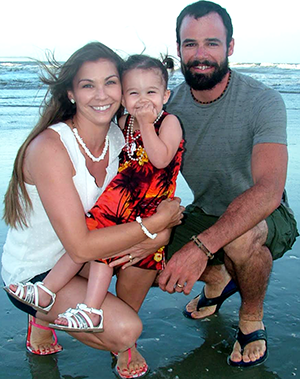 Born and raised just north of Dayton, Ohio. I worked as a firefighter-paramedic for six years prior to medical school. I have been married for 10 years to Jessica. We have a 2-year-old girl named Josie. We love to hunt and fish as a family. Mostly hunting deer and turkey right here in the Miami Valley. We have traveled to Texas and Wyoming on hunts also. We have worked in clinics in Jamaica and Colombia and look forward to establishing a long term relationship with a rural underserved location at the completion of residency. I continue to run EMS for my hometown department of Union Township and enjoy crossfitting and running to stay in shape.
---
Lindsay Morrow. D.O. — R3
Edward Via College of Osteopathic Medicine
---
Eric Mozeleski, D.O. — R3
Texas College of Osteopathic Medicine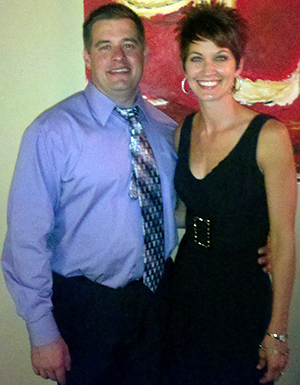 Born and raised in Northeastern Pennsylvania. Married to a pretty cool Texan, Deann, and father to two awesome girls, Ella, 9 years old, and Madelyn, 13 years old. Was a licensed physical therapist for 12 years prior to starting medical school at the Texas College of Osteopathic Medicine. Joined the Air Force in 2010 on the HPSP scholarship. Completed intern year at St. Mary Mercy Hospital in Michigan. I enjoy watching and playing all kinds of sports. Really enjoying hunting and fishing. Ultimately, I look forward to serving my country as an Air Force ER doc.
---
Angela Palitto, D.O. — R3
Rocky Vista University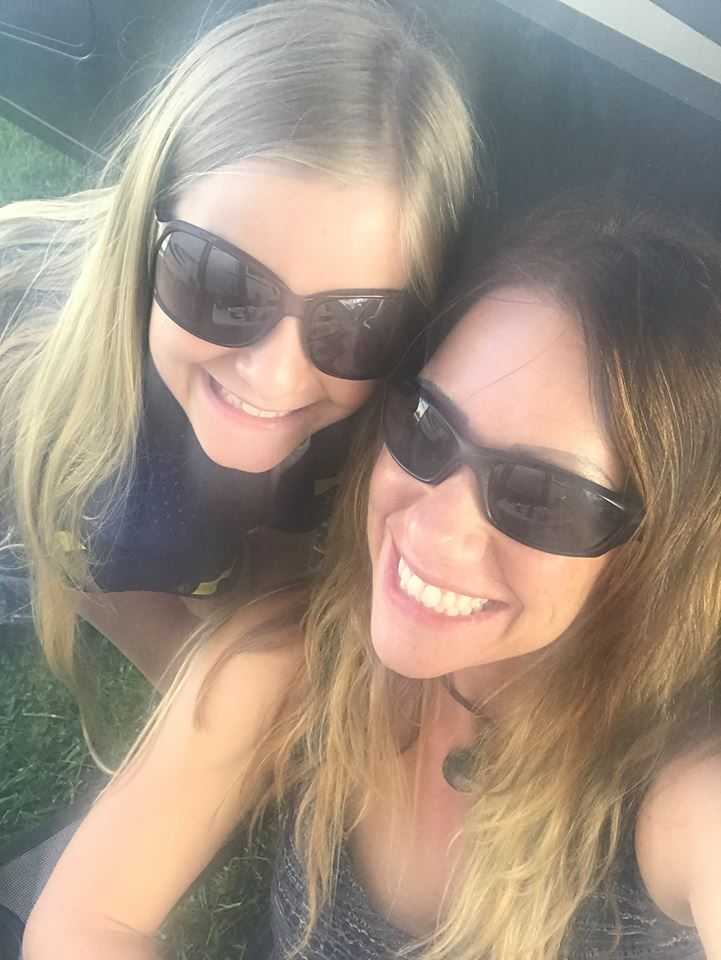 I grew up in a family of six in Canton, Ohio, and graduated from Glen Oak High School. I then joined the Air Force Reserves where I served as a medic/EMT for five years while completing my bachelor's in nutritional sciences from Michigan State University. I had the privilege of studying medicine at Rocky Vista University COM in Parker, Colorado, and earned an M.P.H. with a concentration in disaster and emergency management from American Public University. My internship year was spent at a community hospital in Massillon, Ohio and for the past two years I have served the Air Force as a flight surgeon out of Beale AFB, California. The coolest thing I have gotten to do recently was fly in the U-2 spy plane through the stratosphere, along with the T-38 over the Golden Gate Bridge and Alcatraz! I am now thrilled to now be a part of the EM Residency team here in Dayton!
---
Meagan Verbillion, D.O. — R3
Ohio University College of Osteopathic Medicine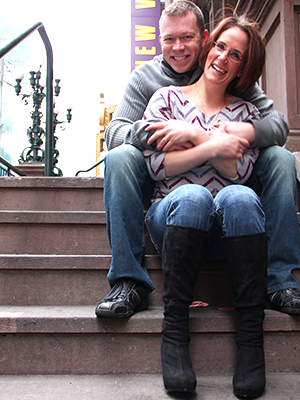 I was born and raised in Enon, Ohio. I attended Eastern Kentucky University as an undergraduate and received a Bachelor of Science in Biology. Afterwards, I completed my doctorate at Ohio University and went on to complete a Transitional Rotating Internship on Long Island in New York. My passion has always been emergency medicine and I am looking forward to completing residency with WPAFB/Kettering Health Network. When I am not working, I enjoy spending time with my husband, Scott, and my wonderful dogs, Watson, a Great Dane, and Volt, a rescued Greyhound. Scott and I are avid weight lifters and runners. We love movies, HGTV, and good food! I also enjoy spending time with my family, travelling, and reading non-medical books! After completing residency I plan to pursue a fellowship in pediatrics or critical care.
---
Tanner Weigand, D.O. — R3
Kansas City University College of Osteopathic Medicine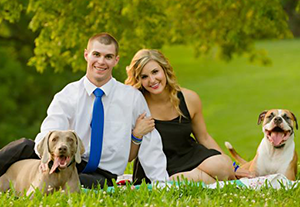 Originally from Knoxville, Illinois. Attended Bradley University, earning a degree in cell and molecular biology. Completed medical school at KCUMB in Kanas City, Missouri, where he met his wife Lindsey. She is also a resident at WSU. Outside of medicine they have three dogs (aka fur-babies) and are actively involved in pet rescue. They also enjoy participating in outdoor activities such as trail running and biking.
---
Adam Welch, M.D. — R3
American University (Sint Eustatius)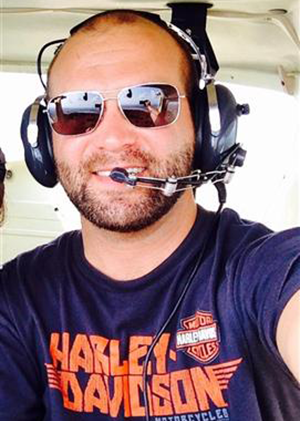 I've been to all 50 states and 14 countries so it goes without saying that traveling is a huge passion of mine!  I'm also a private pilot and a PADI scuba diver.  A few other things that I really enjoy:  summertime, adventures with good friends, the lake, riding the Harley, trying new foods, learning new things and road trips!
---
Jamie Bonner, M.D. — R2
Ross University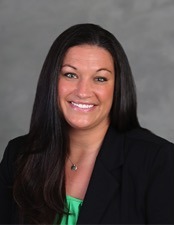 I was born and raised in Morrice, Michigan.  I attended Indiana University South Bend and was a member of the Women's basketball team.  After graduating with my nursing degree I worked as a Trauma ICU nurse for 6 years.  I then decided to attend Ross University School of Medicine and have always known that I wanted to pursue Emergency Medicine.  In my free time I enjoy traveling, anything outdoors, live music, watching/participating in most sports and spending time with my friends and family.  I am excited about making new friends within the WSU family and for what the next three years bring.
---
Eli Borup, D.O. — R2
Touro University Nevada
---
Phil Griffith, M.D. — R2
VCU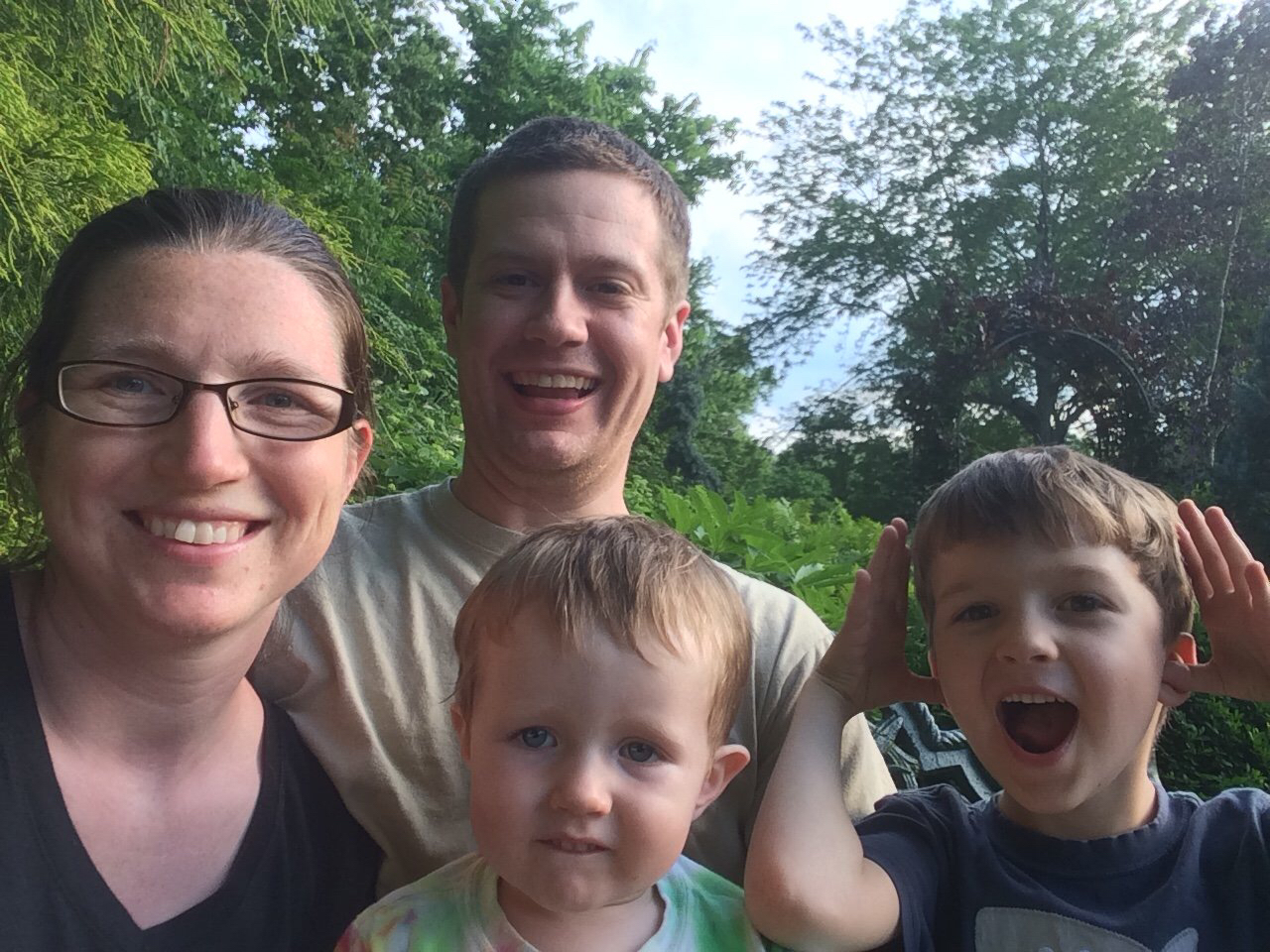 Phil Griffith is a simple country doctor, who is just trying to make it in Big City Dayton. With his gang of fellow doctors and his mystery mobile minivan, he stamps out disease, fights evildoers, and solve crimes.
Born and raised in the Old Dominion, Dr. Griffith then lived in "New Hampsha" for a bit, attempting to make computers talk to each other. Once Skynet reached operational status, he decided to retire and go to medical school. He also joined the USAF at that time, because, going to medical school, moving, and having a baby weren't enough of life changes.
He frequently pals around with his two boys, as well as his wife, who has nothing better to do with her time.
He enjoys backpacking, hiking, and rock climbing. With a trail name of "False Hope" who wouldn't want him as their doctor? Unsurprisingly, his medical interests include wilderness medicine. He also enjoys toxicology, which has nothing to do with his enemies list.  
Finally, in all seriousness, Phil chose to come here for his military residency because he believes the hybrid civilian military model provides the best training to be the best doctor you can be. Plus, you know, biking, and Young's Dairy Bar!
---
Eric Hand, M.D. — R2
Ohio State University
---
Ashley-Rose Humphries, M.D. — R2
University of Central Florida
---
Jordan Jacobsen, M.D. — R2
Wright State University
---
Steven Joyce, D.O. — R2
Kirksville College of Osteopathic Medicine
---
Alex Kissinger, M.D. — R2
St. George's University
---
Jonathan Kreher, M.D. — R2
St. George's University
---
Eric Landman, D.O. — R2
OH Univ. Heritage College of Osteopathic Medicine
---
Katelyn Lippert, M.D. — R2
University of Kentucky
---
Rick Marriott, M.D. — R2
Wright State University
---
Nick Myers, M.D. — R2
University of Texas at Houston
---
Son Pham, M.D. — R2
USUHS
---
Matthew Rodgers, M.D. — R2
Medical College of Wisconsin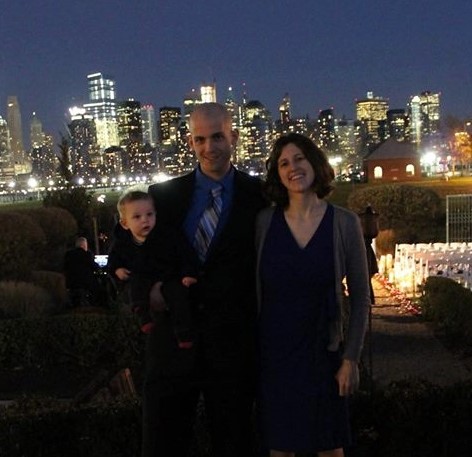 My wife Allison and I were both raised in southern Indiana, but we've spent the last few years in Wisconsin for medical school. We have a 1-year-old boy named Micah, and the three of us enjoy doing just about anything outdoors.
---
Owen Scott, M.D. — R2
USUHS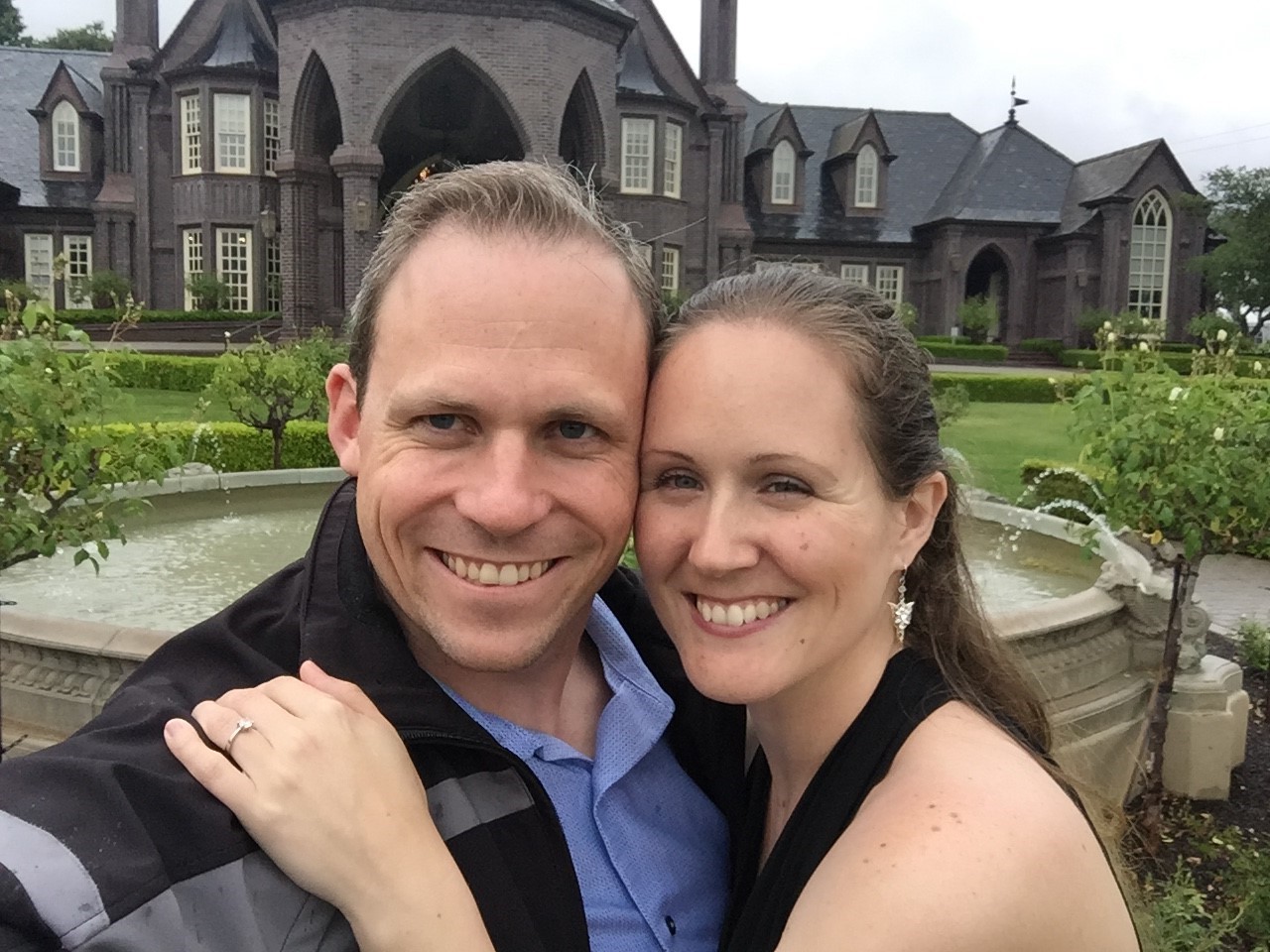 I spent the last 6 years before residency as an Air Force Flight Surgeon, which involved some very fun and interesting experiences.  My wife, Angela, and I have 3 kids.  My favorite things outside of work are traveling, being outdoors, hanging out with friends, and enjoying new craft beers and wine tastings.  On my days off, when I'm not sleeping, you may find me enjoying these impressive Dayton bike trails or riding my motorcycle.  Long-term plans include more Air Force deployments, traveling, hopefully some overseas assignments, and humanitarian medicine.
---
Jamie Siesel, D.O. — R2
Ohio University
---
Dave Williams, D.O. — R2
West Virginia SOM
---
Anthony Bertasi, D.O. — R1
Nova Southeastern University College of Osteo Med.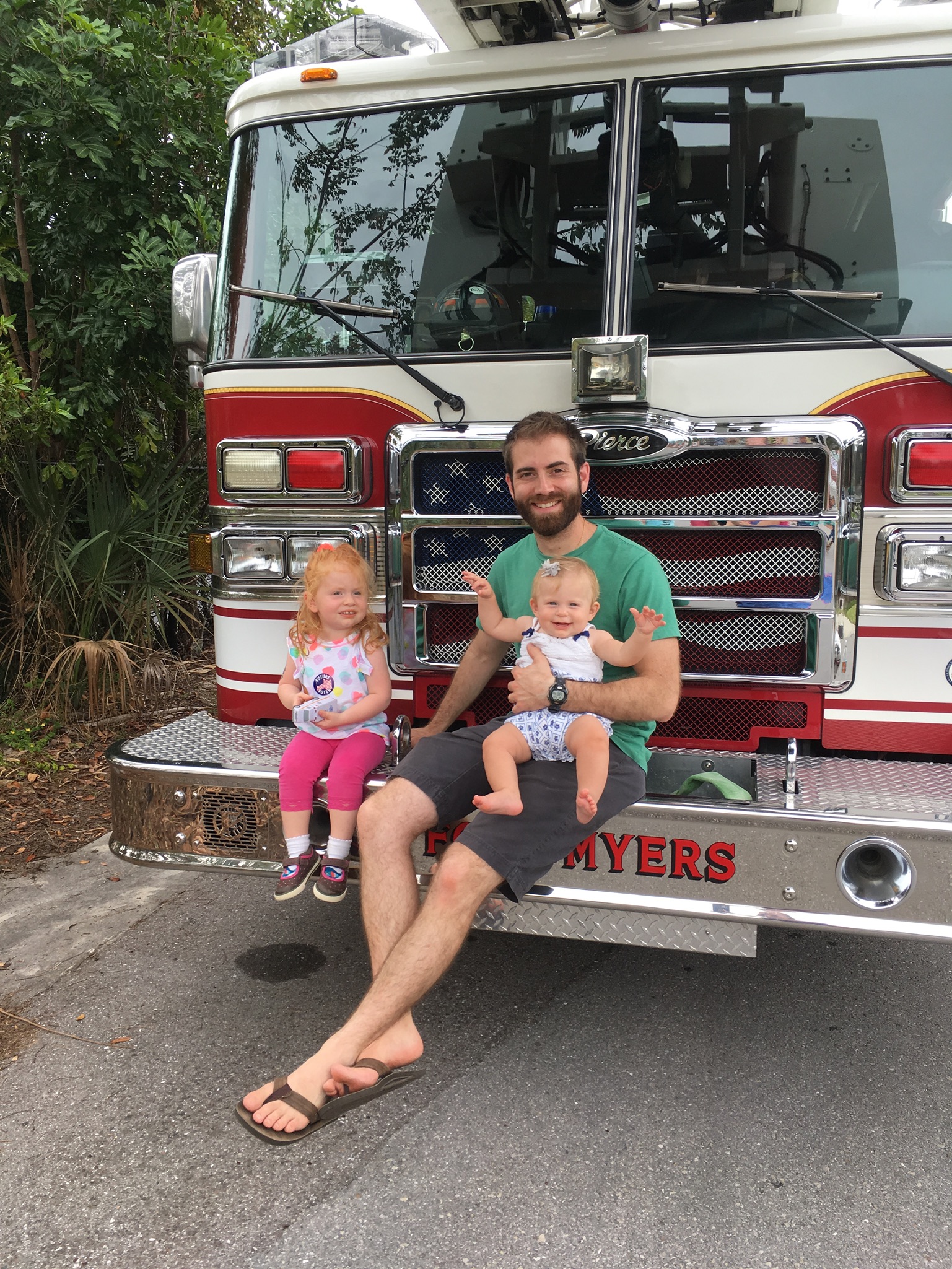 I was born and raised in Memphis, TN where I grew up backpacking and canoeing in the nearby Ozark mountains. I later attended the University of Tennessee in Knoxville and graduated with a BS in mechanical engineering. After working for a few years in Kansas I decided to leave engineering, get married, and start medical school in Fort Lauderdale, Florida. Had a great time in Florida sailing a Hobie cat, kayaking and exploring the everglades with my wife Christine, my daughters Catherine and Lucia.  We are now happy to be in Ohio for residency. After residency we will see what the Air Force has in store!
---
Jeremy Brenneman, M.D. — R1
USUHS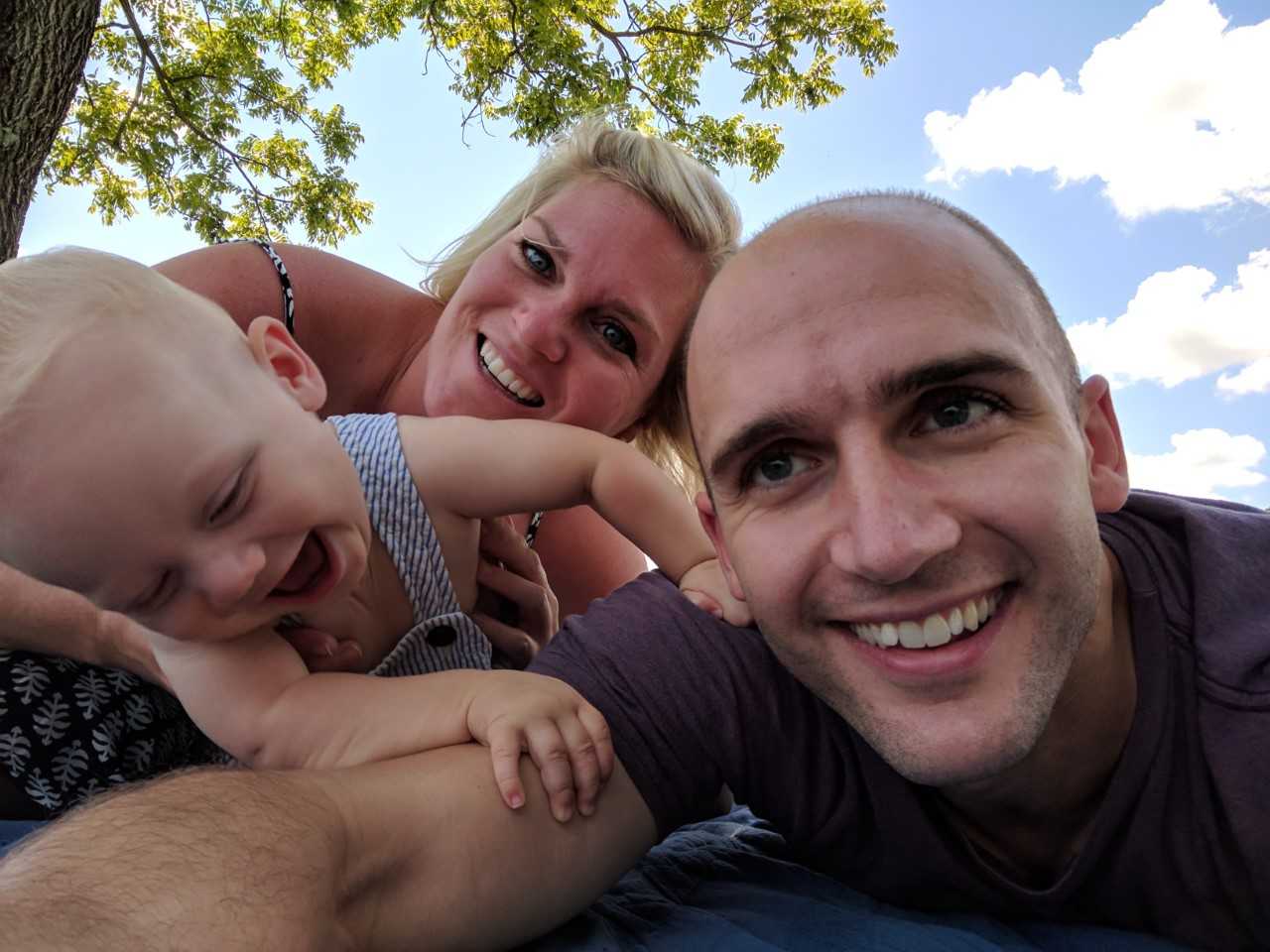 I grew up in Northern Virginia just outside of Washington DC and did my undergrad at UNC Wilmington where I met my wife, Kristen. Through senior year of high school and college I worked first as a volunteer EMT then Firefighter/EMT. After graduation I enlisted in the US Air Force and served 5 years working Crash Fire Rescue; training in Texas then stationed in Italy, Louisiana, and North Carolina. I commissioned in 2013 and returned to DC for medical school at USUHS where my wife and I finally tied the knot and started our family before moving to Dayton. In my time off I enjoy hanging out with the family and friends, doing just about anything outside (ideally at the beach but braving it out here in OH), traveling, reading, and photography.
---
Jared Brown, M.D. — R1
University of Colorado UC Denver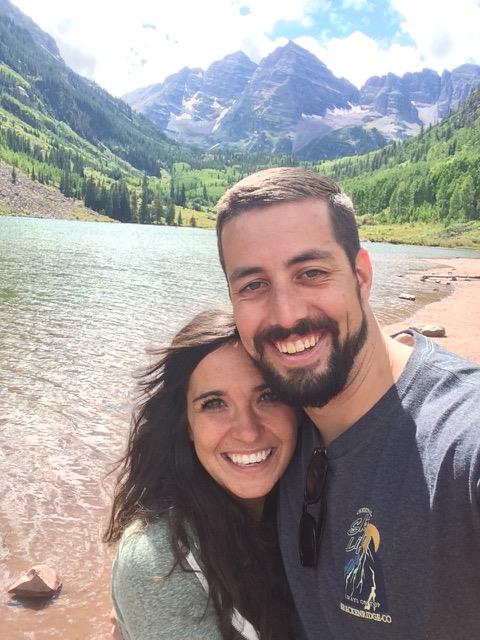 Beard gone but the girl decided to stay.
Grew up an Air Force brat, but my family was able to settle down in Colorado Springs. I have lived in Colorado for of 18+ years so it's where I call home…still getting used to the lack of mountains out here. I did both undergrad and med school in CO at the Air Force Academy and CU School of Medicine respectively. Going to the academy I had quite a debate about my career choice: pilot or a doc…I think I made the right choice!
I am very excited to be here in Dayton doing a joint military civilian EM residency. My wonderful fiancé (soon to be wife just 4 months into residency), Noelle, is joining me on this new adventure. No kids, no pets, and no plans to change that soon; Noelle would say differently but we'll see how busy residency is :) Ultimately I can't wait to be an emergency doctor for the Air Force!
Interests: anything outdoors, hiking, camping, skiing, traveling to South America, art, woodworking.
Fun Fact: I am the oldest of 8…sorry if my older brother bossiness ever comes out.
---
Joshua da Silva, D.O. — R1
Philadelphia College of Osteopathic Medicine
---
Cory Davis, M.D. — R1
Michigan State University College of Human Medicine
---
Tim Dekoninck, M.D. — R1
Michigan State University College of Human Medicine
---
Matthew Gangidine, M.D. — R1
USUHS
---
Alexa Gingras, D.O. — R1
Rocky Vista University COM
---
Gregory Gottschlich, D.O. — R1
Ohio University
---
Britta Hakkila, M.D. — R1
St. George's University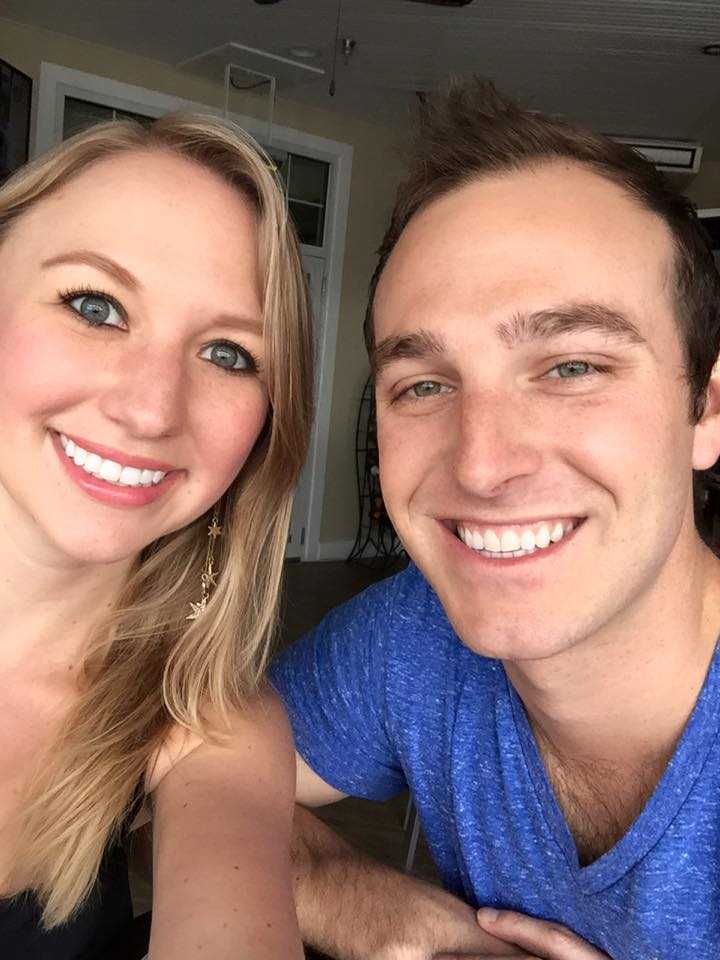 I was born and raised in Las Cruces and Albuquerque, New Mexico, so spicy food and mountains are in my blood. I met my husband Tom in 2007, and after 3 years of marriage and living in 5 different states, we are so excited to settle down in Ohio! In my free time, I enjoy traveling (either home to NM to visit my family, or elsewhere), cooking, eating, hiking, hanging out with my dog (Pan) and cat (Leo), and craft beer/wine.
---
Adrienne Krysiak, M.D. — R1
University of Oklahoma College of Medicine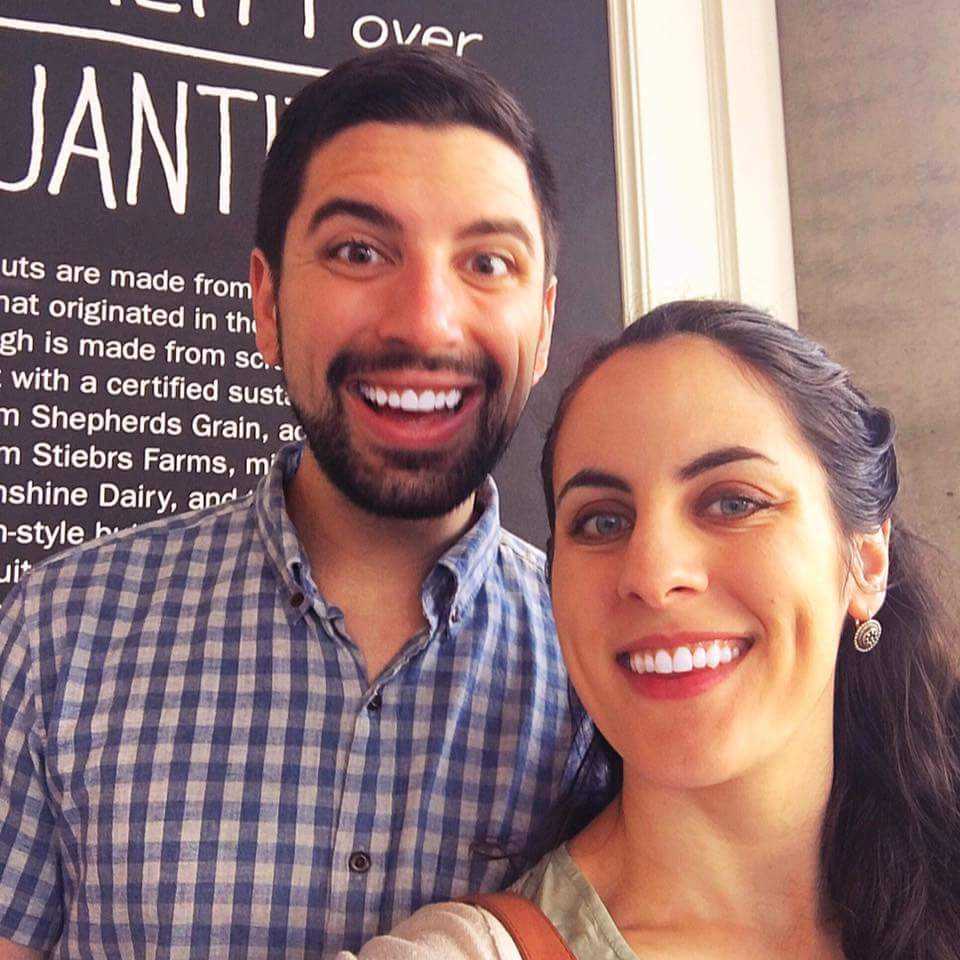 I did my medical school training in Oklahoma. It was there that I met my husband, Rick. His Air Force career took us to Dayton and we couldn't be happier! I love spending time outdoors and especially enjoy hiking, rock climbing, and cycling. Whenever I have a free afternoon, I love binge watching shows like Futurama and Great British Bake Off. My ten-year plan is to finish Gravity's Rainbow and take a 10 hour nap.
---
Vincent Marsh, M.D. — R1
Medical University of South Carolina
---
Connor McKinney, D.O. — R1
Rocky Vista University COM
---
Spencer Powell, M.D. — R1
University of Cincinnati College of Medicine
---
Joshua Sayers, M.D. — R1
Ross University School of Medicine
---
Daniel Shigley, D.O. — R1
Edward Via College of Osteo. Med., Carolinas Camp.
---
Jason Stickel, M.D. — R1
USUHS
---
Michael Wojdan, D.O. — R1
Nova Southeastern Univ. College of Osteo. Medicine
Last edited on 11/21/2017.