Dayton Children's Hospital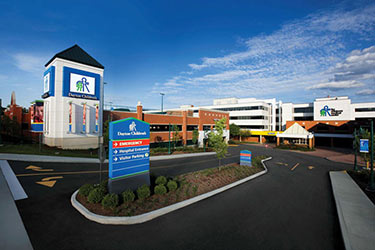 Dayton Children's Hospital is a 155-bed private, not-for-profit tertiary pediatric health care facility that offers a full range of inpatient services, 35 subspecialty and general outpatient clinics and public health programs encompassing health maintenance, early diagnosis and treatment. Included within the hospital are a 12-bed pediatric intensive and progressive care unit, a six-bed intermediate care unit, a 10-bed hematology/oncology unit and a 31-bed state-of-the-art Level III newborn intensive care unit. Dayton Children's is staffed by nearly 1,500 employees.
The only children's hospital serving the greater Dayton area, Dayton Children's receives referrals from 20 Ohio counties and eastern Indiana. Operating as an acute care facility since 1967, the medical center offers medical and surgical services as well as diagnostic evaluation in numerous areas. The medical staff consists of around 400 physicians. Additionally, more than 500 community volunteers devote their time to the facility.
---
Miami Valley Hospital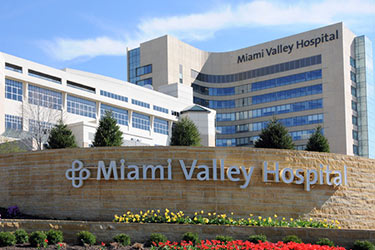 Miami Valley Hospital (MVH) enjoys a reputation for excellence that has been nurtured and enhanced throughout its 116 years of service. With 973 beds, it ranks among the nation's 100 largest community hospitals. As the region's largest and most comprehensive hospital, MVH sponsors the area's only:
Level I Trauma Center
Level III Perinatal Center serving 17 counties (including a 48-bed NICU and the region's only hospital offering ECMO service)
Air Ambulance Service (CareFlight)
Adult Burn Center
Renal Dialysis and Transplant Center
Blood and Marrow Transplant Program
In addition, the hospital is a major provider of cardiovascular care, cancer treatment, neuroscience care, physical medicine and rehabilitation and psychiatry. It also offers specialized programs for sports medicine, chronic pain treatment, hearing and balance disorders, sleep disorders and occupational medicine. View all Miami Valley Hospital services.
MVH continually invests in facilities and technology for quality care. Within the last decade, the hospital has replaced its Emergency Center, surgical facilities and Intensive Care Units and added advanced clinical technology including robotic surgery, 64-slice CT and PET/CT imaging capability. Since its founding in 1890, the hospital has remained a community-based, not-for-profit organization.
Last edited on 06/26/2018.