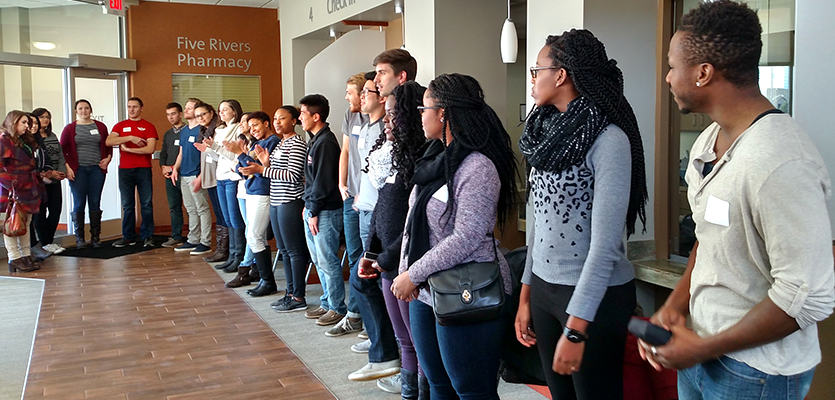 The Department of Family Medicine at Wright State University Boonshoft School of Medicine has always had a commitment to the greater Dayton area. Some examples of our outreach activities follow.
Family Medicine Residency Program awarded senior immunization grant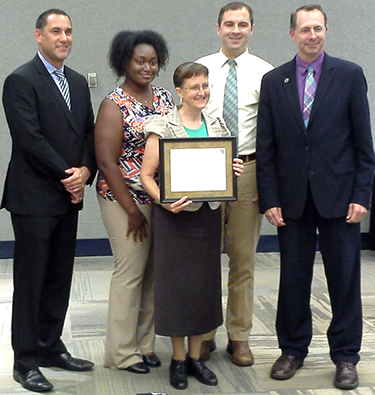 With support from the American Academy of Family Physicians Foundation through a Senior Immunization Grant, the Family Medicine Residency Program and students from the WSU School of Nursing, Kinesiology, and Health Sciences were busy educating and immunizing patients and community members this past year for influenza and pneumonia. Office immunization protocols were streamlined and three teams of nurses and residents competed around their immunization rates.
On the community side, Kate Cauley, Ph.D., from the WSU Center of Health Communities and Thalia Duncan-Alexander from the WSU Substance Abuse Resources and Disability Issues program helped residents recruit local organizations to sponsor educational events. Activities occurred at health fairs, community senior centers, churches and ice cream socials. More than 600 postcards promoting immunizations were handed out, pre and post tests showed increased knowledge, and cards pledging to get immunizations were signed.
Relationships were fostered with local organizations that will hopefully lead to future outreach efforts. Some family medicine residents remarked:
"Talking with community members after the vaccination presentations provided me an opportunity to figure out strategies to combat [misperceptions when I talk with patients in the office.]"

 "I hope there is an opportunity to sustain the relationships with community partners and build on relationships that are in their infancy."

"Finding out that through the Center for Healthy Communities our university already had relationships with many community organizations was a great 'kick start' to our community involvement. They were able to put us in contact with the leaders at several organizations and we moved forward quickly."
Faculty, residents and students launch mentorship program for local youth
The Ladder Dayton, a cascading mentorship program based at the Family Medicine Residency, was launched in February 2016. Based on a successful program in Minneapolis, the Ladder invites local children who receive care at the Five Rivers Family Health Center and are interested in a health career to join a society of medical scholars. The society gathers on the second Saturday of each month for sharing, learning about some aspect of health and lunch. Family medicine faculty, residents, health profession students and pre-health students are also involved. The program is geared toward young people interested in any health profession, not just medicine. The program's slogan is "Lift as you climb. Build as you grow."
Behavioral science director works with student STEPS Health Initiative
Paul Hershberger, Ph.D., behavioral science director for the WSU Family Medicine Residency, is the faculty adviser for the Students Teaching Educational Plans for Success (STEPS) Health Initiative run by medical and nursing students from Wright State and pharmacy students from Cedarville University.  Most Saturday mornings they provide preventive health counseling to the men of the St. Vincent DePaul Gateways Women and Men's Shelter. After meeting with shelter clients, student check out with a faculty volunteer and debrief what went well and what could be done differently in the motivational interviewing session.
Chair and residency director serve as consultants about Family Medicine in Palestine
Drs. Therese Zink and Teresa Zryd spent a week in Palestine during the face-to-face sessions of the International Development of Family Medicine in Palestine in September. Palestinian physicians in the residency gathered in Nablus at the medical school of National University of An Najah to look at ways to support the effort.
Residency director serves several community organizations
Residency director Teresa W. Zryd, M.D., serves on the board of trustees, and as part of the Behavioral Health Innovate Team of physicians. Samaritan Behavioral Health, Inc. (SBHI) has a rich tradition of community stewardship in providing mental health and substance abuse services for all ages in Southwest Ohio.
Zryd also serves:
On the Greene County Board of Health. Before medical school she served as the Director of the Community Health Services Division.
As co-chief medical director for health care services in the Dayton Public Schools. Residents participate in bus driver physicals and other health screening activities.  
As a team physician in The University of Dayton Sports Medicine department. Residents routinely spend time with her at UD and during games. 
Clinical curriculum coordinator volunteers at Xenia clinic
Bruce Binder, M.D., Ph.D., family physician and clinical curriculum coordinator, volunteers his time at the Living Well Clinic in Xenia Ohio. The clinic was founded in 2010 by a group of Christians at Dayton Avenue Baptist Church who desired to meet both the physical and spiritual needs of the underserved in the community. The 501c3 provides care to patient on a weekly basis.
Chair and resident serve as consultants in Cambodia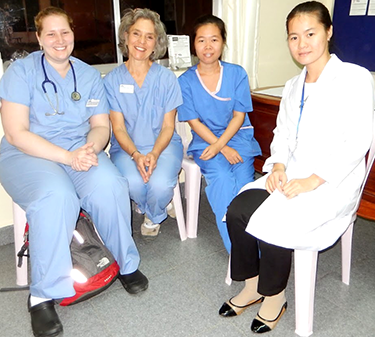 Drs. Andrea Dillon (PGY3) and Therese Zink served as consultants in Phnom Penh, Cambodia, through Health Volunteers Overseas for two weeks in March 2015. They did training and quality improvement for Visualization Inspection with Acetic Acid. VIA is a low resource method to screen and treat pre-cancer lesions on the cervix.
Administrator works at East Dayton Health Center
Gary Leroy, M.D., associate professor of family medicine and associate dean for student affairs and admissions at the medical school, has provided primary care at the East Dayton Health Center (EDHC) for more than 20 years. EDHC is one of seven Federally Qualified Health Centers in the Community Health Centers of Greater Dayton network. This network provides medical, dental and mental health care to underserved patients across the Dayton area. Medical students often rotate with Dr. Leroy and his colleagues.
Faculty provide care to seniors at Yellow Springs center
Cindy Olsen, M.D., professor of family medicine, and Pam vonMatthiessen, internist and Boonshoft School of Medicine alumna ('98), both residents of Yellow Springs, provide care to residents at the local nursing home and assisted living facility, Friends Care Community. The facility serves assisted living, nursing home and rehabilitation patients.
Community lecture series explores positive mental health
Brain Matters, a free, public educational series presented by Paul Hershberger, Ph.D., has been offered monthly at the Wright State Physicians Health Center from April through October 2016. The well-attended program focuses on building individual resilience with attention given to factors regarding sleep, exercise, diet, anger management and healthy relationships. Dr. Hershberger also writes a monthly blog: e-quilibrium-newsletter.org.
Last edited on 06/27/2023.