Professional Opportunities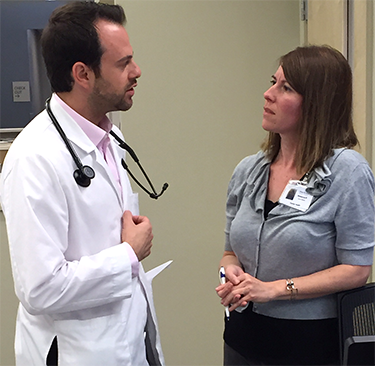 The residency program offers a variety of sponsored activities for residents including:
Monthly work/life balance group
Community outreach programs, including the Indigent Clinic
Team physicians
Social activities
Residents have opportunities for involvement in the following program committees:
Recruiting
Orientation
Office Team Meetings
Office Staff Liaison
Hospital Medical Education
---
Resident Academic Program
Weekly half-day conferences in the Family Health Center
Weekly hospital grand rounds
Monthly psychiatric case conferences
A wide range of office procedures
Citywide didactic conferences
Educational talks at morning report
---
Scholarly and Research Activities
Active faculty involvement in a broad range of scholarly activities, including professionalism, sports medicine, women's health, bereavement, health status assessment, practice management, pain management, health promotion, coping with transition and quality improvement strategies
Recent presentations at: Society of Teachers of Family Medicine (STFM), Accreditation Council for Graduate Medical Education (ACGME), Ohio Academy of Family Physicians (OAFP), American Society for Sports Medicine (AMSSM) and North American Primary Care Research Group (NAPCRG)
Resident projects have included: literacy assessment, asthma quality assessment and ambulatory weight loss management. Residents have presented at SNMA and STFM meetings.
Research Elective Month available to interested residents, supported by faculty mentoring from the residency and from Wright State University.
---
Resident Teaching
Second- and third-year residents regularly work with third- and fourth-year medical students.
---
International Experiences
Boonshoft School of Medicine has an active International Education Program program. Family medicine residents can easily arrange international rotations through this program. For more information, visit the International Education Program web page.
Last edited on 06/27/2023.