The activities of the Center for Global Health have been supported by several significant endowments. Additional support will further advance the mission of the Center in the community.
---
Boonshoft Endowed Chair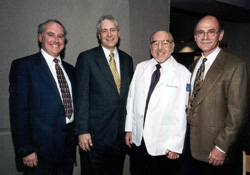 Oscar Boonshoft, a Dayton area philanthropist and Boonshoft School of Medicine friend, endowed the Chair in Health Systems Management with a $2.5 million gift. Boonshoft's generosity stems from his desire to simplify the process and delivery of modern health care and to develop efficient and accessible health care for all.
Born and raised in the Bronx in New York City, Boonshoft obtained his mechanical engineering degree from Stevens Institute of Technology in New Jersey and joined the Army Air Corps in 1939. He retired from Wright-Patterson Air Force Base in 1970 as a production engineer. A great supporter of the Miami Valley community, he has contributed to many community efforts including the Boonshoft Museum of Discovery and the Wallace Kettering Neuroscience Institute.
 
---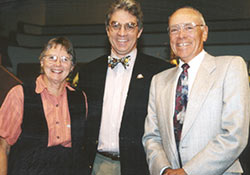 Hittner Community Health Endowment
Zoe and Bob Hittner contributed a major gift to the Center for Global Health to endow an annual event promoting community health. The Center regularly sponsors a community event, involving the Shiloh Church, relating to health care and social issues, faith and culture.
Dr. and Mrs. Hittner are long time residents of Dayton, supporters of the School of Medicine and members of the Shiloh church. Dr. Hittner is a retired radiologist.
The first Hittner Community Health Program was held on October 22, 2000.
 
---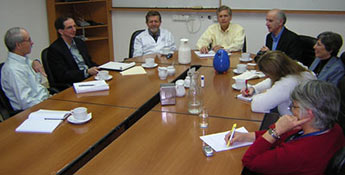 Levin Family Foundation
In May 2006, Dr. Richard Schuster led a group of Wright State University and community emergency response professionals to Northern Israel. Their mission was to study Israel's emergency preparedness with the ultimate goal of incorporating best practices into the Dayton region's planning. Six weeks later, the Second Lebanon War broke out. Northern Israel was barraged with more than 4,000 Katyusha rockets from Hezbollah terrorists in Lebanon over a 33-day period. In December 2007, Dr. Schuster returned to Israel with a similar group to find out if Israel's planning really worked. Both trips were funded by grants from Dayton's Levin Family Foundation and were an outgrowth of the Jewish Federation's participation in the Partnership with Israel program.
Last edited on 07/27/2017.